CELEBRATING AN EXCEPTIONAL ICON OF PERFECTION – OUR HIGHLY ESTEEMED CEO, LOVEWORLD INC. & DIRECTOR, PASTOR DEOLA PHILLIPS! Today, we celebrate specially an icon of perfection and an extraordinary woman of God and grace – our beloved CEO and Director, Pastor Deola Phillips. Indeed, our hearts are overflowing with thanksgiving and great joy, as with millions around the world, as we celebrate your extraordinary and exceptional life of faith, hope and love. Thank you ma for your awe-inspiring passion for the Gospel and love for our Lord Jesus Christ and our man of God, Pastor Chris, that has made an eternal impact in the lives of millions of ministers of the Gospel and God's children all around the world. We extol your exemplary leadership and impact in the Body of Christ. Thank you ma for showing us how to follow our man of God and our Lord Jesus Christ, perfectly and with whole-hearted devotion. Thank you for the wisdom, grace and your acutely insightful leadership, that has produced extraordinary results in our lives and which continually leads us on a perpetual victory parade in Christ. We love and cherish you dearly Ma! Happy birthday Ma! #ISM #ExceptionallyPerfect #HappyBirthday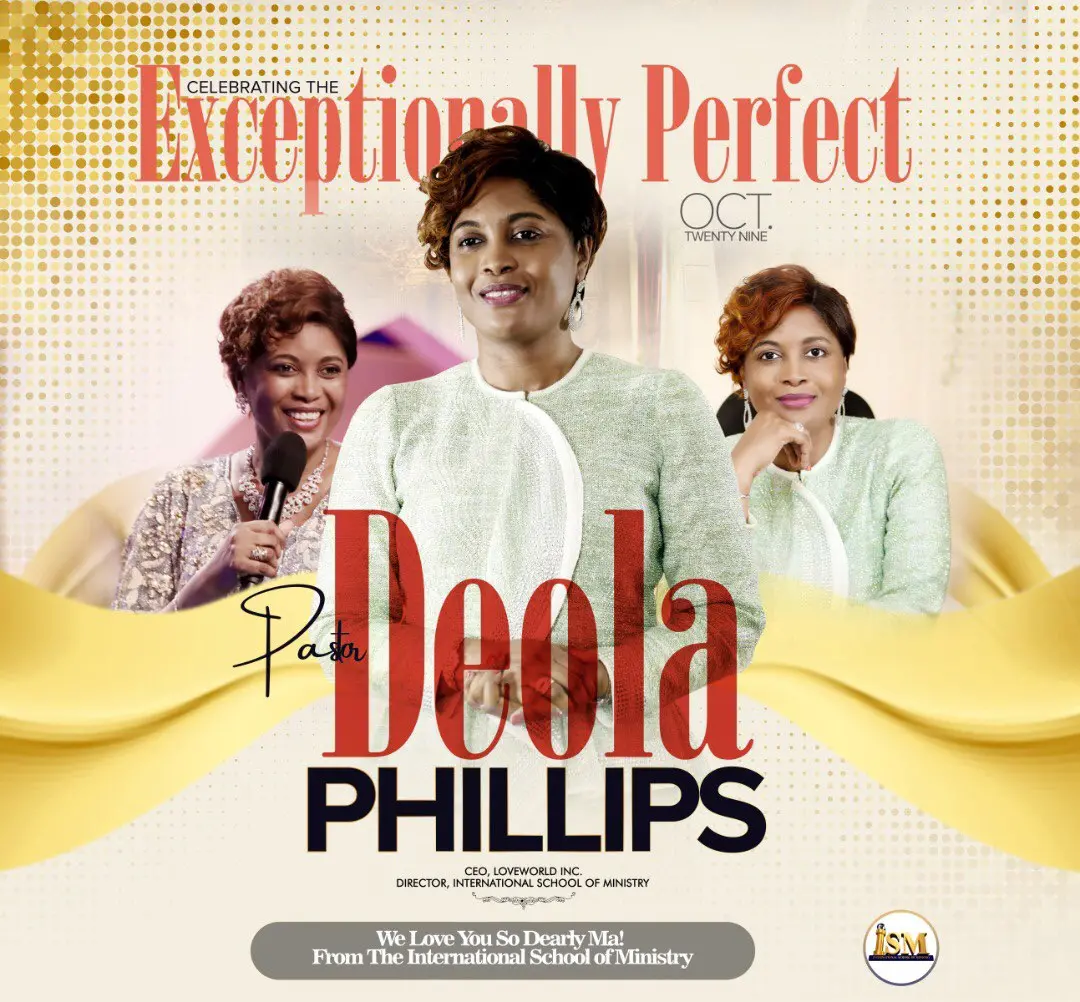 Happening In November 15th - 17th 2020 INTERNATIONAL MEDIA CONNECTORS' CONFERENCE 2020 (IMCC) #imcc2020 #nowinits7thedition #happeningindyearofperfection
Celebrating An Icon of Perfection, Our Highly Esteemed CEO, Loveworld Incorporated! Thank you for being a huge blessing to the Ministry and the body of Christ at large. We appreciate your outstanding Partnership commitment to the Rhapsody Bible Mandate. We love you dearly Ma!
💥Powerful impartation of the sweet spirit of God as our Honourable Brother Busayo shared the Rhapsody message of the Day,"LIVING IN HIS AUTHORITY". Thank you so much dear Brother Busayo we love you dearly!💥 #CEBE #CECanada #CEBramptonEast #MonthofProclamation #Wednesdayservice
INTERNATIONAL MEDIA CONNECTORS' CONFERENCE 2020 (IMCC) in its 7th Edition in the Year of Perfection Coming on 15th - 17th November 2020 #imcc2020 #nowinits7thedition #happeningindyearofperfection
Ladies!!!! It's another xciting and awesome moment this Saturday. Our 'Recreating your World' prayer rally is here. Time is 3pm sharp at the Zonal Church,Avenor. Be there...... #CeAccraGhanaZone #LoveworldLadiesNetwork #LLN
#perrarusparfaite #exceptionallyperfect #hsambassadors
Happy Birthday to Our Highly Esteemed CEO, Pastor Deola Phillips. Today we celebrate one so dear and special to us; An Exceptionally Perfect Follower of Our Dear Man of God Pastor Chris; A Burning and Shining Light to the world. Thank you for your quintessential relevance to the gospel and the ministry. We love and appreciate you dearly.
TODAY'S MESSAGE ; EVERY TREE A FOREST. Enjoy a rich and fresh experience in the word, join us via pcdl.link/wordfest2/lwzonei   #wordatwork  #watchonpcdltv  #CampusMinistryRocks #lwzonei