CE Southern Africa Zone 1: 💎PERFECT BIRTHDAY CELEBRATION!!! CELEBRATING A on KingsChat Web
💎PERFECT BIRTHDAY CELEBRATION!!! CELEBRATING A ROYAL PRIEST💎 Happy Birthday Highly Esteemed Pastor Edson 💯. Thank you for loving God's people and giving your life to the work with so much passion, thank you for pouring your soul into ministry and raising great leaders like you. Thank you for impacting many and grooming many to serve the Lord selflessly. Thank you for making your light so shine in reaching out to the world through your labor of love. Thank you for amplifying the voice of our Man Of God Rev Dr Chris with your service in the house of God. Thank you so much for all you do for the CE Roodepoort Church and CESAZone1. You are a joy and delight to our Highly Esteemed Zonal Pastor. A glorious year to you as you prepare to excel more in your service to God this year. CESAZone 1 loves you dearly ❤️. #PERFECTBIRTHDAY #CESAZONE1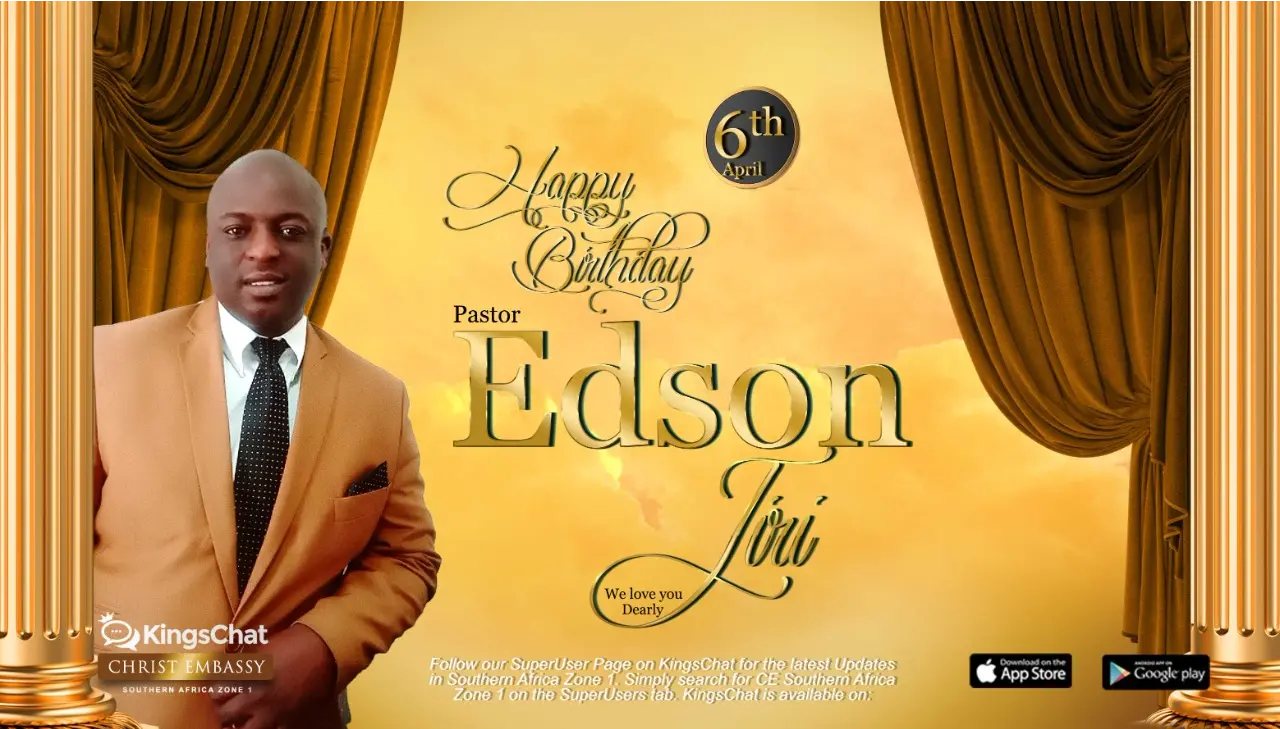 #ENECZONE ZONAL ALL MEMBERS PRAYERS TUESDAY, APRIL 6TH 2021 (PRAYER TIME⏲️ 10:00 - 10:30PM) 🗣️🗣️ Pray in tongues of the Spirit, thanking God for the victories we have through His word. Pray specially for the government of your nation, declaring that they are guided by God's truth regarding the vaccination. #prayingnow #eneczone #seregion #nigeria
CHRIST EMBASSY CAPE TOWN'S CHILDREN'S CHURCH See our children celebrate the resurrection of Jesus Christ with some sweet treats.😊 #cesazone4 #cesouthernafrica #ChildrensChurch
Celebrating my esteem zonal pastor, teacher and my intercessor. Ma I will never forget your prayer that see me through a major operation on the 28/02/21. Thank for standing by me in my trying time. Happy birthday to you pastor ma. Congratulations.
🌟 CELEBRATING A HELPER OF THE WAR & ADVANTAGE! Thank you Ma for your inspiring life of service. Thank you for being a dependable pillar in the LMAM. We Love You dearly!
She just let the big cat out 😂 😂 😂... Covid-19 vaccine is a scam listen to what she's saying
Happy Birthday Beautiful Gov. Gabi. I joyfully celebrate you on this special day. You are one in a million, unique and special. I love you so dearly ❤️❤️❤️
Christ Embassy Excel Center Children Church celebrates our beloved mum, our highly esteemed Zonal Pastor, Pastor Linda Okocha. We love you so dearly ma. #cephzone2, #PLO604, #Pastortheo, #ninaoffot
OMG!!! This MOG'S Sister; She's poised. Calm and so in Charge with the Word. Very Special Happy birthday ma.
Celebrating GRACE, BEAUTY, LOVE PERSONIFIED. What more can I say. Thank you Ma for all that you do for the Lord and the Ministry. Pastor Ogaga, Praise and I loves you so dearly Ma. Happy Birthday Ma