Pray-A-Thon 2020 - ven 9 oct. Reconnaissez et célébrez votre ascendance divine. En savoir plus dans la Rhapsodie de ce vendredi. N'oubliez pas d'en obtenir et de partager la nouvelle édition d'octobre pour adultes, adolescents et enfants, disponible sur la boutique de votre application Rhapsodie. Ephésiens 6:12 dit : « Car nous ne luttons pas contre la chair et le sang, mais contre les principautés, contre les puissances, contre les gouverneurs agissant dans l'obscurité de ce monde, contre la malice spirituelle dans lea lieux célestes ». Marc 16:17 dit : « Et ce sont ici les signes qui accompagneront ceux qui croient : Ils chasseront les démons en mon nom ... » À nos heures de prière aujourd'hui, nous prierons avec ferveur dans les langues de l'Esprit. Proclamez le règne de la justice, de l'équité et de la paix sur les nations, exerçant l'autorité et chassant les mauvais esprits de méchanceté qui influencent l'intelligence des hommes et des dirigeants des nations pour le mal. Déclarez le règne du salut du Christ dans le monde. La dernière session de Your Loveworld Specials Saison 2 Phase 6 se tient aujourd'hui à 19h GMT + 1 / 14h HNE, sur les réseaux Loveworld et diverses plateformes de médias sociaux. N'y manquez pas. Dieu vous bénisse.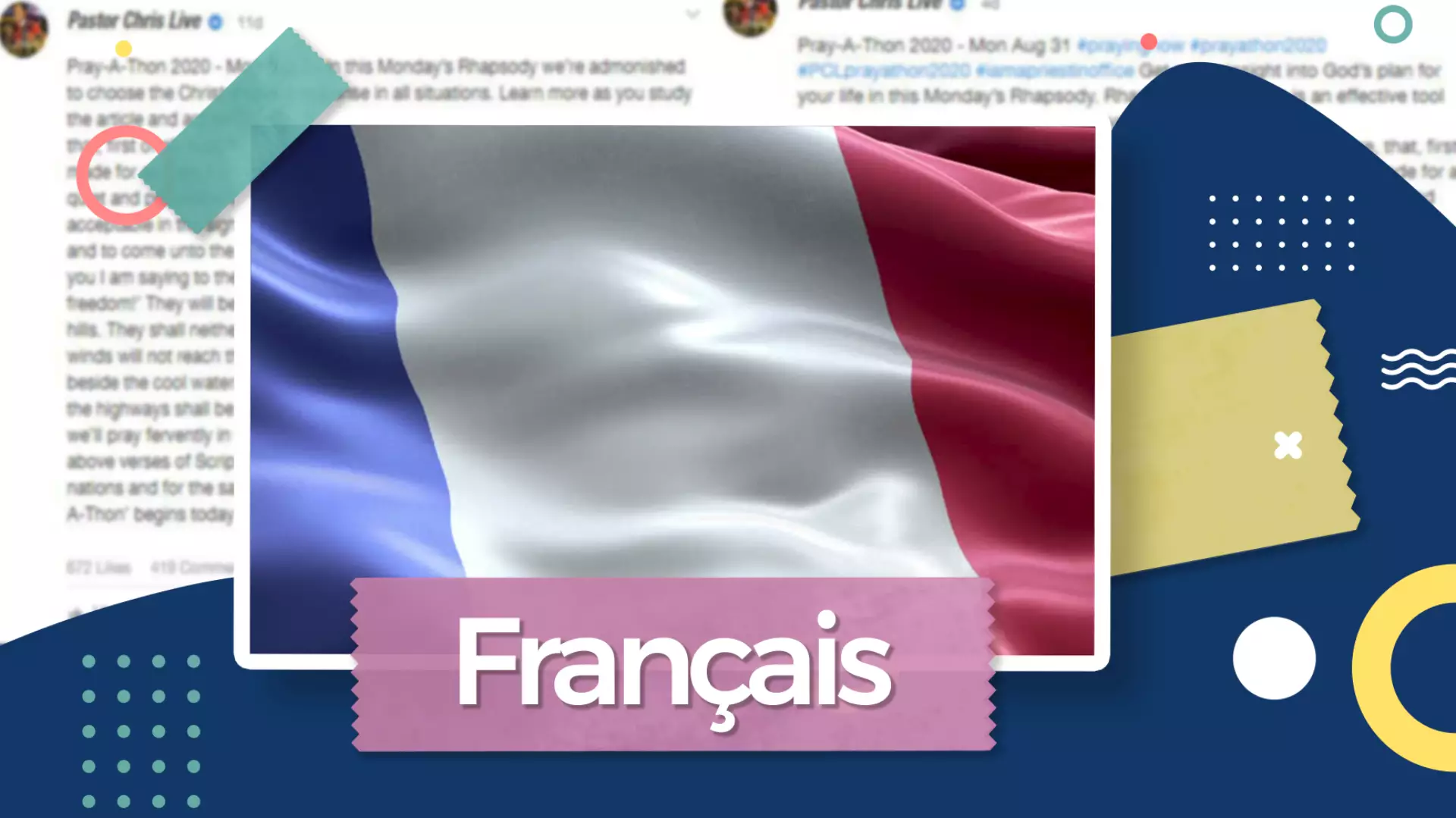 So much more in store to enjoy!💃💃💃💃💃💃💃 Upgrade to a Reloaded Experience on HS MOBILE 2.0! NOW AVAILABLE @ https://ethsch.org/1ww #hsmobile2point0 #getreloaded #HealingSchool #healingtothenations #hstranslators https://www.kingsch.at/p/MWxoSDJ
You are awesome! The Kinging Boss! Pastor Debby Oyovwikigho~ Happy birthday ma! I love you dearly xoxox #PDO0910 #PDOrocks #perfectPDO #celebratingextravagantgrace #cemcwarri
🎥 NEW COURSE ALERT! Learn about business structures, how to grow your business and how to build a reliable team with Tracy Uwom, Founder of Saint Tracy Exclusive. Available only on the CEPHZONE3 Masterclass Academy. Register today at www.cephzone3masterclassacademy.com.ng
Oreo Fugging Tastey! Cred: Selectfoody #fug #Food#Foodies#Taste#TasteBuds#Food&Travel
#SpreadFaithCampaign #Healingtothenations #thevideooftheweek
Preg-A-Thon 2020 - Venerdì 9 Ottobre Riconosci e celebra la tua discendenza divina. Scopri di più nella Rapsodia di questo venerdì. Ricordati di scaricare e condividere la nuova edizione di ottobre per adulti, ragazzi e bambini, disponibile nell'area acquisti dell'app Rhapsody. Efesini 6:12 dice: "Poiché non combattiamo contro carne e sangue, ma contro principati, contro potenze, contro i governanti delle tenebre di questo mondo, contro la malvagità spirituale nei luoghi alti". Marco 16:17 dice: "E questi segni seguiranno coloro che credono; Nel mio nome scacceranno i demoni ... " Oggi, nei nostri orari di preghiera, pregheremo fervidamente in lingue dello Spirito. Proclamate il regno della giustizia, della giustizia e della pace sulle nazioni, esercitando l'autorità e scacciando gli spiriti maligni della malvagità che influenzano le menti degli uomini e i capi delle nazioni per il male. Dichiarare il regno della salvezza di Cristo in tutto il mondo. La sessione finale della Fase 6 di Your Loveworld Specials Stagione 2 si tiene oggi alle 19:00 GMT + 1 / 14:00 EST, sui Canali Loveworld e varie piattaforme social. Non lo perdete. Dio vi benedica.
Devialet's first true wireless earbuds could be an audiophile's dream The French luxury audio brand has launched true wireless earbuds to compete with the AirPods Pro and Sony WF-1000XM3. https://www.techradar.com/news/devialets-first-true-wireless-earbuds-could-be-an-audiophiles-dream/
Omni One VR treadmill will let you run and jump around Half Life Alyx without moving an inch The Virtuix Omni One will let you explore VR worlds without limits – or the threat of bumping into your TV. https://www.techradar.com/news/omni-one-vr-treadmill-will-let-you-run-and-jump-around-half-life-alyx-without-moving-an-inch/
Windows 10 update brings an important battery fix for some HP laptops A freshly released optional update for Windows 10 is designed to prolong your battery's lifespan. https://www.techradar.com/news/windows-10-update-brings-an-important-battery-fix-for-some-hp-laptops/
#SpreadFaithCampaign #Healingtothenations #thevideooftheweek