LoveWorld-XP: CELEBRATING OUR GOLD SPONSOR Thank on KingsChat Web
CELEBRATING OUR GOLD SPONSOR Thank You CE Abuja Ministry Centre Because you gave, many homes around the world were able to connect to the live broadcast of YOUR LOVEWORLD SEASON 2, PHASE 3 with our Dear Man of God, Pastor Chris on LoveWorld Plus Your giving gave millions of lives world over the opportunity of being blessed! Thank you for enforcing the will of God in the earth!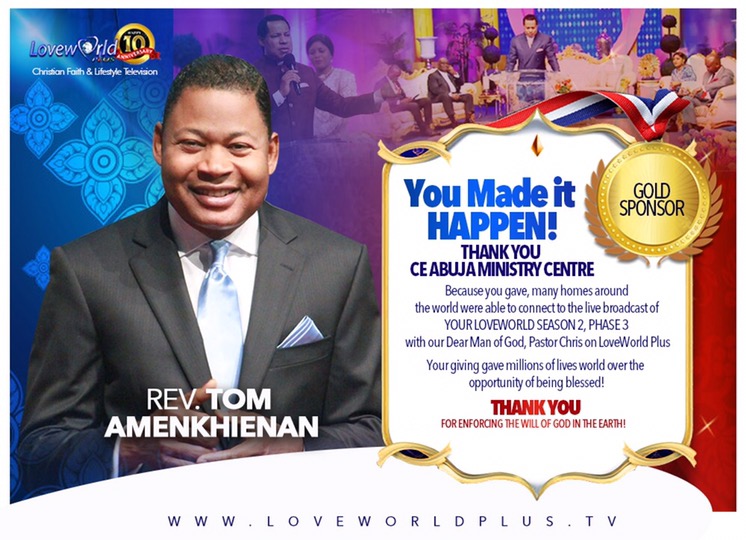 I join the host of heaven to celebrate my Father. Thank you sir for your investments, trainings and discipline.they are not so easy to forget. My life history isnt complete without you. And most of all, Thank you sir, for saying yes to God. I love you dearly sir.
Wonderfully and fearfully made Women from Zion. What a Glorious service... 💕💕💕💕 #CESAzone2 #SouthGroup #CEBenoni
HEALINGSTREAMS.TV 👉Connect @ www.healingstreams.tv Our dear man of God, Pastor Chris, is ministering. 🙌🙌🙌 Connect now @ www.healingstreams.tv or via the Healing School mobile app, with your family and friends. Like, share and comment. #healingstreams #healingstreamstv #healingtothenations
MORE UPDATES FROM THE WATCHMAN CONFERENCE OFFICIAL LAUNCH OF 5 MILLION OUTREACHES TO TEENS AND YOUTH ACROSS THE MINISTRY CE LAGOS ZONE 2 ARE YOU READY💃💃💃💃💃💃 #lwteensministry #celagoszone2 #IYD2020 #5millionoutreaches
#VMCSTORIES Our VMC volunteers are constantly inspired to keep saving lives everyday. This is the reason for the special voluntary blood donation exercise organised today in partnership with Trauma Care International Foundation in Luzira, Uganda, where 98 volunteers turned up to donate their blood. Each pint of blood can be used to save up to 3 lives thus their #vmcgooddeeds have helped to preserve no less than 270 lives! Do like, share and comment on this fantastic effort. #vmcorps #supervolunteers www.volunteermedicalcorps.org/gooddeeds
Celebrating Dcns. Roselyn Obiazi at 80!! Highlights from the colourful and grandeur 80th Birthday celebration of Dcns. Roselyn Obiazi. #MummyObiaziAt80 #Cemidwestzone #HbdmummyObiazi
Celebrating Dcns. Roselyn Obiazi at 80!! Highlights from the colourful and grandeur 80th Birthday celebration of Dcns. Roselyn Obiazi. #MummyObiaziAt80 #Cemidwestzone #HbdmummyObiazi
It's been a minute. Enjoyed today s study 😁. #exposeonsoulwinning #watchliveonpcdltv #SAZONE1
LOVEWORLD ZONE H PRAY-A-THON It was such an honour and a privilege as leaders and brethren from Loveworld Zone H led the ministry in the Pastorchrislive pray-a-thon. We are indeed God's battle and weapons of war. We have prevailed. Hallelujah!! #Pclprayathon2020 #iamapriestinoffice #Blwzoneh #Blwcampusministryrocks