LoveWorld SAT: 🎉🥳🌹✨ HAPPY BIRTHDAY PASTOR RONKE on KingsChat Web
🎉🥳🌹✨ HAPPY BIRTHDAY PASTOR RONKE ADU🎉🥳🌹✨ Today is a special day as we celebrate your life. Thank you for causing many to remain steadfast, immoveable , always avoiding in the work of spreading the Gospel to the ends of the world. We love you and God bless you. #loveworldsatcelebrates #loveworldsatparter #loveworldsat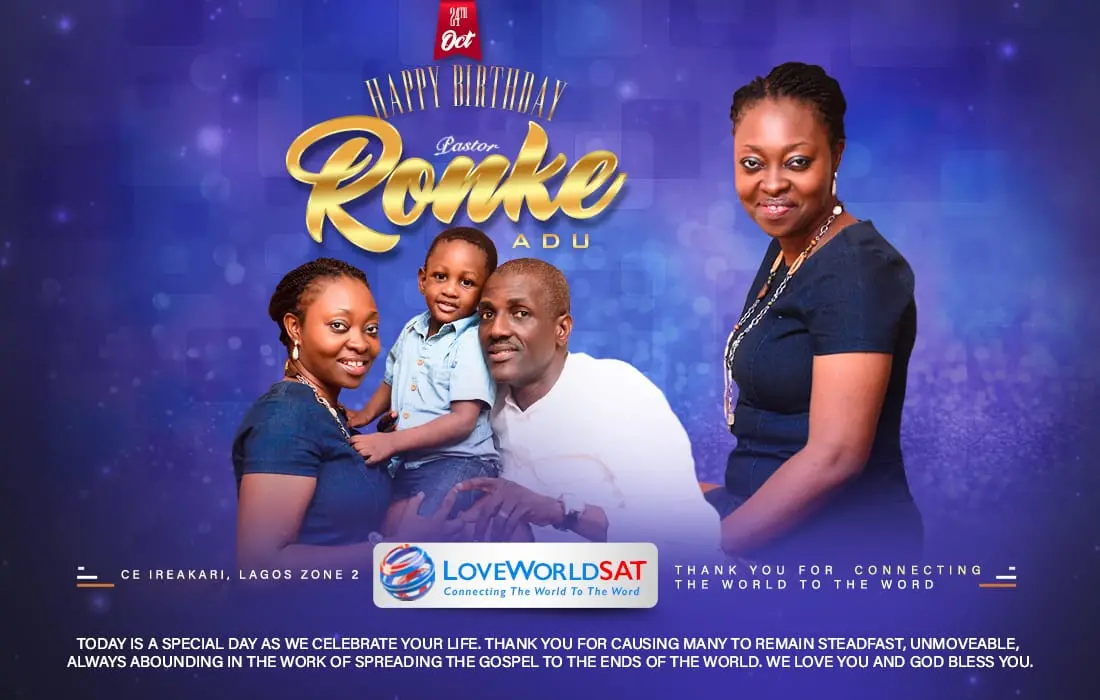 Omokaro Okonedo
commented:
HBD Pst. Ronke you're a blessing to God's work here on earth. Congrats.
Glory to God....2days to my man of God esteemed pastor Gbenga Birthday,a man full of life , strength and power.pastor I love you. #PGO2710 #PGORocks #Gracepersonifi #CelebratingGrace #Godswordsimplifier #PGOsuperstar #cez1rocks #ceabuleegba #AAgroup
Happy Birthday pastor Ronke I celebrate your passion, commitment, love towards the work of the ministry and for loving me specially.
Can't keep quiet, it's my fathers birthday count Up. I love you so much sir #PGO2710 #PGORocks #Gracepersonified #GracefulPGO #IlovePGO #MoneyMagnet #Iconofperfection #fatherofchampions #CelebratingGrace #Godswordsimplifier #PGOsuperstar #cez1rocks #ceabuleegba #AAgroup
🎁🎊🌟 💫HAPPY BIRTHDAY PASTOR EMEKA EZE 🎁🎊🌟💫 We celebrate a special treasure in God's kingdom today. Thank you because through you many are deeply rooted and grounded in Christ. We love you and God bless you. #loveworldsatcelebrates #loveworldsatpartner #loveworldsat
#prayingnow #pclprayathon2020 #prayathon2020 #iampriestinoffice #WEVZ1 #CENetherlandsAlmere
💐💖🎉🥳 HAPPY BIRTHDAY PASTOR MERCY OMOREGIE💐💖🎉🥳 We celebrate a special treasure in God's kingdom today. Thank you for causing many to be conscious of their nature of righteousness and walk accordingly. We love you and God bless you. #loveworldsatcelebrates #loveworldsatpartners #loveworldsat