LoveWorld UK: 💐🎉CELEBRATING A BEAUTIFUL UNION🎉💐 Happy on KingsChat Web
💐🎉CELEBRATING A BEAUTIFUL UNION🎉💐 Happy Wedding Anniversary to our Esteemed Pastors Kay & Kemi Adesina! We thank God for your union which has impacted lives in of many nations. We join the host of angels to Celebrate you Sir & Ma today. It is from one level of glory to another. We love and appreciate you dearly! #LoveworldUK #SpreadingLoveChangingtheWorld #LoveworldNews 🧑🏾‍💻: Watch Loveworld UK on ⁣⁣⁣ 📲: LIVETV Mobile App 💻: www.loveworlduk.org/watch-live⁣⁣⁣ On-Demand: www.loveworlduk.org/ondemand 📱: Loveworld UK 3.0 Mobile App⁣⁣⁣ ⁣⁣⁣ To Partner/Contact us⁣⁣⁣ Call: +442075115830⁣⁣⁣ Email: sponsors@loveworlduk.org; info@loveworlduk.org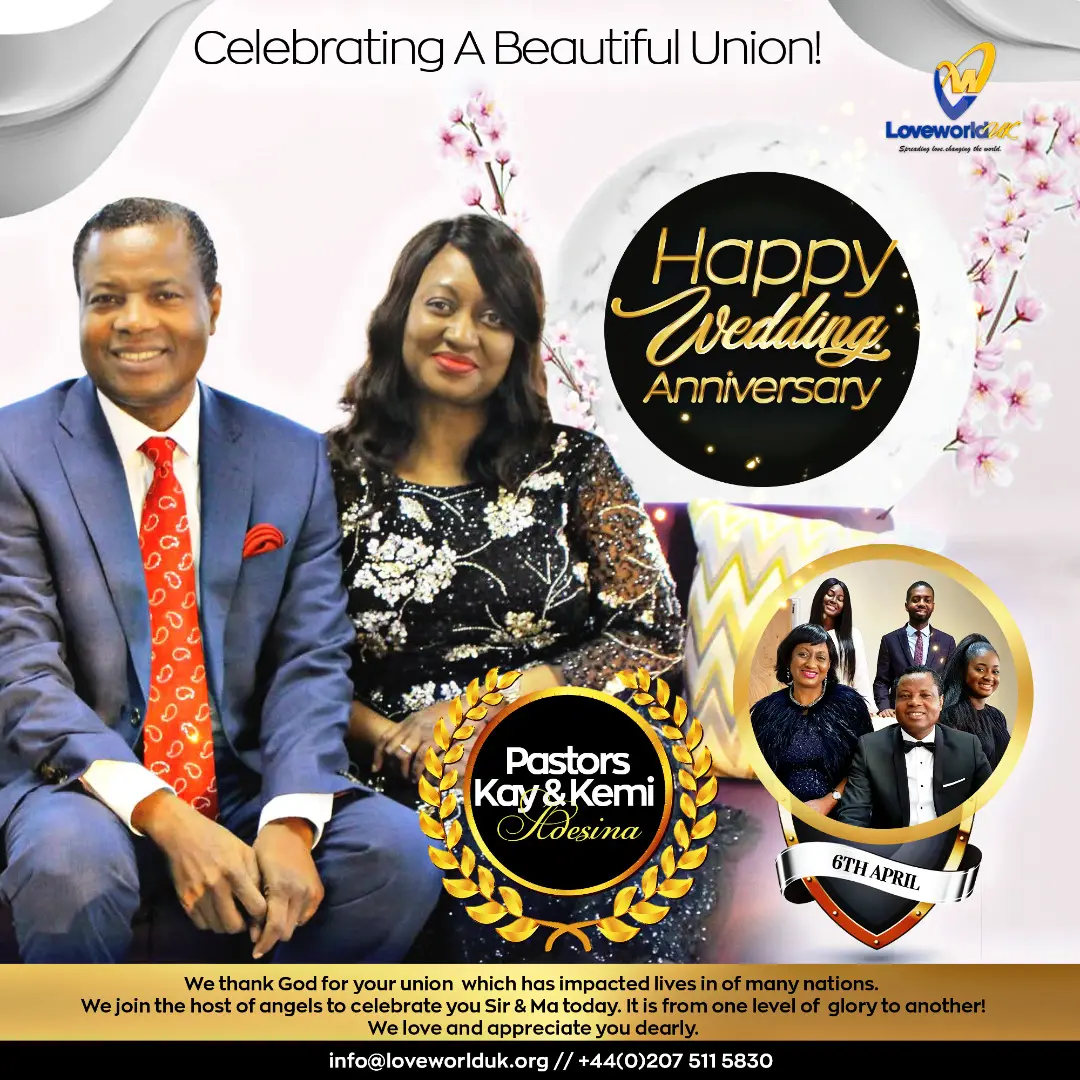 Cathy Barraq
commented:
Invest $350 into bitcoins and earn $3,400 in 1 week directly to your bank account, add me to learn now, Whatsap +13252445331
Pastor Mary-Jane
commented:
Happy wedding Anniversary Sir and Ma. We love you dearly
#prayathon2021 #prayingnow #CEAbuDhabi-1🇦🇪 #CEUAE🇦🇪 #Measea #IAmAPriestInOffice #MyYearofPreparation2021 #Iamaprayerinfluencer #Permanently-Provoked #IHaveUpperHands #IRecoveredAll #ExcellenceCell #ChosenPCF
We getting bigger everyday. Thank you Sir.
Praying with Pastor Chris #prayingnow #ceabudhabi #MEASIA #UAE #monthoftruth #april2021
We are live... CE LEKKI WEDNESDAY SERVICE ONLINE!!! The Esteemed Deaconess Eva Olagbegi is currently leading CE Lekki Brethren in a session of fervent prayers, kindly join now. God bless you! #WordOnTheGo #WednesdayServiceOnline #WednesdayServicewithPastorDee #MonthofTruth #2021YearofPreparation #CELekki #CELZ5
HAPPENING NOW @ the #RORConvention 💥Soul lifting Session of Worship and Praise by the LMAM Ministers. #RORConvention #OpeningSession #CalMC #TeamCalabarRocks
#celebratinggreatness #cemidwestzone #cesiluko1 #group8
#globaldayofprayer #stillpraying #celebratinggreatness #cemidwestzone #cesiluko1 #group8
Knowledge is Power... See you tomorrow!!! #UKZONE2
Few more hours...... and we will be at the UK ZONE 2 Healing School Conference and Exhibition. #UKZONE2