Happy Birthday dear Sis Abigail, On this very special day, we celebrate your beautiful life of faith and service unto the Lord. Thank you for being a great daughter, sister, and friend to many. We declare perfection in all that concerns you. Your life is from Grace to Grace and from Glory to Glory! Happy Birthday from all of us! We love you so very dearly! #HappyBirthday #CENorthYork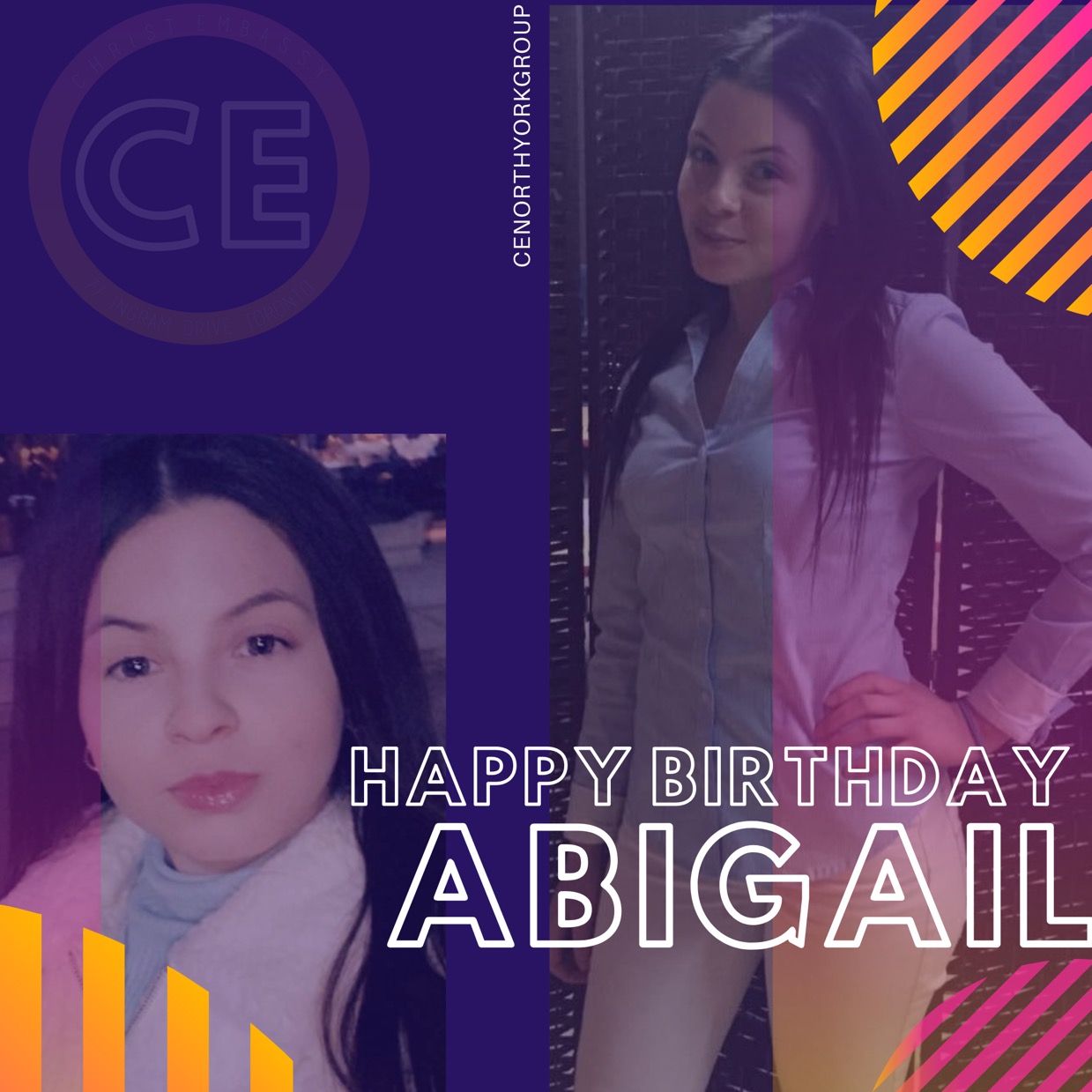 Sis Temi Huios of God
commented:
Happy Birthday Beautiful Sis Abigail!! You are such an awesome person! May God continue to bless you in abundance!! I love you so dearly 💖💖💖God Bless you !
IN-stinct
commented:
Happy birthday Sis Abigail! God bless you richly
✍️ God expects us to do something about the situation, because He knows we can. He gave us the power to do so and He is guiding us by His Spirit on how to do what to do. ✍️ With faith you can frame the kind of world you want to live in. You can be an oasis of peace in a troubled world. ✍️ The word of God in your mouth is God talking. ✍️ The world is being restored, mended and prepared for the return of the Lord. ✍️ Your calling is to establish God's perfect will and purposes on the Earth, otherwise you are living an empty life. CeTunes 👇 www.cetunes.org Cloveworld 👇 http://cloveworld.org Loveword Internet Radio👇 http://loveworldradio.fm
Check out my amazing post in Yookos!
👉🏾"We only fear God, we fear no man!!!" 👉🏾"If they don't open the churches soon, we would break all the rules like we've always done. Go read our history"- Pastor Chris Oyakhilome Stay tuned Follow yourloveworld superuser, they post really inspiring updates.😲😮 I follow them🤗
YOUR LOVEWORLD SPECIALS WITH PASTOR CHRIS, SEASON 2, PHASE 3, (DAY 5) Healing School Ambassadors' Network: Live participation from Zimbabwe Tune in NOW @ www.enterthehealingschool.live with your family and friends God bless you. #YourLoveworld #healingtothenations
YOUR LOVEWORLD SPECIALS WITH PASTOR CHRIS, SEASON 2, PHASE 3, (DAY 5) Healing School Ambassadors' Network: Live participation from India Tune in NOW @ www.enterthehealingschool.live with your family and friends God bless you. #YourLoveworld #healingtothenations
YOUR LOVEWORLD SPECIALS WITH PASTOR CHRIS, SEASON 2, PHASE 3, (DAY 5) Healing School Ambassadors' Network: Live participation from Zimbabwe Tune in NOW @ www.enterthehealingschool.live with your family and friends God bless you. #YourLoveworld #healingtothenations
Your Loveworld Specials with Pastor Chris Season 2, PHASE 3, DAY 5 Participating Live from UAE Connect on the REON Website: www.reoninternational.org and all our social media platforms: 👉Facebook@reoninternational 👉YOUTube@reoninternational
YOUR LOVEWORLD SPECIALS: JESUS : God's own eugenes - nobility #season2phase3day5 #CEBATH #UKR2ZONE4
HAPPENING NOW !!!! YOUR LOVEWORLD WITH PASTOR CHRIS, SEASON 2️⃣,PHASE 3️⃣, DAY 5️⃣ Live participation from Cameroon 🇨🇲 Join the live stream @ 👇 http://futureafricaleadersfoundation.org/globaldayofprayer #YourLoveworld #FALF #FALA
SNEAK PEAK HIGHLIGHT FROM *#YourLoveWorldwithPastorChris* Season 2, Phase 3: Grand Finale Luke 11:20 - But if I with the finger of God cast out devils, no doubt the kingdom of God is come upon you. STAY TUNED to the ongoing live broadcast, via link below👇 Http://bit.ly/Watch-Your-LoveWorld ■CLICK ■WATCH ■SHARE