Affirmation Train: #TALKINGSESSION 31ST MARCH. KINDLY SAY on KingsChat Web
#TALKINGSESSION 31ST MARCH. KINDLY SAY THESE WORDS OUT LOUD. Dear Heavenly Father, I thank You for Your Word which is profitable to me for doctrine, for reproof, for correction, for instruction in righteousness, causing me to grow spiritually and my faith to be stirred unto good works. I am rooted and established in the Word, displaying the virtues and perfections of the Spirit. I am dead to the world and the world is dead to me. Therefore, I set my affection on the Lord and His eternal Kingdom, loving Him with all my heart. The things of the Spirit are of greater importance to me than anything in this world. I live every day with my affection on the Gospel, preaching and spreading it around the world in the power of the Holy Spirit. I refuse to be intimidated in this life, for I am strong in the grace that's in Christ Jesus. Fear has lost its power over me, for greater is He that is in me, than he that is in the world. The Word of God has taken full possession and expression in, and through my spirit, my soul and my body. My heart is flooded with knowledge and spiritual understanding. I know who I am; an heir of God and a joint-heir with Christ. I know what belongs to me in Christ. I live above lack, sickness, disease, defeat and all the rudiments of this world. My life is upward and forward only, from glory to glory, from faith to faith, and from grace to grace, in Jesus' Name. Amen. • Keep saying it, publish it everywhere; noise it abroad! In Christ, we've got something to shout about. Let's flood the airwaves, internet and print media with the reality of Christ. Speak in other tongues now. ~ Pastor Chris Oyakhilome. #talkingsession #healingstreams #8DOM #yourloveworldspecials #affirmationtrain #wordfest2021 #prayathon2021 #hspc #thankyoupastorchris #rhemafortoday #8daysofmeditation #europeforjesus #asiaforjesus #themonthofchange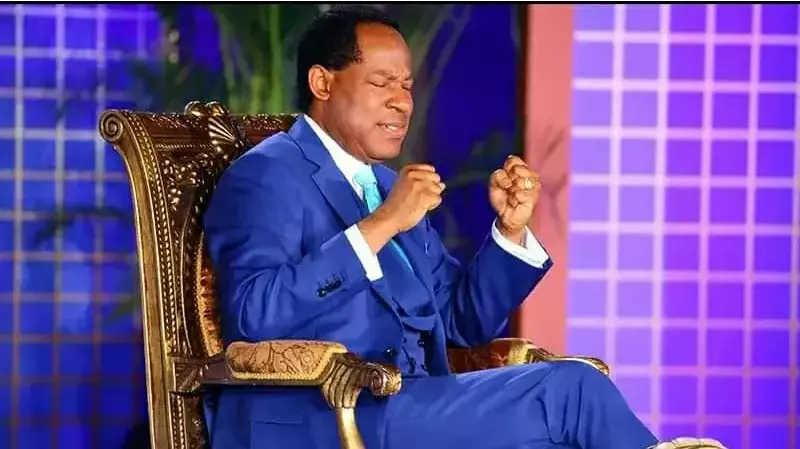 ✨⏰LOVEWORLD UK: PREP TIME⏰✨ Welcome to Prep Time with Loveworld UK!🙇‍♀️✍️🙏🏽 When someone asks you "what's your superpower?" Tell them being FILLED WITH THE HOLY GHOST🔥 As a carrier of divinity, make it your priority to be filled with the spirit always!💫 #LoveworldUK #SpreadingLoveChangingtheWorld 🧑🏾‍💻: Watch Loveworld UK on ⁣⁣⁣ 📲: LIVETV Mobile App 💻: www.loveworlduk.org/watch-live⁣⁣⁣ 📱: Loveworld UK 3.0 Mobile App⁣⁣⁣ ⁣⁣⁣ To Partner/Contact us⁣⁣⁣ Call: +442075115830⁣⁣⁣ Email: sponsors@loveworlduk.org; info@loveworlduk.org
*HALLELUJAH FOREVERMORE THIS IS A TIME CHANGE BY GOD'S DEVINE AUCTION IN THE SUPERNATURAL FOR SIGNS AND WONDERS IN THE POWER OF THE HOLY SPIRIT FOR YOUR HEALIN
Check out my inspiring post on Yookos!
Thank you Pastor Sir for the opportunity to Touch life's in a very special way. #go2inc #cemidwestzone #cemodelgroup
Pictorial Report CE New Benin Group Gospel outreach to the inner-city of Bob-Oshodin Community in Benin City #GlobalOutreachtotheInnercities #GO2INC #cenewbenin #cemidwestzone
Thank You Highly Esteemed Pastor Linda Okocha and Beloved Partners of Christ Embassy Port-Harcourt Zone 2 For Your Partnership In The Month of March Towards RISE Port-Harcourt. We Love and Appreciate You Always Ma #Loveworldradio #Riseproject #RISE
#go2inc #cemidwestzone #cemodelgroup
#go2inc #cemidwestzone #cemodelgroup
CELEBRATING A RHAPSODY BIBLE GLOBAL ACE PARTNER, OUR ESTEEMED PASTOR REBECCA-WEALTH ERIYA Thank you for taking a bold stand for the Bible Mandate always. We greatly appreciate your outstanding Partnership commitment to keeping the Bible in its place as the No 1 Book in the world. Happy Birthday! We Love you Dearly!