MediaActivist4Christ : #mediaactivist4christ #4 #Important #Things #About on KingsChat Web
#mediaactivist4christ #4 #Important #Things #About #Thanksgiving! 1.prayer of Thanksgiving 2. Worship & praise of Thanksgiving 3 Testimony of Thanksgiving 4. Offering of Thanksgiving.. We are Thanksgiving ready!!! Hallelujah #cebeninzone1 #ceccbenin #CECAMPGROUNDCHURCH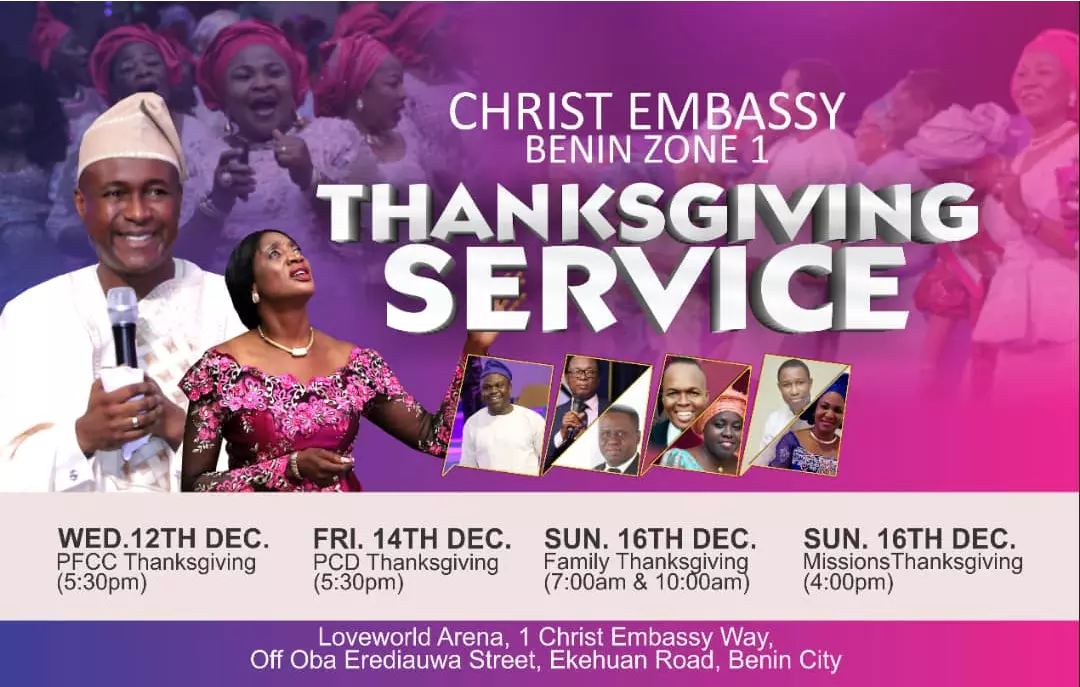 #mediaactivist4christ Christ Embassy Benin Zone 1 Thanksgiving Service...is always an opportunity to ask God for more. Glory! HALLELUJAH #cebeninzone1 #ceccbenin #Thanksgiving #CECAMPGROUNDCHURCH
You are the best of the best. A passionate partner and follower of our man of God pastor Chris.
Putting a smile on your face is my number one goal today. You mean the world to me. Happy Birthday to my wonderful hubby and an Awesome Dad!
My spirit is always stirred to respond to the call n urgency of Prayer. What a privilege and honor to have the Holy Spirit intercede thru me
#mediaactivist4christ #4 #Important #Things #About #Thanksgiving! 1.prayer of Thanksgiving 2. Worship & praise of Thanksgiving 3 Testimony of Thanksgiving 4. Offering of Thanksgiving.. We are Thanksgiving ready!!! Hallelujah #cebeninzone1 #ceccbenin #CECAMPGROUNDCHURCH
Motion Graphic Editor of the Year. God I give you praise.
#mediaactivist4christ #4 #Important #Things #About #Thanksgiving! 1.prayer of Thanksgiving 2. Worship & praise of Thanksgiving 3 Testimony of Thanksgiving 4. Offering of Thanksgiving.. We are Thanksgiving ready!!! Hallelujah #cebeninzone1 #ceccbenin #CECAMPGROUNDCHURCH
#Thanksgiving #prayingnow #nnwvz2 #cekano
Words to describe my husband. Wonderful, amazing, unique, incomparable, handsome, strong, incredible…I could go on forever. Blessed Birthday