Bro Collins: #TALKINGSESSION 17TH JANUARY. KINDLY SAY on KingsChat Web
#TALKINGSESSION 17TH JANUARY. KINDLY SAY THESE WORDS OUT LOUD. Righteous Father, You have set me over the nations and over the kingdoms, to proclaim Your goodness and declare Your faithfulness to the ends of the earth. Your righteousness is established in the nations, and the Gospel of Christ prevails and is glorified in all the earth. I thank You for blessing me with all spiritual blessings in heavenly places, in Christ Jesus. I don't lack anything good because all things are mine. Thank You, Lord, for You have the right people to help me, at the right time, and in the right places. I belong to Christ; therefore, I am the seed of Abraham and an heir according to the promise. I am Christ's extension in the earth, His outstretched arm to a dying and hurting world. I unveil His blessings and dispense His goodness, wisdom, and love; I am His light in a dark world. Hallelujah! I am the living tabernacle of Almighty God; wherever I go, God goes; He lives in every fibre of my being, every bone of my body, and every cell of my blood. Nothing of darkness is in me. NO sickness, disease, or infirmity can lodge in me. I cut out any disease-germ or growth that tries to attach itself to my body, in the Name of Jesus, and I continually glorify God in my spirit and my body as I walk in divine health today and always. I am indestructible and can do all things through Christ who strengthens me from within, in Jesus' Name. Amen. • Keep saying it, publish it everywhere; noise it abroad! In Christ, we've got something to shout about. Let's flood the airwaves, internet and print media with the reality of Christ. Speak in other tongues now. ~ Pastor Chris Oyakhilome. #monthofcelebration #wehavemoved #wordfest2 #preparation #wordfest2020 #talkingsession #yourlobeworld #8DOM #strengthened #thankyoupastorchris #enthroned #theyearofpreparation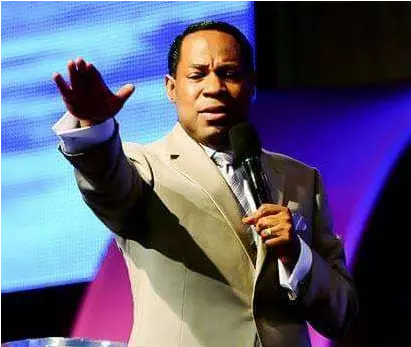 Thomas
commented:
USTR🅰️DE🅾️PTI🅾️NS... it's really lucrative way of earning consistent income weekly with just little investment and it doesn't require any experience, just step by step instructions..It's an investment where you invest on bitcoins and the sum of bitcoins you invest in, will been process and doubled in a multiple in 7 days trade and then invested in the same account that you invested in again and again, you can invest with credible Asset traders and earn returns of ... $300 to earn $3,000, $400 to earn $4,000, $500 to earn $5,000, $600 to earn $6,000, $700 to earn $7000, $800 to earn $8,000, $900 to earn $9,000 $1000 to earn $10,000.All in 7days trade and 10% will be my commission and no extra payment before withdrawal .. De me on WhatsAp +1850 7391660
TODAY'S SCRIPTURE READING FOR YOU!!! Study to shew thyself approved unto God, a workman that needeth not to be ashamed, rightly dividing the word of truth. 2 Timothy 2:15 KJV #bibleisno1 #biblestudy #rhapsodybible #giftabible #thebiblematters #takeastandforthebible
Christ Has been made unto me wisdom!He is my wisdom! #CEBrisbane #CEAustralia #8DOM
Happiest Birthday to me! Lord am grateful 🙏. It's my celebration 🍾 period. Glorrrrrry!
#Cemidwestzone #Cetextilemillgroup #8DOM#2021TheYearofPreparationnowPCDL #8daysofmeditation2021 #studyingnow #preparingwiththeWord
#TALKINGSESSION 17TH JANUARY. KINDLY SAY THESE WORDS OUT LOUD. Righteous Father, You have set me over the nations and over the kingdoms, to proclaim Your goodness and declare Your faithfulness to the ends of the earth. Your righteousness is established in the nations, and the Gospel of Christ prevails and is glorified in all the earth. I thank You for blessing me with all spiritual blessings in heavenly places, in Christ Jesus. I don't lack anything good because all things are mine. Thank You, Lord, for You have the right people to help me, at the right time, and in the right places. I belong to Christ; therefore, I am the seed of Abraham and an heir according to the promise. I am Christ's extension in the earth, His outstretched arm to a dying and hurting world. I unveil His blessings and dispense His goodness, wisdom, and love; I am His light in a dark world. Hallelujah! I am the living tabernacle of Almighty God; wherever I go, God goes; He lives in every fibre of my being, every bone of my body, and every cell of my blood. Nothing of darkness is in me. NO sickness, disease, or infirmity can lodge in me. I cut out any disease-germ or growth that tries to attach itself to my body, in the Name of Jesus, and I continually glorify God in my spirit and my body as I walk in divine health today and always. I am indestructible and can do all things through Christ who strengthens me from within, in Jesus' Name. Amen. • Keep saying it, publish it everywhere; noise it abroad! In Christ, we've got something to shout about. Let's flood the airwaves, internet and print media with the reality of Christ. Speak in other tongues now. ~ Pastor Chris Oyakhilome. #monthofcelebration #wehavemoved #wordfest2 #preparation #wordfest2020 #talkingsession #yourloveworld #8DOM #strengthened #thankyoupastorchris #enthroned #theyearofpreparation
There's no shame for a child of GOD Don't be and never be ashamed and afraid of going to church in these days.... Because you're the light of the world.
Wow Wow Wow We preparing young people Glory #YoungPeopleCalledToMinistry #YPCTM #CampusMinistryRocks #blwzonei