The Healing School : #DHCONFESSIONS 11TH NOVEMBER 2020 💯 on KingsChat Web
#DHCONFESSIONS 11TH NOVEMBER 2020 💯 Visit https://enterthehealingschool.org to listen to our daily divine health confession podcast. Galatians 2:20 (KJV), "I am crucified with Christ: nevertheless I live; yet not I, but Christ liveth in me: and the life which I now live in the flesh I live by the faith of the Son of God, who loved me, and gave himself for me". ✅ Spread faith to your world with the November Healing to the Nations Magazine. Sign up now @ https://enterthehealingschool.org/spreadfaith ✅ Download/upgrade to the all-new HS Mobile 2.0 and new and exciting features. https://enterthehealingschool.org/mobile Like, comment and share post. God bless you!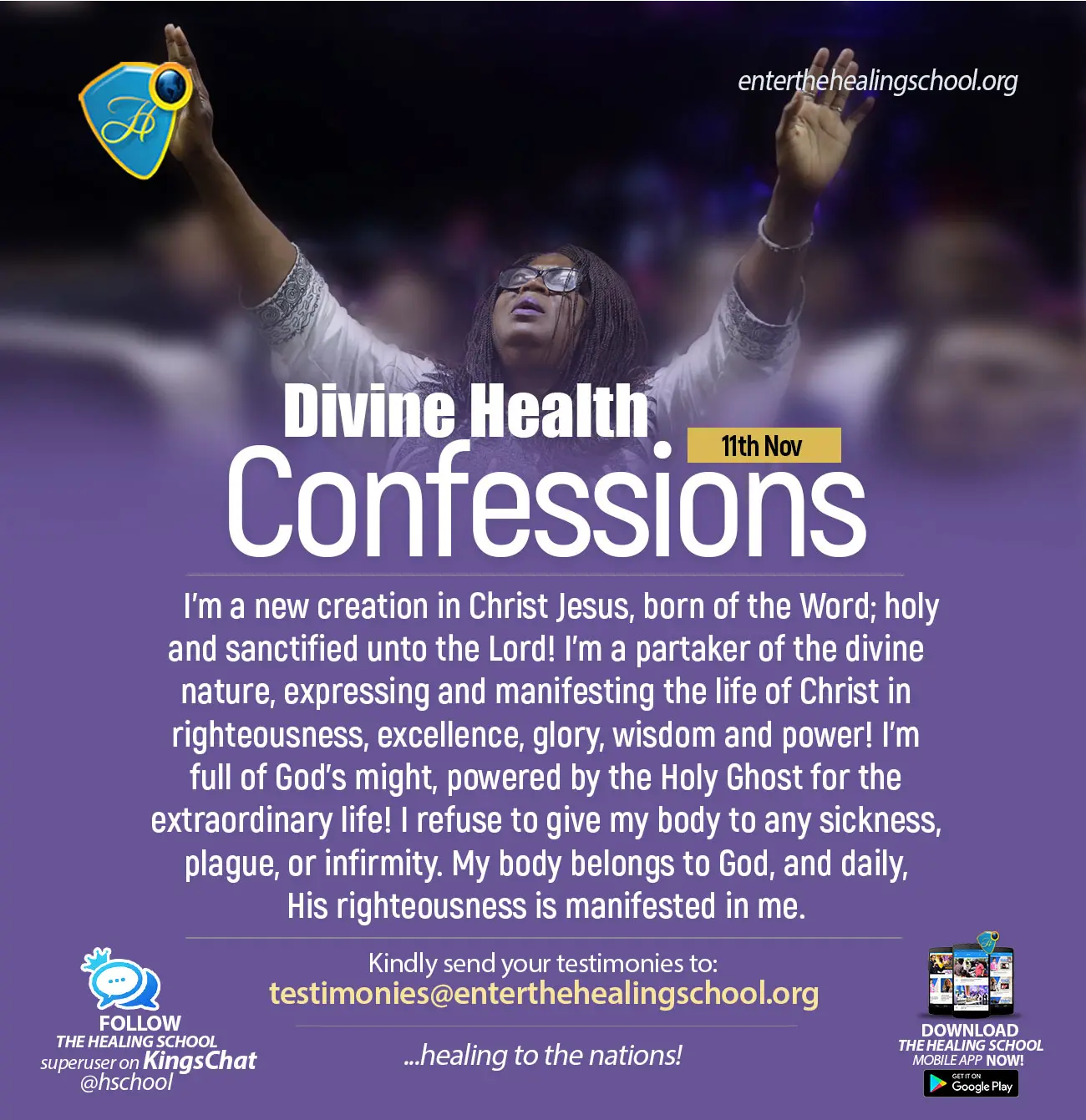 Happy birthday to me once again, Lord Jesus I thank you for another year of perfection in my life., am very grateful
#Dhconfessions #Dhconfessions #SAzone1
DIVINE HEALTH CONFESSSIONS NOVEMBER 11. I am a partaker of the divine nature,expressing and manifesting the life of Christ in righteousness,eccellent,glory wisdom and power. 👉👉www.enterthehealingschool.org/dhr #dhconfessions #faithproclamatioms #Healingtothenations
Happy happy Birthday dearest Pastor Shelly. Thank you so much for all you do in Ministry. Thank you for being such a huge inspiration all these years. Congratulations on the new level Ma. Dcns, Breanna, Claire & I love you so much. God bless you richly. Hip Hip Hurray!!!
हैलो, तुम्ही सगळे कसे आहात ? क्राइस्ट एम्बेसी इंडिया कडून आपल्यासाठी आजचा संदेश तुमच्या स्वतःच्या मराठी भाषेत . वाचा आणि आशीर्वादित व्हा!
Business As Usual? The State of The Bachelorette Now That Tayshia Adams Is Here What's the best way to irritate a bunch of already irritated guys? Add more guys. Tayshia Adams made her official debut as the Bachelorette tonight and while Clare Crawley's... https://www.eonline.com/news/1207178/business-as-usual-the-state-of-the-bachelorette-now-that-tayshia-adams-is-here?cmpid=rss-000000-rssfeed-365-topstories&utm_source=eonline&utm_medium=rssfeeds&utm_campaign=rss_topstories
Britney Spears' Lawyer Claims She's Afraid of Father Jamie Amid Conservatorship Battle Britney Spears is afraid of her father Jamie Spears, according to the singer's lawyer. The accusation was revealed in court on Tuesday, Nov. 10, during the ongoing fight over her... https://www.eonline.com/news/1207207/britney-spears-lawyer-claims-she-s-afraid-of-father-jamie-amid-conservatorship-battle?cmpid=rss-000000-rssfeed-365-topstories&utm_source=eonline&utm_medium=rssfeeds&utm_campaign=rss_topstories
Tayshia Adams Defends "Phenomenal" Bachelorette Contestants After Taking Over for Clare Crawley Don't judge a book by its cover--better yet, don't judge it by its reality TV edit! In an exclusive sneak preview of the Bachelor Happy Hour podcast, Tayshia Adams insists that... https://www.eonline.com/news/1207230/tayshia-adams-defends-her-phenomenal-bachelorette-contestants-after-taking-over-for-clare-crawley?cmpid=rss-000000-rssfeed-365-topstories&utm_source=eonline&utm_medium=rssfeeds&utm_campaign=rss_topstories
This has to be the best (and cheapest) Surface Pro clone yet, complete with kickstand and type cover From a company you've never heard of comes a tablet that looks mightily familiar. https://www.techradar.com/news/this-has-to-be-the-best-and-cheapest-surface-pro-clone-yet-complete-with-kickstand-and-type-cover