Pastor Dipo Fisho: Happy Birthday Sweetie; I Celebrate on KingsChat Web
Happy Birthday Sweetie; I Celebrate you heartily and graciously today because you are worth celebrating. You are a christian indeed in whom there is no guile, full of the word and the Holy Ghost. An exceptional leader and a faithful disciple of our father ; Pastor Chris Oyakhilome P.hD. You are a passionate lover of Jesus Christ, an inspiring teacher of the word and a diligent under-shepherd of his flock. You are my beautiful wife, an amazing & studious support, gracious co-labourer and a wonderful mother to our children; for these and many more I thank you and love you and Celebrate you. Happy Birthday to you. Enjoy Your Day Graciously.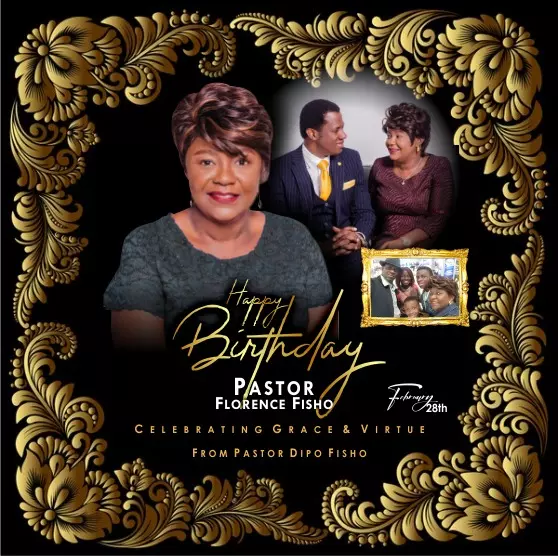 My Life is fully for the Glory of God. Everything I am, everything I do, and everything I have is pledged for the expansion of God's Kingdom and His Righteousness. Thus, the full Blessings of God are manifest in my Life...as I lead men and women to Righteousness... Amen.
Happy perfect birthday ma,to celebrate you is to celebrate grace. You're an inspiration and an ever beautiful sight to behold. Thank you for loving my Zonal Pastor and for being a pillar of support to him. Thank you for being so loveable. I love you ma. #cemississippi #ceaz
Only 4 days away. A Great General in Gods Army was Born . My Pastor and Father #CEMNY #PFO #CAIOG #Graceinmotion
NIGHT OF BLISS IS NOW 28 DAYS AWAY!!!!! PRAYER TIMES - 5.00AM, 12NOON AND 10.15PM PRAYER POINTS: WE ARE PRAYING FOR THE UNSAVED, UNCHURCHED & UNCOMMITTED Pray that each category of persons mentioned above will have a sense of strong desire for change, direction and insight even before the program and this will propel them to attend the program.  And as they attend they will experience the presence of God which will leave a lasting impact on them. Mark 5:21-41, James 5:15, Acts 14:3. Declare that we will not just have visitors come for the program, but they will become members and children in the house. Pray that through these ones, sons of consolation, helpers of the war, ardent soul winners and committed partners will be raised. 1 Timothy 2:1-4 #CELAGOSZONE2 #NOBSL
That moment when there are no audibles to truly express your gratitude for divide life, godliness, God's gentle hand in hand guide and ability to win souls... No words... All gratitude and gratefulness! #IAmTheAlteredMind #ThanksGiving
MARCH 8TH  PRAYER FESTIVAL & MIRACLE SERVICE PRAYER POINTS FOR FRIDAY FEBRUARY 28, 2020 (9 DAYS TO GO) PUBLICITY STRATEGIES & PUBLICITY MATERIALS Pray that all our publicity strategies and materials carry the divine anointing to cause all our invitees to come for the program. Declare that all our brethren are participating fully in the publicity of the program. Declare that all our publicity strategies make the necessary impact and produce the right results. Declare that the anointing is upon every publicity material. No one will be wasted but will cause many to attend the program. Pray for a wider coverage of our publicity through angelic activities; that people who come in contact with them would be personally convinced to attend the program. Luke 10:17, Acts 10:3-6 #CELAGOSZONE2 #pfms #march8