LOVEWORLD UKZONE 4: HAPPY BIRTHDAY SIR!!! Celebrating our on KingsChat Web
HAPPY BIRTHDAY SIR!!! Celebrating our Esteemed Zonal Pastor- Esteemed Pastor Uche Onubogu! Celebrating an Extraordinary Visioneer! Celebrating an Iconic Luminary! Celebrating our Father! Celebrating a Passionate Worshipper! Celebrating an ardent Soul Winner! Celebrating a Pillar of Faith, Hope and Love! #LoveworldUKZone4 #LoveworldCentralChurchManchester #LoveworldBlackburn #LoveworldBolton #LoveworldBury #LoveworldCoventry #LoveworldFirthPark #LoveworldGateshead #LoveworldMiddleton #LoveworldPeterboroughMain #LoveworldPeterboroughCityCentre #LoveworldPreston #LoveworldRochdale #LoveworldSheffield #LoveworldSunderland #LoveworldWigan #StarlightChurch #LoveworldYouthChurchCoventry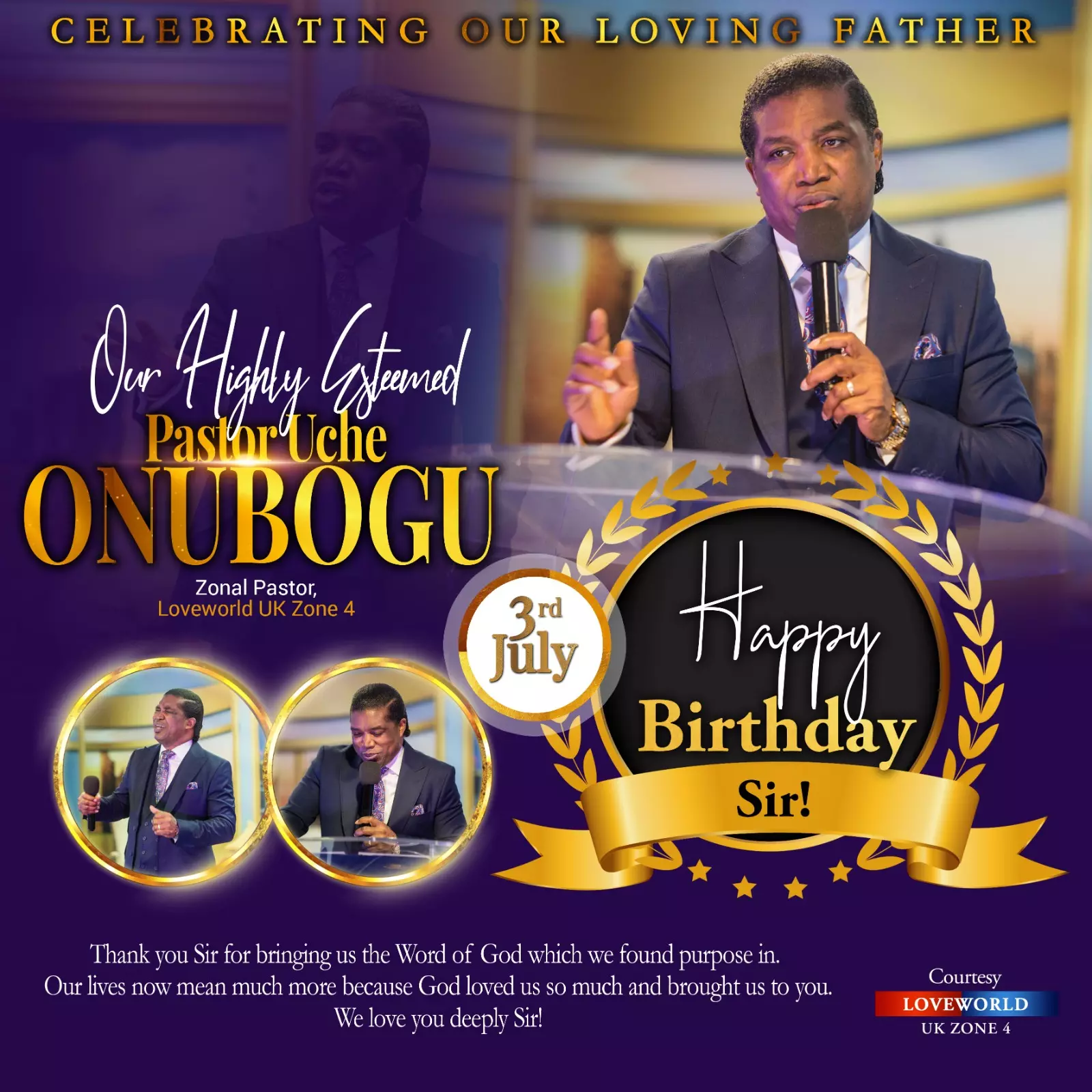 Romans 10:15 KJV ... how shall they preach, except they be sent? ... P.R.O.C.E.E.D today to your assigned CREATIVE SPECIALIST location to make a difference today. #10WEEKSOFHARVEST #WEEKFOUR #PROCEED #CREATIVESPECIALIST #CEACCRAGHANAZONE
As long as there is a God in Heaven to answer prayers, we will pray! Still on the prayer Influencer Campaigns.... The Campus Ministry is agog with prayer outreaches, spreading the Spirit of prayer and changing lives. From Lagos to Portharcourt, Kenya to South Africa, UK to South Pacific, the voice of young people from across the globe can be heard filling the atmosphere with faith-filled words to bring about alignment and a fruition of God's perfect will in all the earth. Don't let your voice go unheard in the ongoing Campaign, organize a prayer outreach today! #iamaprayerinfluencer #ispreadprayer #iamapriestinoffice *Watch the video clip below
IT'S 2 DAYS TO JULY GLOBAL SERVICE WITH PASTOR CHRIS cLoveworld mobile application is all you need to participate live from start to finish, and the interesting news is that it is available for free download on the Google play store and the Apple App Store. Use the word 'excellence' as reference code to enjoy unrestricted access. iOS https://apps.apple.com/us/app/cloveworld/id1411456906?ls=1 Android https://goo.gl/Zww1Ap Kindly reshare!
Happy birthday to my amazing pastor and mother. We love you dearly #glorychurch #cebeninzone1 #pastorjojo #evangelism team
Happening now. Join in to make Power available Glory!!!!! Hallelujah !!!!
In the world today, there's a cry, there's a call for true leaders! Leaders should be thoughtful. Leaders should be considerate...- Pastor Chris Watch the rebroadcast of yesterday's session of Your Loveworld with the Man of God, Pastor Chris. Showing now on Loveworld Plus via www.loveworldplus.tv #pastorchris #loveworldplus #perfection #yourloveworld
#Iamaprayerinfluencer #Pclprayathon2020 #Prayathon2020 #Iamapriestinoffice #kcsmw2020 #mcnpraysliveonprayathononline