ANNOUNCEMENT 🔊🔊🔊 IT'S NOW HERE....MEET THE LOVEWORLD CHILDREN'S MINISTRY "BIBLE WHIZ" APP FOR KIDS 🎊🎊🎊🎊🎊🎉🎉🎉🎉🤗🤗🤗👏👏🔥🔥 The bible whiz app is a ➡️Fun, ➡️Engaging, ➡️Interactive and ➡️Educational app, specially designed to help your kids learn the word of God in its simplicity. 👇👇👇👇 With lots of educational quiz questions and exciting Tv contents; kids are sure going to have an amazing time with the Word of God. And begin a lifetime love, of God's Word.💯💯💯🕺💃🕺 This is the best time to engage children with the app.. Click link below to download it NOW for 🆓 💃💃 https://play.google.com/store/apps/details?id=com.LWCM.BibleWhiz Coming 🔜 to IOS.. 🔛 #childrenschurchrocks #loveworldchildrensministry #SEZ2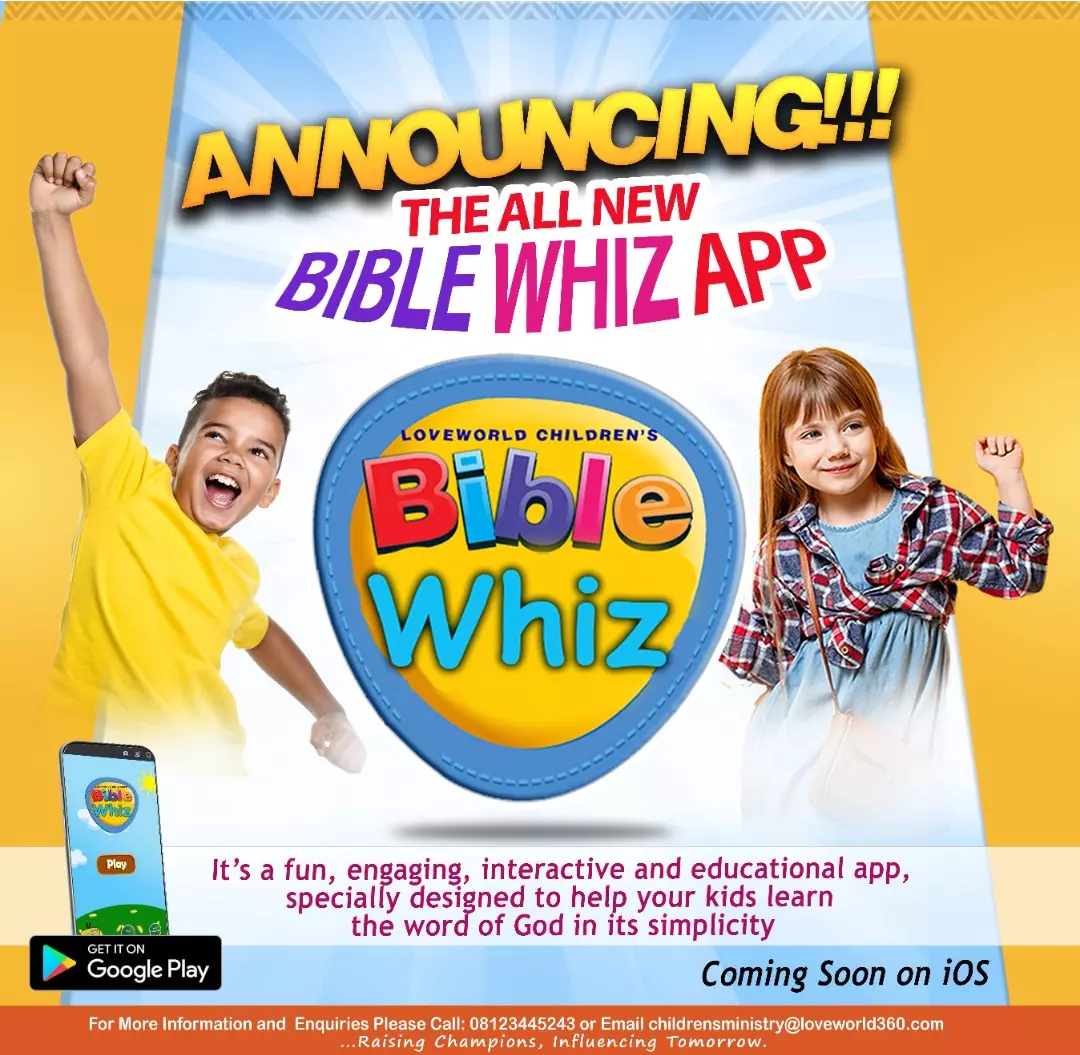 Royal Covenant Wedding. This is how it is done in the Kingdom of God. See you at the top.
5min to go To register : bit.ly/francophoneloveworld To watch : bit.ly/francophoneloveworldtv #ewcazone2 #ewcaz2 #FMC2020
We are the Heroes of New Jerusalem. See you at the top.
HAPPENING NOW!💃💃💃 The I Know Who I Am Online Workshop For Children is on. Simply click on any of the links below to join now. YOUTUBE LINK: https://www.youtube.com/channel/UCfPC57uzbaxBmVhFlkPgiew/live KIDDIESLOVEWORLD LINK:  https://kiddiesloveworld.org/new/onlineworkshop/ INSTAGRAM:  instagram.com\kiddiesloveworld #IKWIAonlineconferenceforchildren #lwpm
Happy Birthday Pastor Goke. Thank you for your passionate commitment to the vision of our man of God and for all you do through the CGI. You will do even more for the kingdom in this year of perfection. God bless you.  
"THE PERFECT YOUTH" #TALKSHOW 1 HIGHLIGHTS The teens ministry of UK Zone 2 connected young people all over the world today with the Word of God. " These are the end times. We know we are the body of Christ that will usher in the coming of the Lord." - Pastor Deba Erhabor "Participation in church is very vital. One of the things our MOG thought us is growing in our relationship with God and that brings a sense of responsibility which leads to Participation" -Sister Flourish Aduroja "We have several structures in our ministry for you to get involved in. Getting involved is very vital".- Sister Flourish Aduroja As a young person social media is part of your mandate to preach the gospel all over the world. When you come to that understanding things become simple. You being about Christ should be evident on your page.- Pastor Kaobi Shielu -" You are bought with a price. Your life is not your life. Therefore your page is not your page." - Pastor Kaobi Shielu • " He has made you a person to save other people. You shouldn't slack. You should be aggressive about it. They should know Jesus through you." Brother Dumkay Alex "Attitude is your disposition based on your metal state. It is how you carry yourself based on how you think " -Pastor Salome Akwukwuma - " Have the right attitude. Do things in love, in grace. Phillipians 4:8" - Pastor Salome Akwukwuma CHOOSE THE WORD OF GOD THERE IS NO OTHER PLACE BEYOND THE ONE YOU HAVE BEEN CALLED TO LIVE. #ThePerfectYouth #Ukzone2TeensMinistry #OurYearofPerfection #UKZONE2
#happeningnow The Highly Esteemed Pastor Omoh Alabi ministering. Click here to participate: https://kiddiesloveworld.org/new/onlineworkshop/
My future is history with God. #blwcampusministryrocks #blwsazonea #themightymen
PChacha's Day!@pcee Happy birthday Pastor ma! I love you much much, and this song is for you!😘❤️❤️ #PCHACHA0613 #CELEBRATINGGRACE