East Africa VZ 3: CELEBRATING THE AMAZING AND ESTEEMED on KingsChat Web
CELEBRATING THE AMAZING AND ESTEEMED PASTOR JULIE NDAGIRE. 🎊🎊🎊🎊🎊🎈🎈🎈🎈🎶🎶🎶🎶💃💃💃💃🎊🎊🎊 Happy Birthday to our Esteemed Pastor Julie Ndagire. We join the angels and all the host of heaven to celebrate you today, we celebrate your tenacious faith and your great Love for the Master. Thank you for being a huge blessing to us in the zone, to the ministry and to the body of Christ. We love and appreciate you so much. #ewcaz3 #Uganda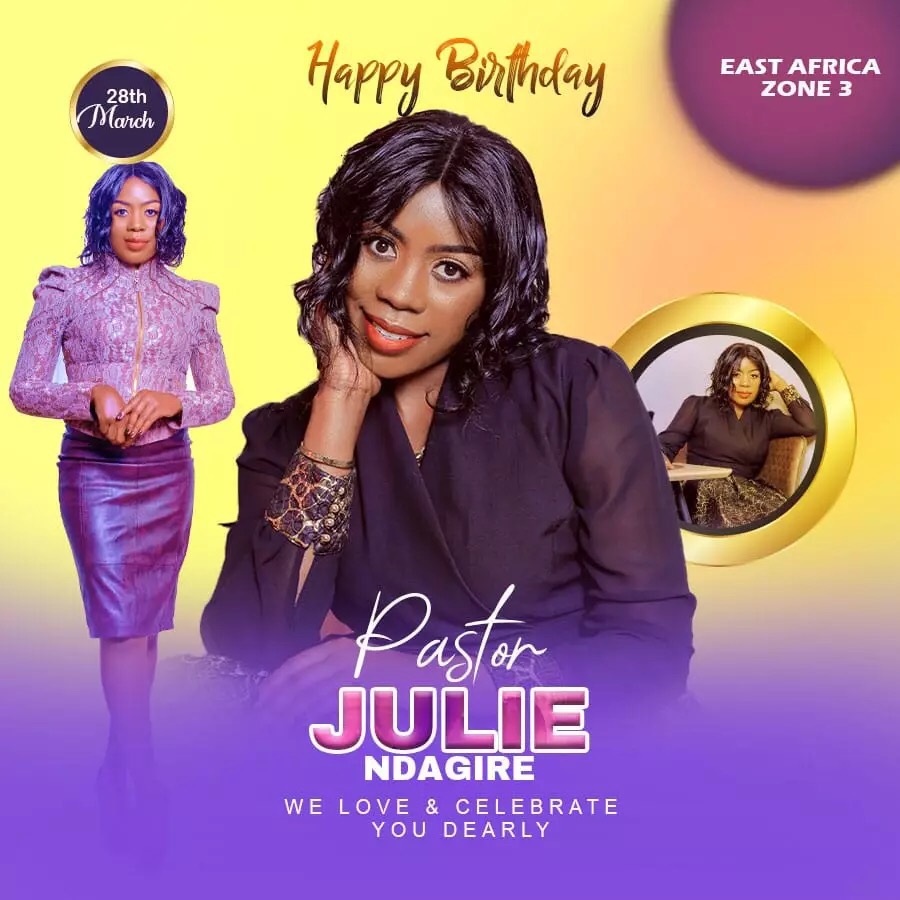 GODS CREED CREED 04 PRAYER OUTREACH number of outreaches: 3 Number of souls: 5 #PCLprayerthon2021 #ispreadprayer #iamaprayerinfluencer #GODSCREED #LCACHURCH #CELVZ #NIGERIA
HAPPY, HAPPY, HAPPY PREPARED BIRTHDAY MUM. YOU ARE THE BEST MUM EVER. SO SPECIAL INSIDEOUT AND ALWAYS INSPIRING. I LOVE YOU SO DEARLY HIGHLY ESTEEMED MA.
GDOP:GRAND FINALE💃💃 BREAKING NEWS:we exceeded yesterday's record with over 5.3 Billion people participating all around the 🌎 world Watch the Rebroadcast; http://rin.rhapsodofrealities.org 🎯sponsor a Rhapsody Language to extend our reach to Billions around the world by sponsoring the streaming of GDOP In 3,001languages http://lingual.rhapsodyofrealities.org God bless you #globaldayofprayer #christembassy #iamaprayerinfluencer #rhapsodyofrealities
DH Confessions 28th March 2021 👉https://enterthehealingschool.org #dhconfessions #healingtothenations #hsinfłuencers #CEPerth #CEAustralia
GODS CREED CREED 05 PRAYER OUTREACH number of outreaches: 2 Total number of souls : 10 #ispreadprayer #iamaprayerinfluencer #PCLprayerthon2021 #GODSCREED #LCACHURCH10 #CELVZ #NIGERIA.
A QUICK WORK IS THE LORD DOING - #GO2Inc OUTREACH IN LEWISHAM Christ Embassy UK virtual zone 1 organized a GO2INC Evangelical Outreach in the inner cities of Lewisham, distributing Bibles and Food parcels to the children and their families..... Many were led to Christ, to the Glory of God! 💃💃💃💃💃💃💃 #EndChildPovertyNow #EveryChildIsYourChild #UKR2Z1
GODS CREED CREED 02 PRAYER OUTREACH number of outreaches: 3 Number of souls: 5 #PCLprayerthon2021 #ispreadprayer #iamaprayerinfluencer #GODSCREED #LCACHURCH #CELVZ #NIGERIA
HAPPY BIRTHDAY HIGHLY ESTEEMED PASTOR LISA MA. WE LOVE YOU DEARLY. #HBDPSTLISA #CEAvenorcaregroup6 #CECharispcf
#photospeak Special football outreach by the Royal Ambassador Cell 1 of Central Church 4. #ministrycentrewarri
What is more interesting and important in/to our world today? #JESUS my G !!!!!!! #JESUS is KING #JESUS is PEACE #JESUS is LIFE #JESUS gives LIFE #JESUS heals #JESUS mends the broken heart(ed) #JESUS gives Rest of Mind #JESUS is everything #HolYghost #theGospel #Jesus