CE Accra Ghana Zone: #ProgramAlert: 1 day to go! on KingsChat Web
#ProgramAlert: 1 day to go! CE Accra Ghana Zone LOVEWORLD LADIES NETWORK presents, "RECREATING YOUR WORLD PRAYER RALLY" Date: Saturday 31st October 2020 Time: 3pm GMT Venue: CE Zonal Church - Avenor Streaming to designated centres across the zone. Don't miss out! #CeAccraGhanaZone #LoveWorldLadiesNetwork #LLN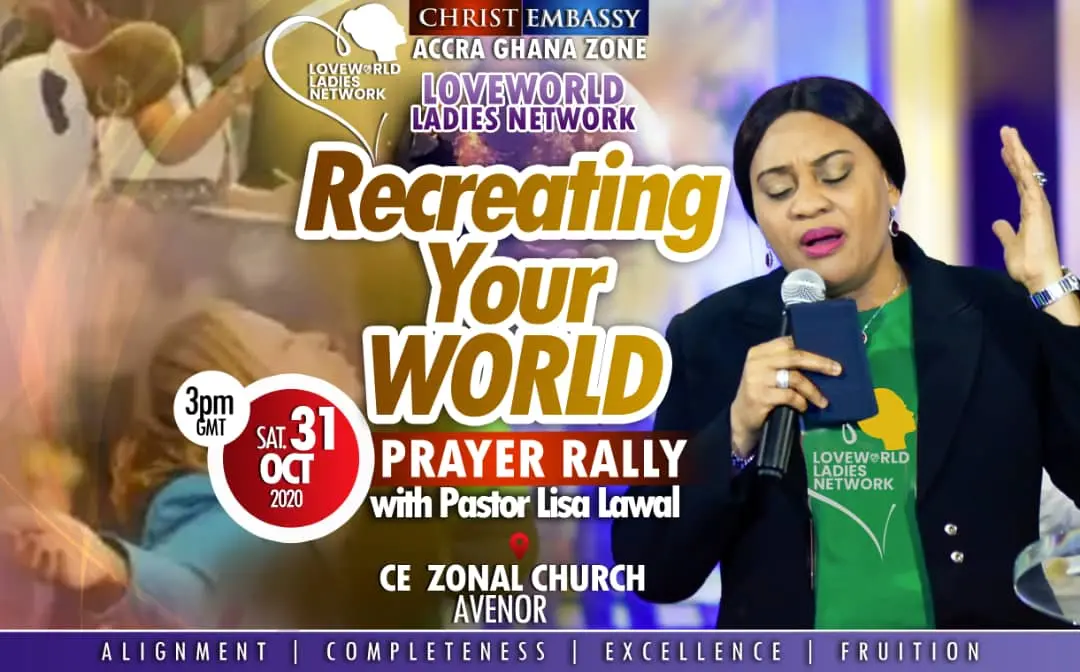 ITPLC 2020 ON MY MIND #ITPLC2020 #lwteensministry #NSSZONE1 #TLB #TLBSON
Happy Birthday Esteemed Dcns Tesiri Moweta! We love you dearly.
#ITPLC2020 #lwteensministry #NSSZONE1 #TLB #TLBSON
Sis Adah winning them for Jesus #cesazone2 #cekensington #llnetwork #llnrecreatingyourworld
This is LoveWorld News UPDATE! Hurray!!!💃💃🤸🤸 ~WORD FEST 2 EXTRAVAGANZA~ is LIVE! Enjoy this special Spoken Word presentation by Sophie culled from the message, 'Light of the Word' by Pastor Chris Oyakhilome. Log on to www.pcdl.tv now to participate live. You can also watch via the LoveWorld News SuperUser story on KingsChat. Stay tuned for more sizzling UPDATES. #WordFest2Extravaganza #Wordatwork #LoveWorldNews #PastorChrislive
⏰⏰⏰⏰⏰⏰⏰⏰⏰⏰⏰⏰⏰⏰⏰⏰ COUNTING UP TO CHRIST EMBASSY LAGOS ZONE 3 ZONAL CONVENTION WITH OUR ESTEEMED ZONAL DIRECTOR, PASTOR DUPE ISESELE. DATE: Saturday 31st October 2020 TIME: 8:00am Venue: The Loveworld Place Lagos. See you there!
⏰1 DAY TO GO⏰ THE RHAPSODY VIBES FIESTA CONCERT will be happening LIVE tomorrow 31st of October by 4:00pmGMT+1🎉🎉🎊🎊 ■Join us to sponsor the Rhapsody of Realities by clicking on the link below👇 http://1millionoutreaches.org/SOM ■Join us to celebrate the grand finale of our sponsorship of the 1 million rhapsody outreaches! It's going to be LIT🔥 with award winning artistes Israel Strong, Sister Wisdom, CSO, King Brandon, Se-Ok, Yxng EE, FojoDivine, Mayo, Zoë and many more!! God Bless You ❤🤗 #RHAPSODYVIBESFIESTA #SONSOFMINISTRY #PERFECTION #MONTHOFPROCLAMATIONS