Nigeria South South Zone 1: 🎗️Celebrating God's General. HAPPY BIRTHDAY on KingsChat Web
🎗️Celebrating God's General. HAPPY BIRTHDAY PASTOR SIR!!! We love you Sir. Courtesy: Executive Group of Churches, NSS Zone 1 #TLB #TLB2708 #TLBSOULWINNINGCHALLENGE #CEBAYELSA #CEUGHELLI #CESAPELE #NSSZONE1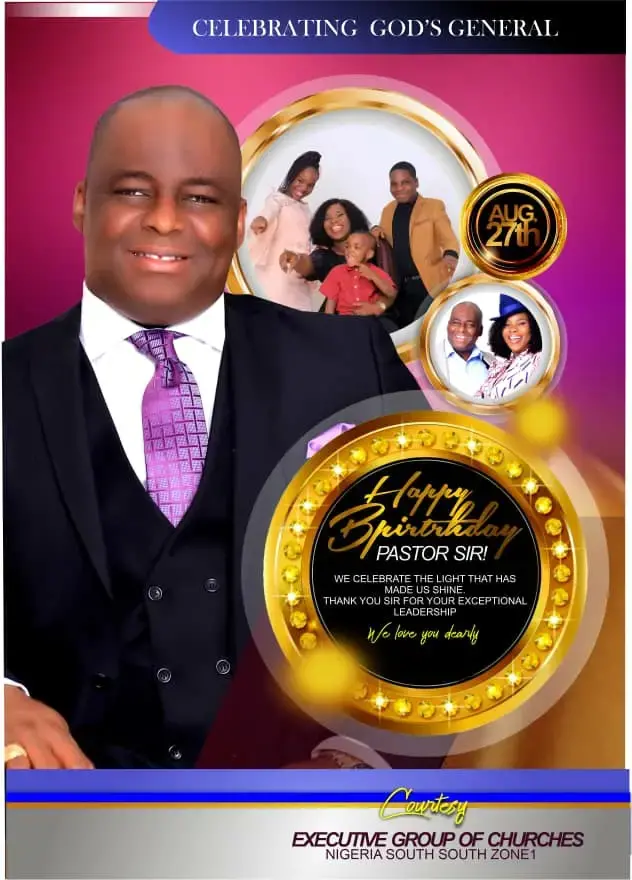 Idowu Ohita
commented:
Happy Birthday Highly Esteemed Pastor Sir
Happy Birthday to My Highly Esteemed Group Pastor, Pastor Phillips Ime🥳🥳🥳🥳... Thank you so much sir for being a source of inspiration to me.... I love you endlessly... #BESTDADEVER #CE AKIM
Happy birthday To the world TLB's day. Thank you pastor for the privilege of sharing this day with you. Happy birthday to my humble self. It's another level for me.
Celebrating the light of Bayelsa 💃💃💃🌷🌷🌷💃💃 I ♥️♥️you plenty pastor sir Thank you sir for teaching me In a unique way
Happy Birthday Pastor Sir I love you dearly #TLB #TLB2708 #TLBSOULWINNINGCHALLENGE #CEBAYELSA
Happy birthday to the Captain of the Moving BUS #TLB #TLB2708 #CESAPELE #WHEREGODLIVES
It's WORLD #TLB DAY Celebrating my Super dad. Happy Birthday Pastor sir. #LifeGiver #TLB2708 #NSSZONE1 #TLBSON
🎗️Celebrating God's General. HAPPY BIRTHDAY PASTOR SIR!!! We love you Sir. Courtesy: Executive Group of Churches, NSS Zone 1 #TLB #TLB2708 #TLBSOULWINNINGCHALLENGE #CEBAYELSA #Thelandofgrace #NSSZONE1
Wow it's my Deacon birthday Deacon sir thank you so much for loving me thank you for all you do for the ministry heaven is celebrating you today Happy Birthday sir. love you ❤