The Healing School : DHCONFESSIONS 27TH JANUARY 2021 🗣️💯 on KingsChat Web
DHCONFESSIONS 27TH JANUARY 2021 🗣️💯 Visit https://enterthehealingschool.org to listen to our daily divine health confession podcast. Divine life is at work in every fiber of your being, in every bone of your body and in every cell of your blood, making your system impregnable to infirmities and sicknesses. Hallelujah! Follow the Healing School @hschool for more updates on the Healing School Online Prayer Conference and get your friends, colleagues and family members to do the same. Thank you and God bless you! #dhconfessions #healingstreams #healingtothenations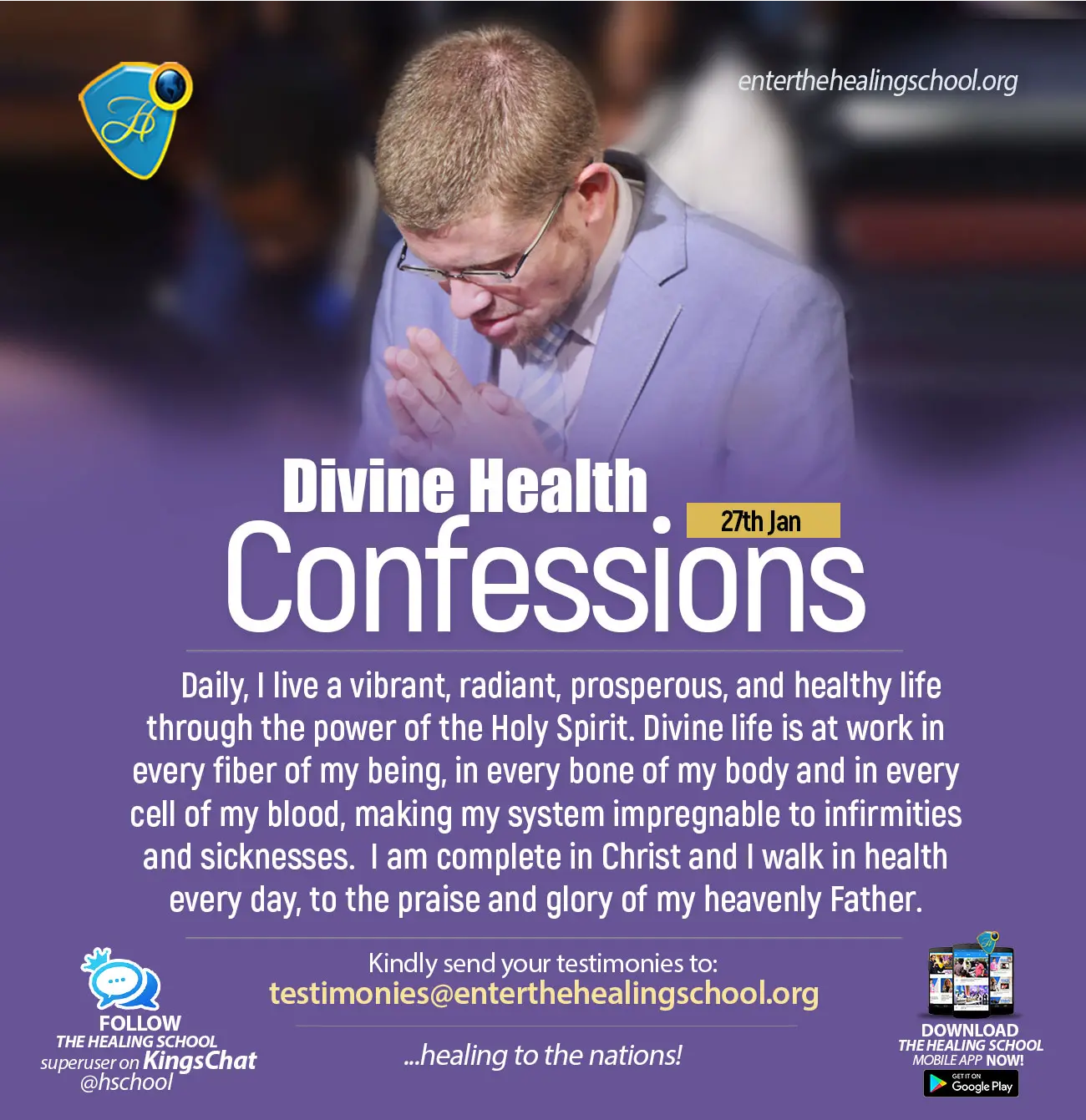 Hebrews 13:16 But to do good and to communicate forget not: for with such sacrifices God is well pleased. Happy blessed new year of preparation.
The presence of God fills the atmosphere as these ministers lay hands on the pledge forms and speak God's word over them. Indeed the lives of millions around the world are changed for good. #Livenow #Yourloveworld #Yourloveworldspecials #Praise-a-thon #Season3Phase1Day2secondsession
LIVE NOW - Your Loveworld Specials Pastor Ose Oyakhilome is sharing with us mind blowing testimonies of financial increase from participants in South Carolina and Indiana as a result of the prayers they received when calling into the call centre. Glory! #CEAUSTRALIA #YourloveworldspecialswithPastorChrisandPastorBennyHinn #Season3Phase1Day2
📝STUDY YOUR RHAPSODY📝 📍 PEACE IS FROM GOD - Wednesday, January 27th The implication of this is that the systems and structures of this world can never give peace. Peace is from God, just as righteousness is from God. The peace the world is looking for is in Jesus Christ; no wonder it eludes them, because they're searching for it in the wrong places. 📍Read More.... https://rhapsodyofrealities.org 📍Download The Rhapsody App: bit.ly/rhapsodyappdlw #rhapsody #CELZ4
No greater reason to live for than Jesus Christ!
Three voices God never stops listening to: 1. The voice of the lost 2. The voice of praise 3. The voice of a seed - "Evang Mike Smalley". I secured my future with my SEED. 😇 . . #power #seed #time #harvest #yourloveworld #pastorchris #ongoing #great #grace #celebration #myyearofpreparation #cephzone2 #proudlylmam #bongi #stillirise