Happy Birthday Dear Bro Solomon Eshiet. Thank you for all you do in SOUTH SOUTH ZONE 2. Your loving service to your flock is of infinite worth, and many hearts are filled with gratitude to God for you and because of you. You shining example of Godly compassion. We love you Sir #CEUYO #SSZ2 #CEEKET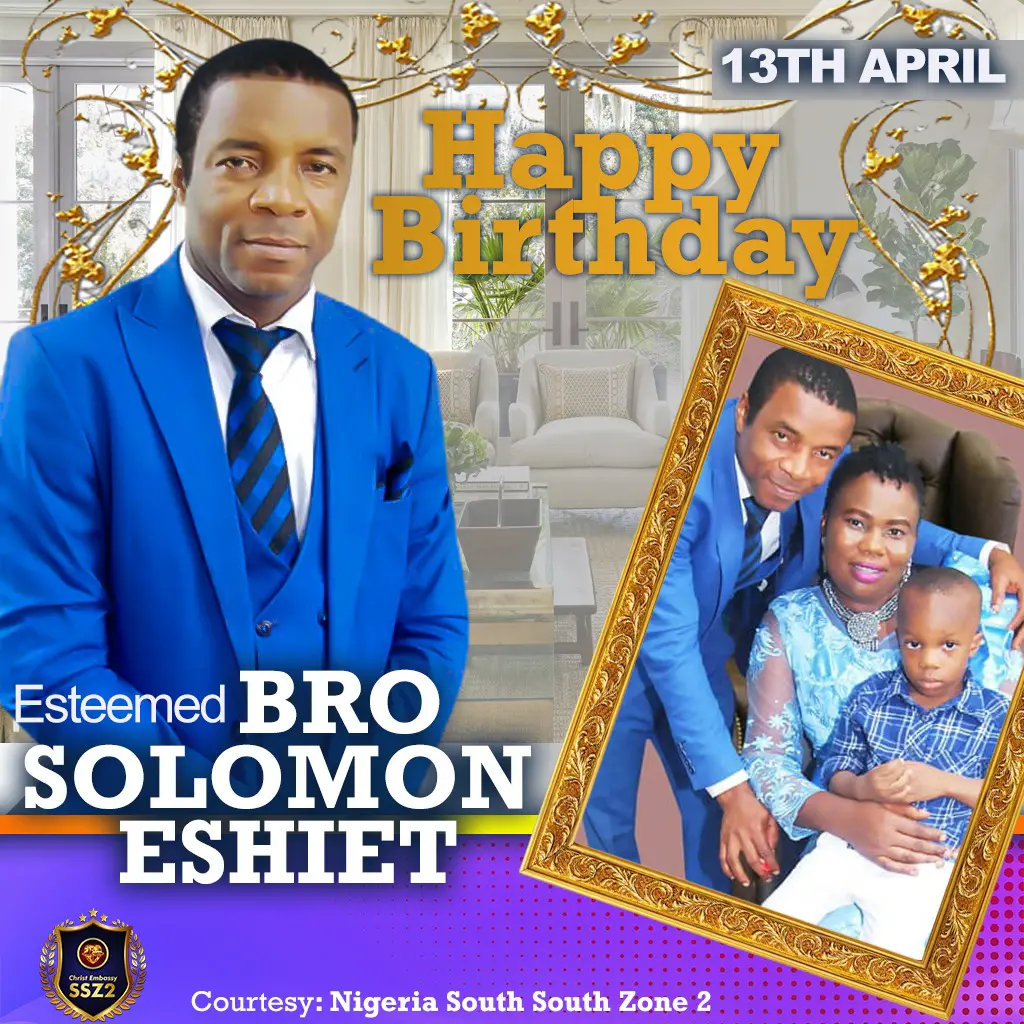 Pastor Esther Obot
commented:
Happy Birthday man of God. May you manifest truth everywhere you go.
YOUR LOVEWORLD SPECIALS WITH PASTOR CHRIS, SEASON 3, PHASE 3 - DAY 2 www.healingstreams.tv Picture participation from BLW UK ZONE B | London | United Kingdom God bless you. #Yourloveworldspecials #healingstreams #healingtothenations #hspc #affirmationtrain #YearOfPreparation #PastorChrisLive #PastorChris
Tomorrow is the day!! We are celebrating our Zonal Daddy 🎉 #UKZONE2 #PTA1404 #LMAMUKZONE2 #LIFEISEASY
Congratulations to our beloved Sister Esther Chuks for emerging Loveworld Radio 3rd performing Zonal Partnership Manager in the entire ministry. Just awesome. Keep your eyes on Him and stay focused. Now go for #1. You can do it. We are all solidly behind you. God bless you.
YOUR LOVEWORLD SPECIALS WITH PASTOR CHRIS, SEASON 3, PHASE 3 - DAY 2 www.healingstreams.tv Picture participation from BLW UK ZONE B | London | United Kingdom God bless you. #Yourloveworldspecials #healingstreams #healingtothenations #hspc #affirmationtrain #YearOfPreparation #PastorChrisLive #PastorChris
YOUR LOVEWORLD SPECIALS WITH PASTOR CHRIS, SEASON 3, PHASE 3 - DAY 2 www.healingstreams.tv Picture participation from BLW UK ZONE B | London | United Kingdom God bless you. #Yourloveworldspecials #healingstreams #healingtothenations #hspc #affirmationtrain #YearOfPreparation #PastorChrisLive #PastorChris
YOUR LOVEWORLD SPECIALS WITH PASTOR CHRIS, SEASON 3, PHASE 3 - DAY 2 www.healingstreams.tv Picture participation from BLW UK ZONE B | London | United Kingdom God bless you. #Yourloveworldspecials #healingstreams #healingtothenations #hspc #affirmationtrain #YearOfPreparation #PastorChrisLive #PastorChris