CE EU VIRTUAL ZONE 2: It's Happening Today and on KingsChat Web
It's Happening Today and Now Counting Hours👆👆👆👆 is YOUR LOVEWORLD SPECIALS WITH PASTOR CHRIS & PASTOR BENNY HINN FEATURING PRAISE-A-THON. Another opportunity to get inspired and uplifted listening to Ministers of the Gospel starting 7pm and showing on all LOVEWORLD NETWORKS & SEVERAL SOCIAL MEDIA PLATFORMS #YourLoveWorld #PastorChris #Praiseathon #2021yearofpreparation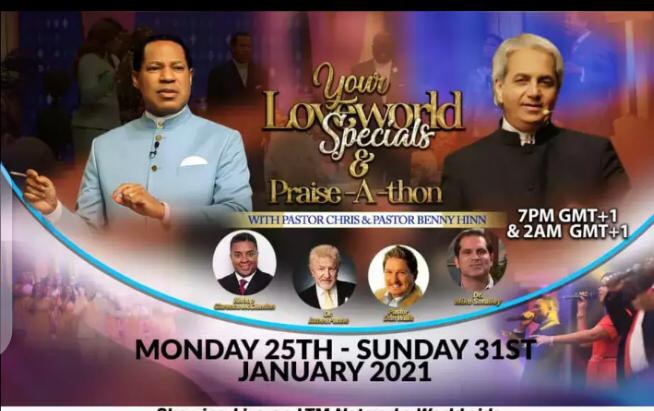 Thomas
commented:
Hxf Crypto currency trading platform .. For only guyana🇬🇾 UK🇬🇧, USA 🇱🇷 and south African🇬🇲 it's an investment where you invest on bitcoins and the sum of bitcoins you invest in, will been process and doubled in a multiple of days trade, after you cash out, then you can reinvested in the same account that you invested in again and again you can invest with credible Asset traders and earn returns of .. $300 to earn $3,000, $4000 to earn $4000, $5.00 to earn $5,000, $6,000 to earn $12, 000 , $7000 to earn $14,000. All in 7days trade and 10% will be my commission and no extra payment before withdrawals if you are ready inbox me on WhatsAp +18507391660
Cathy Barraq
commented:
Invest $350 into bitcoins and earn $3,400 in 1 week directly to your bank account, add me to learn now, Whatsap +13252445331
#elitesoulwinnersbootcamp #iamwise #blwzonef #Campusministryrocks
Watch Yourloveworld Specials and Praise-A-thon With Pastor Chris and Benny Hinn on LoveWorld Pacifics. Starts Today by 7pm GMT+1. Click to participate👇 http://cloveworld.org/tv?id=5a382af71148549pde562zf0y #LWPACIFICS #yourloveworld #monthofcelebration #yearofpreparation
Happy birthday to my boss who has the perfect blend of charisma and leadership!
To register and create your personalized avatar, please use the link below; http://prayer.enterthehealingschool.org/reg/HSPN #hspc #Hspn
Just look at the type of prayers the poor masses are praying for Maxwell Odum for causing they a lot of pains and still causing more 😭😭
Pray-A-Thon 2021 - Mon Jan 25 The fullness of the Spirit is the subject of this Monday's Rhapsody. Read the article and share these vital truths with others. Visit https://rhapsodyofrealities.org for information on Partnership with Rhapsody of Realities in 2021 Philippians 1:3-9 says, 'I thank my God upon every remembrance of you, Always in every prayer of mine for you all making request with joy, For your fellowship in the gospel from the first day until now; Being confident of this very thing, that he which hath begun a good work in you will perform it until the day of Jesus Christ... And this I pray, that your love may abound yet more and more in knowledge and in all judgment; That ye may approve things that are excellent; that ye may be sincere and without offence till the day of Christ; Being filled with the fruits of righteousness, which are by Jesus Christ, unto the glory and praise of God. At our times of prayer today, we'll pray fervidly in tongues of the Spirit, interceding for nations of men and their leaders, and for Christians, God's saints in accordance with the verses of Scripture above. Your Loveworld Specials, featuring the Praise-a-thon, begins today by 7pm (GMT+1). See full schedule. Watch on the Loveworld Networks, ministry websites and various social media platforms. It'll be a most extraordinary time of fellowship and impact, so don't miss it; invite others to participate too. God bless you.
Check out my inspiring post on Yookos!
A glorious moment yestaday Sunday with our highly esteemed Zonal Pastor, Pastor Mary Owase and our first timers from PFCC1 program @ Pessu community are been attended to as first timers in Church. Halleluia!!! #cebowen #cebowenpfcc1 #cemidwestzone #fireforyourfuture