REITA PUTMAN: Today we celebrate a great on KingsChat Web
Today we celebrate a great king 👑 God's own General in the gospel of our Lord and saviour Jesus Christ.The great President of our Christ's Liberty Church.Our Father highly esteemed PASTOR NELSON NGOKA.Happy birthday&more Grace upon your life Sir. #GracedMadePastor #Thankful #CLC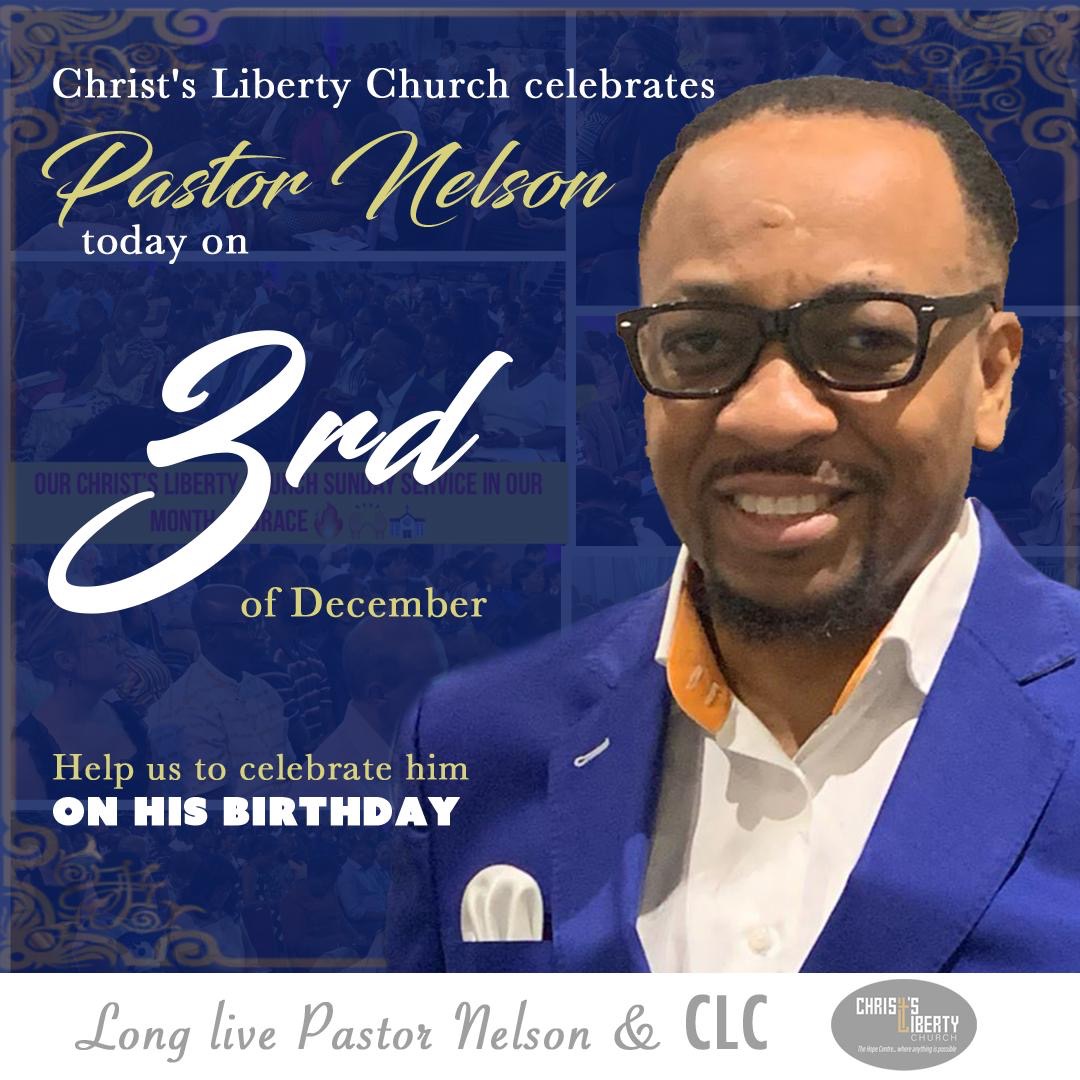 Aaliyah
commented:
Happy Glorious, Supernatural, Anoited, Spirit filled, Full of Gods blessing Birthday to My Dear Father Pastor Nelson Ngoka. 🎉🎂🎉🎂🎉🎂🎉 Today we join the host of heaven to celebrate you sir. Indeed you are a man after God's own heart. Wow, where do i start you have been such a blessing to my life sir. I met you at the age of 17 and since that time my life has changed. You have been a true father to me, continously nurturing me and showing me the way to go in Christ. Thank you sir for pushing me to be best. Thank you sir for always being an reassuring voice in my life. As as a result of the word spoken through you I achieved an First class. You shown me sir that anything is possible with God. Thank you sir for welcoming me into your family, i am deeply honoured sir. I pray that as you have blessed my life and others your life will be continously full of the miraculous. Your family are blessed, they know, no lack. You are continously helped by God. As you have watered others so shall you be watered. Happy Glorious birthday sir, I love you dearly sir. 🎉🎂❤🎁🙏🍰👑🥳
REITA PUTMAN
commented:
Happy birthday Sir!! We love 💕 you!!!
There is no man that hath left house.. for my sake, and the gospel's.. he shall receive an hundredfold now in this time - #Jesus #EWCAZone5
DAY OF SERVICE IN THE CITY OF FAMAGUSTA In honor of our dearest father, life coach & mentor, Rev. Dr. Chris Oyakhilome Dsc. Dd., members of BLW Eastern Mediterranean University, Turkish Republic of North Cyprus, embarked on several acts of service to the city of Famagusta. Acts such as washing of cars, Cleaning of the various school dormitories, the beach, parks and business offices were carried out, and were of great impact to the city! More to come.... #LWDayofService #Dec7th
It's December 3rd!!! Happy Birthday Dear Pastor Benny Hinn! In celebration of the healing televangelist, the President Beleivers' LoveWorld Inc., Pastor Chris Oyakhilome has taken time to appreciate Pastor Benny Hinn's impact in the lives of millions around the world. Join in the celebration by WATCHing, COMMENTing on and SHARing this video. #happybirthdayPastorBenny
Happy birthday anniversary my Father & Pastor thank u for d teaching n prayers of all these yrs am so grateful .U'r an excellent personality therefore u'll continue 2shine n reign gloriously in life. I ❤☺😁you sir #CELZ1Wonderful #celz1rocks #Ikoroduisbig #PFA2019 #Dec3 #PFBA0312
I am grateful very very thankful to God my/our father for all the Miracles myself and family as receive in Jesus name...Praise the Lord Hallelujah!!!🙌🏾🙌🏾🙌🏾🙌🏾🙌🏾🙌🏾🙌🏾🙌🏾🙌🏾🙌🏾🙌🏾🙌🏾🙌🏾🙌🏾🙌🏾🙌🏾🙌🏾🙏🏾🙏🏾🙏🏾🙏🏾🙏🏾🙏🏾🙏🏾🙏🏾🙏🏾🙏🏾🙏🏾🙏🏾🙏🏾🙏🏾🙏🏾God as has done it in the spirit & so it shall be in the physical. Amen!
Awesome God ..I am Grateful! #Dec.05
Happy birthday anniversary my Father & Pastor thank u for d teaching n prayers of all these yrs am so grateful .U'r an excellent personality therefore u'll continue 2shine n reign gloriously in life. I ❤☺😁you sir #CELZ1Wonderful #celz1rocks #Ikoroduisbig #PFA2019 #Dec3 #PFBA0312