I am Pastor TT: I am a book. I on KingsChat Web
I am a book. I am a book that is on every all time bestsellers list worldwide. I've been read by millions of people worldwide over the past years and I've impacted the life of every one person that has ever read me. And has heard me or heard of me and has watched me because I'm not only a written book. I'm also an audiobook and a video. No. I'm not referring to Rhapsody of Realities. I'm referring to me: Pastor TT Edun. However, I can't take credit for myself. The credit must go to my writer: Rev. Chris Oyakhilome Dsc DD PhD. "Ye (Pastor TT) are my epistle written in your heart, known and read of all men:" - 2 Corinthians 3:2 (Pastor TT paraphrase version) Dear most highly esteemed Pastor, sir, the reason I celebrate you is because of your writings. You have written billions of stories. These stories are men and women (like me) all over the world whose destinies you changed. Our stories didn't start well. They weren't going well. They were disjointed paragraphs and chapters filled with sentences of different lengths but were all headed to that bonfire that countless nightmares are made of. But somewhere you took over the writing of our life stories with your words. Your Words of eternal echoes of living hope and radiant truth. Your words burned up malignant deaths like a lancing light in a tumour ravaged body. We were changed from "waka pass" to "A listers" of life. To gloriously ordained champions of this present life. Happy Birthday sir. Words are never enough to thank you for what you've done in us and to us. I've never forgotten my story before you began to rewrite me. I'm forever and, I'll be, eternally grateful to you. Happy Birthday to the greatest writer of human life stories ever. Happy Birthday, Pastor, sir. I love you.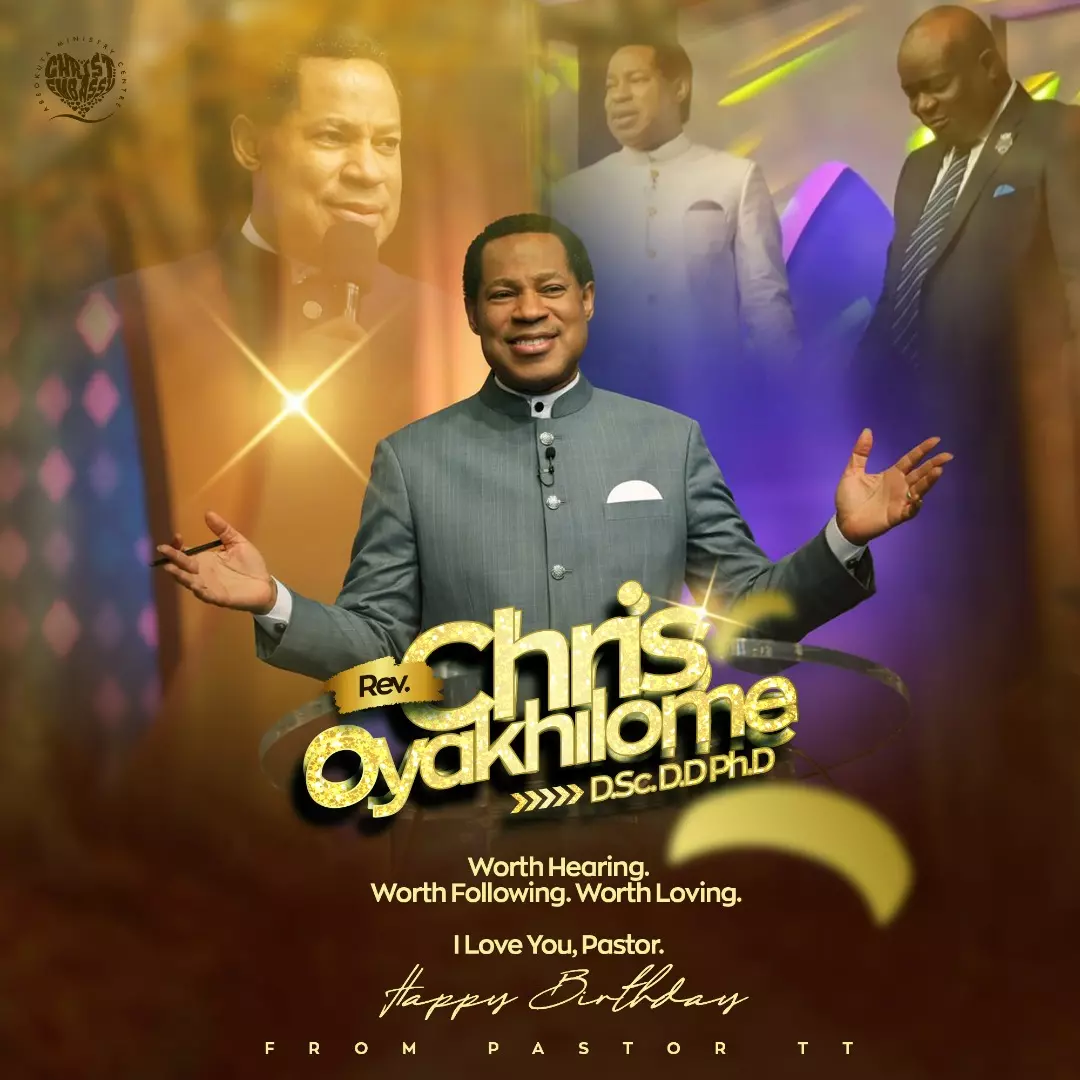 Red Carpet Moment for Pastors Bday, Pastor we love you Dearly .
ITS 5 DAYS TO THE HEALING STREAMS LIVE HEALING SERVICES.💃💃💃💃 Have you registered? Witness the blind see, the lame walk, deaf ears unstopped, terminal diseases check out. Gloryyyy! If you need healing for yourself or a loved one, CLICK LINK TO REGISTER HERE: 👇👇👇 https://healingstreams.tv/3days You can also register and create your avatar here: https://healingstreams.tv/avatar Share the good news. God bless you
Airing now on www.pcdl.tv is "The Integrity of the Word" on Topical Teaching Highlights on KNOWLEDGE #PastorChris #watchonpcdltv
#Prayingnow#OsloNorwayCE#Pray-A-Thon#2020
#TALKINGSESSION 9TH DECEMBER. KINDLY SAY THESE WORDS OUT LOUD. Dear Heavenly Father, I thank You for giving me a life of glory, dominion, and excellence; I walk in the reality of this truth. You've made me impregnable to sickness, disease, poverty, and anything that hurts. Therefore, I walk conscious of my divine nature today and always, reigning over satan and his cohorts of hell. I declare that I am not ashamed of the Gospel of Christ, for it is the power of God to salvation for everyone who believes, for therein is the righteousness of God revealed from faith to faith. I have right standing with God; thus, I live by faith, and not by sensory perception. God's life and nature are at work in me. I've passed from death to life; I've been brought into the ageless zone. I've received the gift of righteousness, and I am reigning in life. Through the Gospel, life and immortality have been brought to light in my spirit. I live the transcendent life in Christ now. I am in Christ; I've passed from death to life, from mortality into immortality, and from age into agelessness. I am growing, but not aging. My strength is renewed day by day because of eternal life that's at work in me. I am aglow in the Spirit; the glorious impact and blessings of the life of Christ are evident in my life. I am the righteousness of God in Christ Jesus and I have the life of God in me. My spirit, soul, and body are vitalized through and through by the power and effect of righteousness and the fullness of the God-life that I've received through the Gospel. I am walking in the reality of my divine heritage in Christ, conscious of His grace and awesome presence in my life, in Jesus' Name. Amen. Hallelujah! • Keep saying it, publish it everywhere; noise it abroad! In Christ, we've got something to shout about. Let's flood the airwaves, internet, and print media with the reality of Christ. Speak in other tongues now. ~ Pastor Chris Oyakhilome. #talkingsession #ippc2020 #ministry #glorified #loveworld #affirmationtrain #wordatwork #wordfest2020 #perfection #completeness #wordfest #heavenly #thankyoupastorchris #strengthened #supernatural #talkingsession #blessings #prayathon2020
CELEBRATING OUR HEALING STREAMS LIVE HEALING SERVICES SPONSOR! 💯 https://healingstreams.tv/3days Special thanks to Esteemed Pastor Mary Owase and beloved partners of Christ Embassy Midwest Zone; Platinum sponsors of the 2nd edition of Healing Streams Live Healing Services. We love and appreciate you! You too can be a part of sponsoring the Live Healing Services as we bring seasons of divine healing and health to many. @midwzone Be a proud sponsor today! God bless you.
Happy birthday to my Esteemed Group Pastor, I joined the Host of Heaven to celebrate you today. I love you dearly sir! #ceperfectioncenter
Dívíɳҽ 卄ealtɧ Cσnfҽssiσɳs December 9th, 2020 I walk with the Spirit of God and I'm constantly transported by Him into the glorious and higher realms of life, far removed from death, defeat, destruction, sickness, poverty, and failure. My eyes of understanding are enlightened; I see the invisible and I'm empowered to do the impossible. My life only goes in the direction of God's purpose. Therefore, I'll never be sick in life; I can only grow from strength to strength, for divinity has been activated in my body. Hallelujah! #dhconfessions #healingtothenations #cesazone2