SHOUT IT LOUD!!! YOUR LOVEWORLD SPECIALS SEASON 3 PHASE 3 IS HERE! In less than 3 hours from now, billions around the world will join our Man of God, Rev (Dr) Chris Oyakhilome for 5 days of learning more of God's Word and a lifetime of Global Impact with the Spirit of God. Don't miss this glorious phase of Your Loveworld Specials Season 3 Phase 3 from today, Monday 12th to Friday 16th April 2021 at 7:00pm GMT +1, 2:00pm EST daily. 🌎Participate through our Loveworld Network Stations, Live TV and Ceflix Apps, and on all Ministry Online Platforms and Apps. #yourloveworld #yourloveworldspecials #yourloveworldwithpastorchris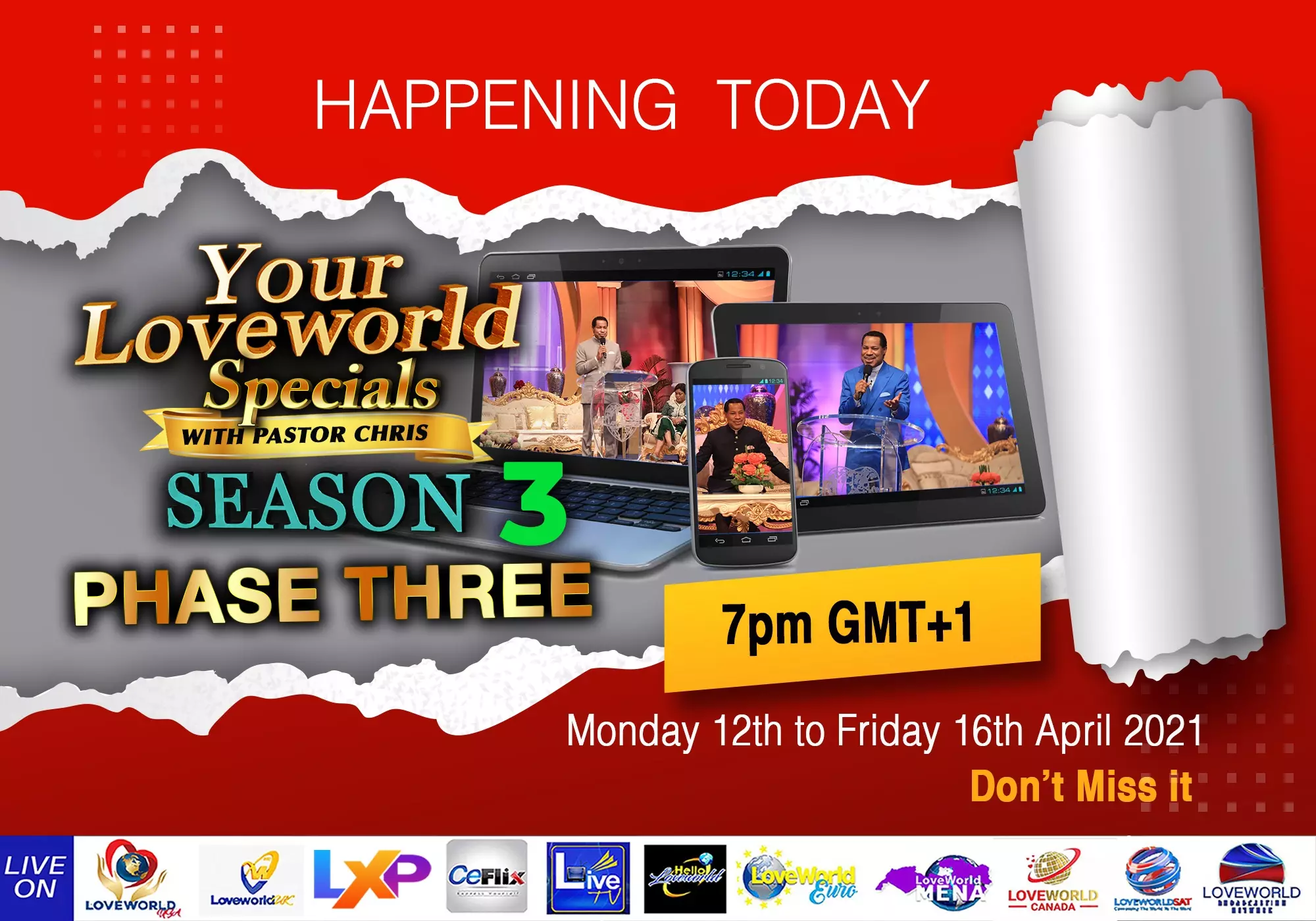 👏 👏 👏 Celebrating Our Cell Ministry Award winners for the Month Of March, 2021... Thank You for all you do to move the Kingdom forward... #cesapelecellministryaward #cesapele #whereGodlives
Starting today @ 7pm. Are you ready?
#PictureHighlights 🎓🎓CLASS OF 2021 FIRST (1ST) QUARTER FOUNDATION SCHOOL GRADUATION!!!🎓🎓 📷📷Foundation School Graduation from Island 1 Group, CE Lagos Zone 5. The Group Pastor, Esteemed Pastor Segun Awodiya admonishing and preparing the Graduands for their next and higher level of glory. Glory to God! #FoundationSchool #FoundationSchoolGraduationCELZ5 #Classof2021FirstQuarter #MonthofTruth #2021YearofPreparation #CEIsland1Group #CELZ5
Still celebrating the Highly Esteemed Pastor T. We love and appreciate you Sir. #HBDPastorT #PstTomisin1204 #CEGaborone2 #CeBotswanaGroup #cesazone3
👏 👏 👏 Celebrating Our Cell Ministry Award winners for the Month Of March, 2021... Thank You for all you do to move the Kingdom forward... #cesapelecellministryaward #cesapele #whereGodlives
Happy birthday Pastor Sir. Thank you for your Labour of love in God's house. We Love you Sir 😍😍😍
Happy birthday Pastor Sir. Thank you for your commitment and contribution to the propagation of the gospel, and your love for our dear man of God. It's a New level of grace for you Sir. I love you sir.
Wow!!!!! It was an awesome Sub Group Baptism with the Esteemed Pastor Sylvia Johnson with 28 children baptist. It was indeed epoch making!! #loveworldchildrensministry #loveworldchildrensministryrock #ewcaz4 #cebamendagroup #cebueasubgroup