CE EWCA Virtual Zone 2: 🎷🎷🎷IT'S DAY 10-- EXPOSÉ ON on KingsChat Web
🎷🎷🎷IT'S DAY 10-- EXPOSÉ ON TRUTH - A 21 Day Study.💃💃💃 Today's Message "YOURLOVEWORLD SPECIAL SEASON 2 PHASE 2 (DAY 4)" ✍Take advantage of the opportunity to remind your Spirit of the time and season that we are in and stay on top. 🎯 Access, Watch and Download for free today on https://pastorchrisdigitallibrary.org/exposeontruth/ceewcaz2 🎯Kindly participate in today's study and create your avatar. 🎯Week 2 Study Guide is also available for download on the above link. #ExposeonTruth #HappeninginApril #A21DayStudy #watchonpcdltv #EWCAZONE2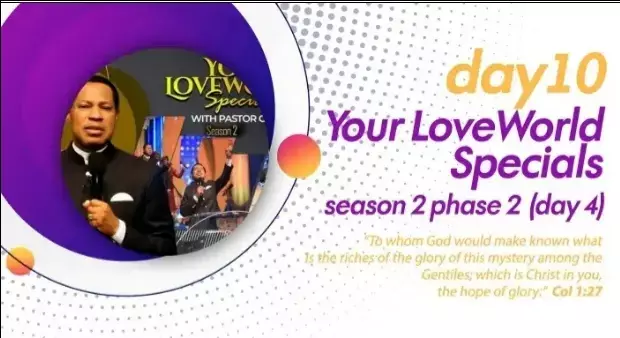 ☄🏆🥇CELEBRATING OUR STELLAR YOUR LOVEWORLD WITH PASTOR CHRIS SEASON 3 PHASE 3 AIRTIME SPONSORS 🥇🏆☄ 🏅😇🌏🚩 GROUP CATEGORY 🚩🌏😇🏅 We rejoice over the epic sponsorship from Pastor Mthobeki Bhebhe and the brethren of Christ Embassy CE Kensington Group, SA Zone 2 for their exceptional display of grace and tenacity to reach lives 1 minute at a time through the sponsorship of 46 minutes of Your LoveWorld with Pastor Chris on LoveworldSAT. Your path is paved for greater and more extraordinary exploits in this glorious year of Preparation. Thank you for connecting lives to the life-transforming message of our man of God, Pastor Chris. We love you and God bless you. #loveworldsat #loveworldnetworks
I walk in the knowledge and character of Christ. Christ is revealed through me. #day10 https://pastorchrisdigitallibrary.org/exposeontruth/ceewcaz4 #ExposeonTruth #A21DayStudy #watchonpcdltv #EWCAZ4 #cameroon #Doualasubgroup #cendobo #splendour2a
#ReminderAlert 7 DAYS OF CONFESSIONS ( DAY 3) Confession Time @ 12:15pm It's few minutes to your confession time at 12:15pm. It's time to cause changes. #7DaysofConfessions #CEPHZONE3
Im full of power, strengthened with supernatural abilities in my inner Man by the Holy Ghost #day10 #A21DayStudy #ExposeonTruth #watchonpcdltv #ewcaz4 #cameroon #Doualasubgroup #cendobo #splendour2a
Happy birthday dear Pastor Dimeji, I celebrate your dedicated life of service in ministry. God bless you for your great impact in the lives of many. The days ahead are for greater glory and remarkable victories. I love you
Do you know this, anything I do prospers? Involve me in anything, expect prosperity. I prosper always. Failure is far from me; I am the seed of Abraham, a joint heir with Christ. Praise God!!!
#3DaysGlobalPrayerAndFasting 📌 1ST, 2ND & 3RD MAY 2021 👉 www.celvz.org/prayer As Our Man Of God Instructed, It's Global Prayer & Fasting From Saturday, 1st To Monday, 3rd May 2021. Awesome Right! Here's Our Schedule: Online-5AM, 9AM, 12Noon Onsite-4:00PM@LCA Church Auditorium Prepare For A Time That Will Surely Launch Us Into A New Season Of Glory. Hallelujah! #CELVZ #TheMonthOfTruth #TheYearOfPreparation
Happy Birthday Sir. Thank you Sir for being an inspiration and a blessing me; I love you dearly Sir.
#prayingnow #prayathon2021 #PCLprayathon2021 #iamapriestinoffice #ukzone1 #LWNewcastle Central