CE Southern Africa Zone 2: THE HEALING SCHOOL ONLINE PRAYER on KingsChat Web
THE HEALING SCHOOL ONLINE PRAYER CONFERENCE: 2 DAYS TO GO! prayer.enterthehealingschool.org/reg/SA2 The Healing School Online Prayer Conference is scheduled to run from 6pm (GMT+1) on Friday 5th to 6pm (GMT+1) on Saturday 6th February 2021. REGISTER TODAY @ prayer.enterthehealingschool.org/reg/SA2 #HSPC #HSOPC #healingtothenations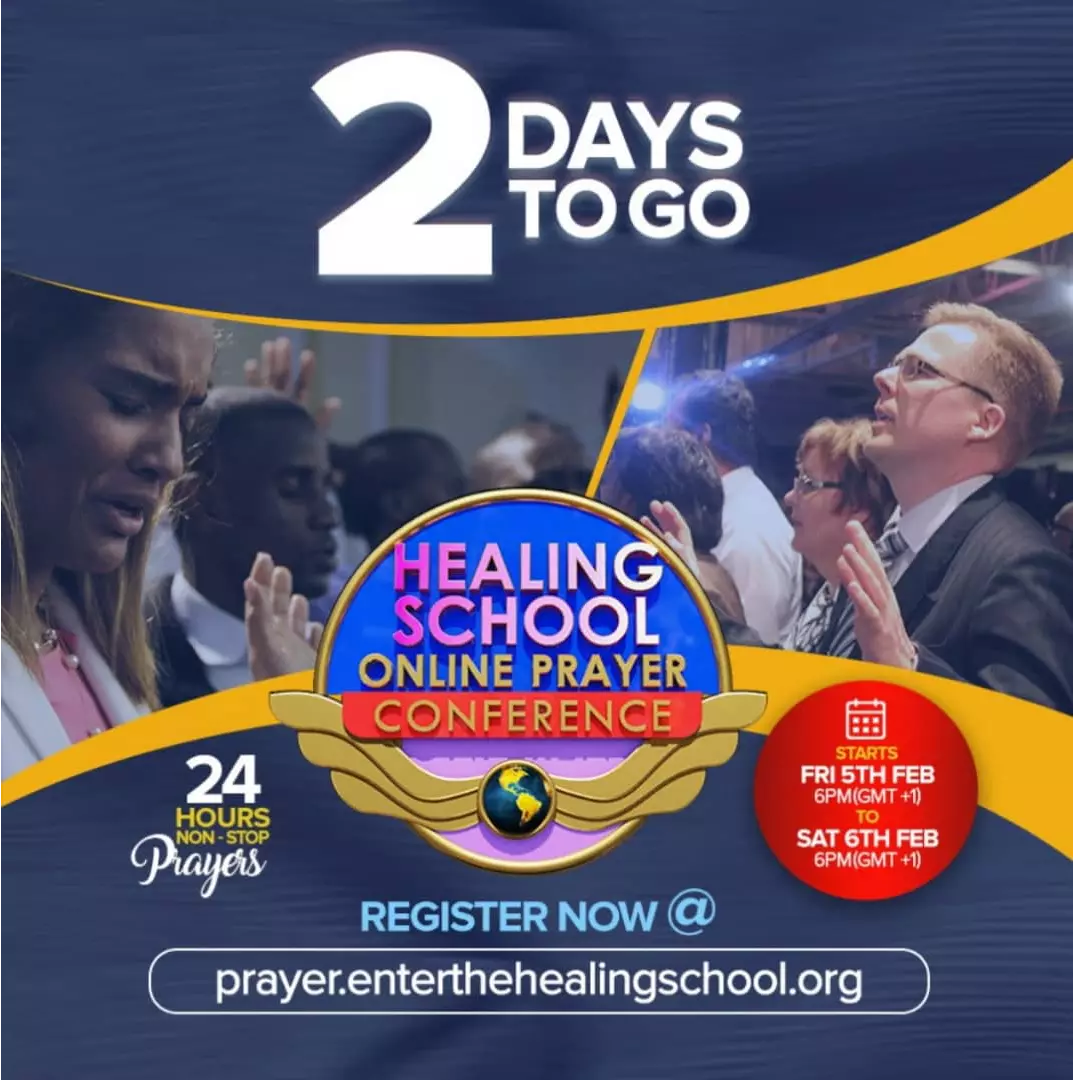 rose
commented:
Join our Hxf Crypto currency tradeing plantform... it's really lucrative way of earning consistent income weekly with just little investment and it doesn't require any experience, just step by step instructions..It's an investment where you invest on bitcoins and the sum of bitcoins you invest in, will been process and doubled in a multiple in 7 days trade and then invested in the same account that you invested in again and again, you can invest with credible Asset traders and earn returns of ... $300 to earn $3,000, $400 to earn $4,000, $500 to earn $5,000, $600 to earn $6,000, $700 to earn $7000, $800 to earn $8,000, $900 to earn $9,000 $1000 to earn $10,000.All in 7days trade and 10% will be my commission and no extra payment before withdrawal .. Dm me on WhatsAp +1(320) 207-2231
Pastor Benson avin izola
commented:
promo...promo...promo... cryptochin...fx trading..Why sleeping why others are making billions of dollars💴💵💶? This is an online investment which help us to earn more profit in a given period of time. by investing amount of money or bitcoin, to be traded on in the international market with the use of Auxiliary computers and software, using strategy to win profits. With the minimum investment of $300 you can get profits of about $3,000+ with my fast and trusted platform ... $300 to get $3,000 weekly. $400 to get $4,000 weekly. $500 to get $5,000 weekly. $600 to get $6,000 weekly. $800 to get $8,000 weekly. $900 to get $9,000 weekly. $1000 to get $10,000 weekly. DM me on WhatsAp.... +1 (740) 651-1971 for more info if you are interested.
Alex Rodriguez Reflects on "Amazing" Jennifer Lopez's Super Bowl Halftime Show One Year Later Most people have rightfully had trouble accumulating wins over the past 12 months, but as we all know, Jennifer Lopez is not most people. Alex Rodriguez took to Instagram on Tuesday,... https://www.eonline.com/news/1234122/alex-rodriguez-reflects-on-amazing-jennifer-lopez-s-super-bowl-halftime-show-one-year-later?cmpid=rss-000000-rssfeed-365-topstories&utm_source=eonline&utm_medium=rssfeeds&utm_campaign=rss_topstories
Tindall sacked by Bournemouth Bournemouth have sacked manager Jason Tindall after four successive Championship defeats. https://www.skysports.com/football/news/12040/12207263/jason-tindall-bournemouth-sack-manager-after-four-championship-losses-in-a-row
Fitzpatrick targeting return in 2021 Ryan Fitzpatrick says he wants to continue playing in 2021 as the 38-year-old heads towards free agency. https://www.skysports.com/nfl/news/12040/12207210/ryan-fitzpatrick-miami-dolphins-quarterback-targeting-return-in-2021-as-he-heads-towards-free-agency
Boulter falls to Osaka; Barty, Kenin and Halep advance Britain's Katie Boulter gave a great account of herself but could not stop Naomi Osaka from extending her winning streak to 13 matches at the Gippsland Trophy on Wednesday. https://www.skysports.com/tennis/news/12040/12207193/naomi-osaka-rides-out-challenge-from-katie-boulter-at-gippsland-trophy-ashleigh-barty-sofia-kenin-simona-halep-win
Chinese police break up group selling fake COVID-19 vaccines to other countries More than 80 suspected members of a criminal group that was manufacturing and selling fake COVID-19 vaccines - including to other countries - have been arrested in China. http://news.sky.com/story/covid-19-chinese-police-break-up-group-selling-fake-vaccines-to-other-countries-12207191
Alibaba Cloud turns profitable after 11 years Alibaba Cloud, the cloud computing arm of Chinese e-commerce giant Alibaba, became profitable for the first time in the December quarter, the company announced in its earnings report. The firm's cloud unit achieved positive adjusted EBITA (earnings before interest, taxes, and amortization) during the quarter, after being in business since 2009. The milestone is in […] http://feedproxy.google.com/~r/Techcrunch/~3/0UcK1ONxI50/
It's Day 3 of "14 Days Act of Love"!!!!! #endchildpovertynow #everychildisyourchild icm.ngo/donate
It's Day 3 of "14 Days Act of Love"!!!!! #endchildpovertynow #everychildisyourchild icm.ngo/donate
☀️THE HOLY SPIRIT AND YOU☀️ Learn more in today's life transforming MIDWEEK SERVICE by clicking any of the links below: 📌 https://www.facebook.com/loveworld.tv.australia/videos/241810610783901/ _ 📌 https://youtu.be/0_UDlGhKTts _ 📌www.christembassy.org.au/tv _ 📌https://www.youtube.com/c/LOVEWORLDAustralia _ #YourLoveworld #happeningnow #australiaforjesus #JESUS #australia #successnuggets #loveworldaustralia #loveworld #hallelujah #instagood
CELEBRATING PERFECTION!!!! HAPPY BIRTHDAY TO OUR DEAR HIGHLY ESTEEMED PASTOR MOSES OLAYEMI(CHRIST EMBASSY MINISTRY BENIN ZONE 1). Thank you Sir, for joining us in exploring and expanding Africa's Leadership Potentials! We love and appreciate you dearly Sir! #FALA #FALF #IMPACTAFRICA