CE Lagos Zone 2: 2018 RHAPSODY ONLINE PRAYER CONFERENCE. on KingsChat Web
2018 RHAPSODY ONLINE PRAYER CONFERENCE. #ropc2018 20 REASONS YOU SHOULD PARTICIPATE: #4 IT'S A TIME TO SEE NEW VISIONS! When we pray, our eyes are opened to see new possibilities for greater impact. DATE: Friday, August 31st - September 1st 2018 TIME: From 6pm (GMT+1) All Time Zones Covered! Sign Up Now: prayer.rhapsodyofrealities.org SPREAD THE WORD! #rhapsodyofrealities #rhapsody#dailydevotional #devotional #clicktopraywww.rhapsodyofrealities.org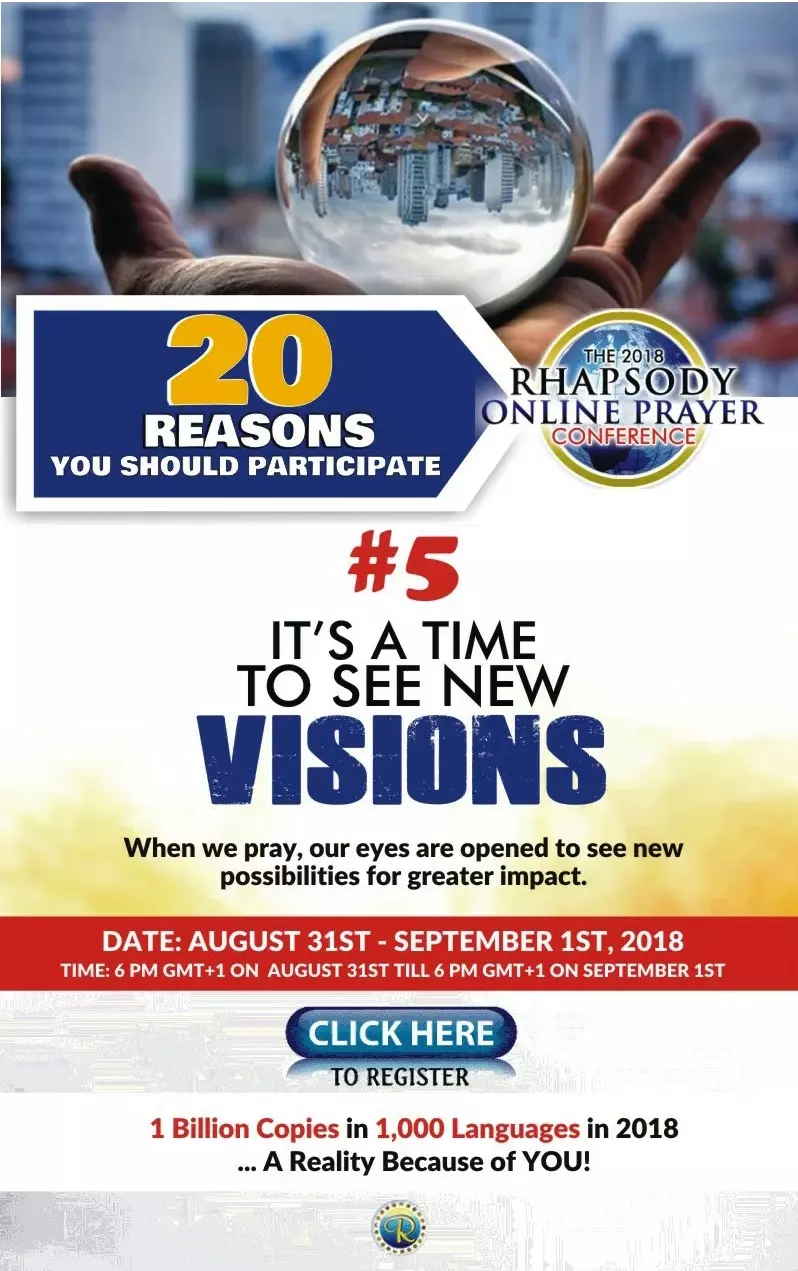 http://pastorchrislive.org/followpastorchris/cemidwestzone
CHURCH GROWTH PROGRAM "And the word of God increased; and the number of the disciples multiplied in Jerusalem greatly; and a great company of the priest were obedient to the faith (Acts 6:7) Growth is the right application of revealed principles and means. Come experience the divine messages of these mighty men of God has they review the spiritual principles of growth from on the 19th- 26th of August. #cgp #reflection #ceabeokuta #oasis
Our half year celebrants...Happy bday y'all..We love you! #ceisolochoir #thehappiestpeopleonearth #musicministers #lagzone2
http://pastorchrislive.org/followpastorchris/cemidwestzone
Happy Birthday to a son of consolation to the body Christ.
https://www.kingsch.at/p/WXhrYk5
*RHAPSODY OF REALITIES TODAY* WEDNESDAY 15TH AUGUST, 2018 GOD'S WORD: THE ONLY REALITY You might have heard some people say, "Let's face reality," referring to the happenings around them; the circumstances of life. There's only one reality, and that's God's Word. God's Word is truth. Make progress from glory to glory by living the Word. Personalize God's Word and it'll produce for you, and in you, the reality that it conveys. Learn more in today's devotional. You can download a free copy at bit.ly/ROR_phzone3 #CEPHZONE3
#R815 #InspiredbyRevTom #CelebratingRevTom #ceabujaministrycenter2
Happy Supernatural Birthday to My Crown
Celebrating exceptional per excellent Dad! An encountered with you in 1999, changed my mindset toward life. Thank you Dad, for your assiduousness, sedulousness and ardent follower of Pastor Chris, your humility is worth of emulating. Unashamed to shine for Jesus. I love you Dad!