CETXZ1 PARTNERSHIP: Holy ghost.... Holy ghost.......you re on KingsChat Web
Holy ghost.... Holy ghost.......you re here right now, I see you moving everywhere......awesome meet Joe Praize at Our Global day of Evangelism Music Concert...... #cetxz1 #cehouston #globaldayofevangelism #gdoemcwithjoepraize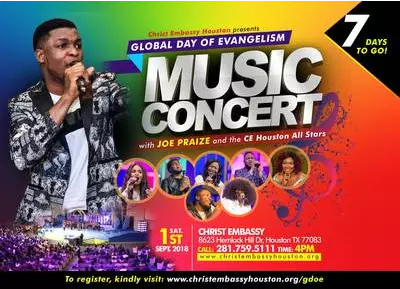 Glory ROPC 2018 is 5 Days to Go! If you are Yet to register follow the link: https://prayer.rhapsodyofrealities.org/signup.php?id=lagos1
In Citygate outreach new converts filling out the decision form.
Holy ghost.... Holy ghost.......you re here right now, I see you moving everywhere......awesome meet Joe Praize at Our Global day of Evangelism Music Concert...... #cetxz1 #cehouston #globaldayofevangelism #gdoemcwithjoepraize
Its another opportunity to make power available and be refreshed. Be part of this epoch making event! #ROPC #Wedome #Ghana
This boy was deaf on his left ear from birth, the mother brought him for healing and after the prayers he was instantly healed and heard clearly for the first time on his left ear. Glory !!!!
I am ready We are ready #blwzonef #blwabiapoly