Beloved, In our Month of Instruction..October 2018. So many vital lessons to learn. One of such is from this short video I titled 'REVERSE RELAY'. 💥💥💥💥💥 I stumbled on this video on social media several months ago,funny and interesting, I decided to nickname it "reverse relay". But seriously, as I watched this video, the Holy Ghost began to teach me something from it. I think it's worth sharing. 👉QUESTION? Why would that child do that? 👉MY ANSWER: INSTRUCTION. Either he didn't have INSTRUCTION, Or he didn't Understand his INSTRUCTION, Or he outrightly decided to do it his way! Do any of these sound familiar? You know sometimes we have instructions,we thought we understood them and then end up running in the reverse direction like this kid! The word of God brings us instructions for life and for living. *Prov 4: 20-22* We must live by INSTRUCTIONS. Our lives must be regulated by INSTRUCTIONS. Follow the Spirit as he leads us. Severally in the book of Proverbs we find this over and over! This is how sometimes we run in the reverse direction when we think we are actually making progress. Interesting lesson learnt! Share your thoughts on this! #TLB #auxanowithpastorobi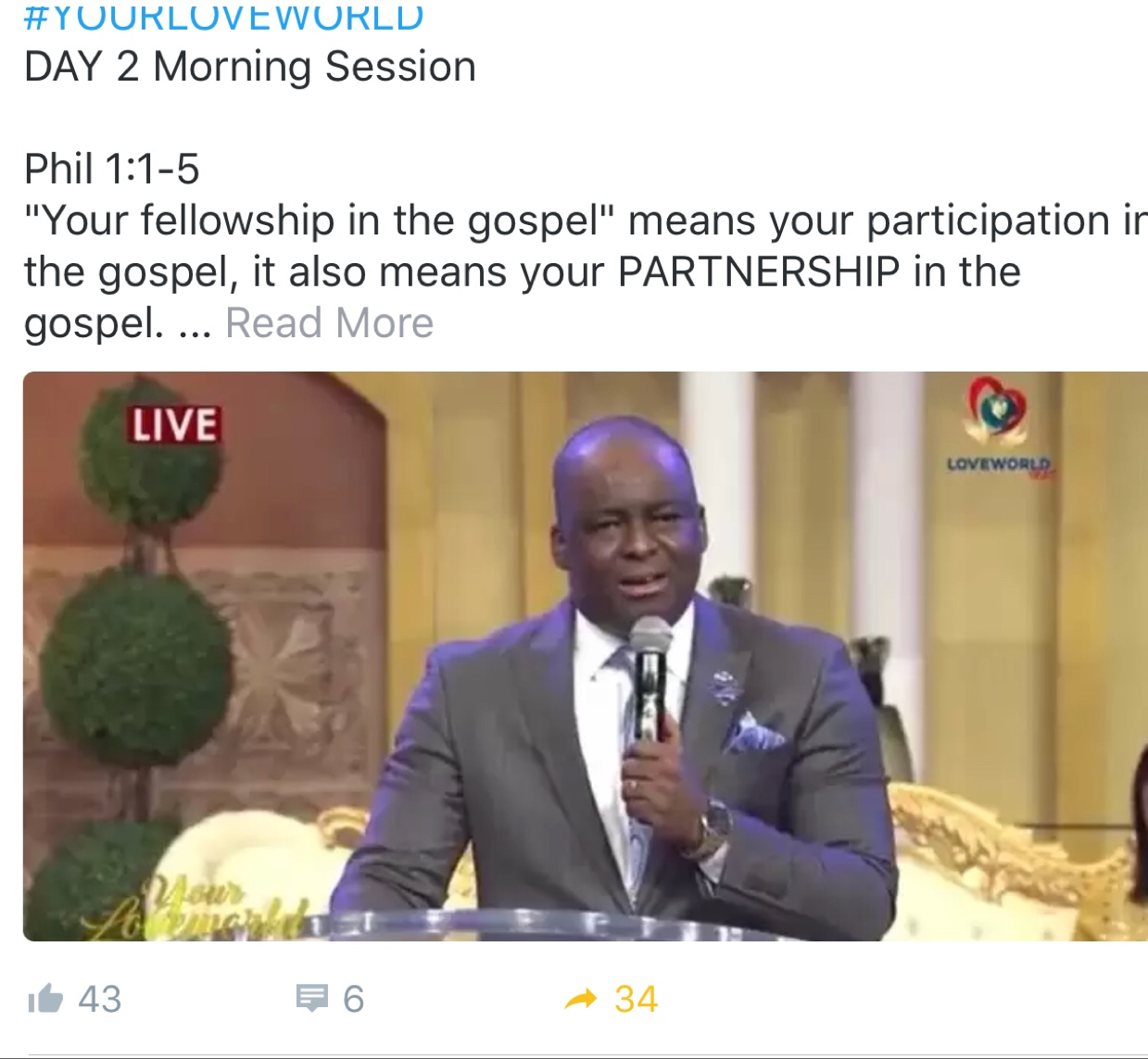 Glory #tbmccessvz1 #blwteensministry #TLB #NSSVZONE1 #cebayelsa #ceagudama3
The Glory of the later HOUSE #TIL18 #totalimpactlimpopo2018 #totalimpactisasuccess #blwsazone
https://www.kingsch.at/p/Y2NsSnN
COME AND SEE THE LORD HIS GOOD #CELZ1WONDERFUL #CELCC2EXCELS...
Happy birthday ma.Today as you celebrate your birthday,your years ahead be fruitful and with good health.Your achievement ahead be more than the present. Many more years ahead ma.Happy birthday ma.
Join our Sports Analysts now as they bring you highlights from the match that held on Saturday at Uyo, Nigeria Versus Libya! How would you rate the Super Eagles performance against Libya (4-0) on Saturday? Call us on: +2348031118975 www.loveworldplus.tv/watch #thismorning #sportroundup #news #reportage
#tbmcwmc #blwteensministry #megateenschurch
Hi! Check out the message Winning the War Within (Audio) by Pastor Chris on Pastor Chris Digital Library mobile app at http://pcdl.co I've purchased mine. Let's listen to the perfect way of winning the war from within.
#tbmcwmc #blwteensministry #megateenschurch