Happy Birthday Sir, I will like to say a very big thank you Sir for answering to the call of our Lord Jesus Christ years ago... That decision have been a blessing to me and my household Sir. And today we celebrate you Sir. I love you so much my father and my Man Of God Sir.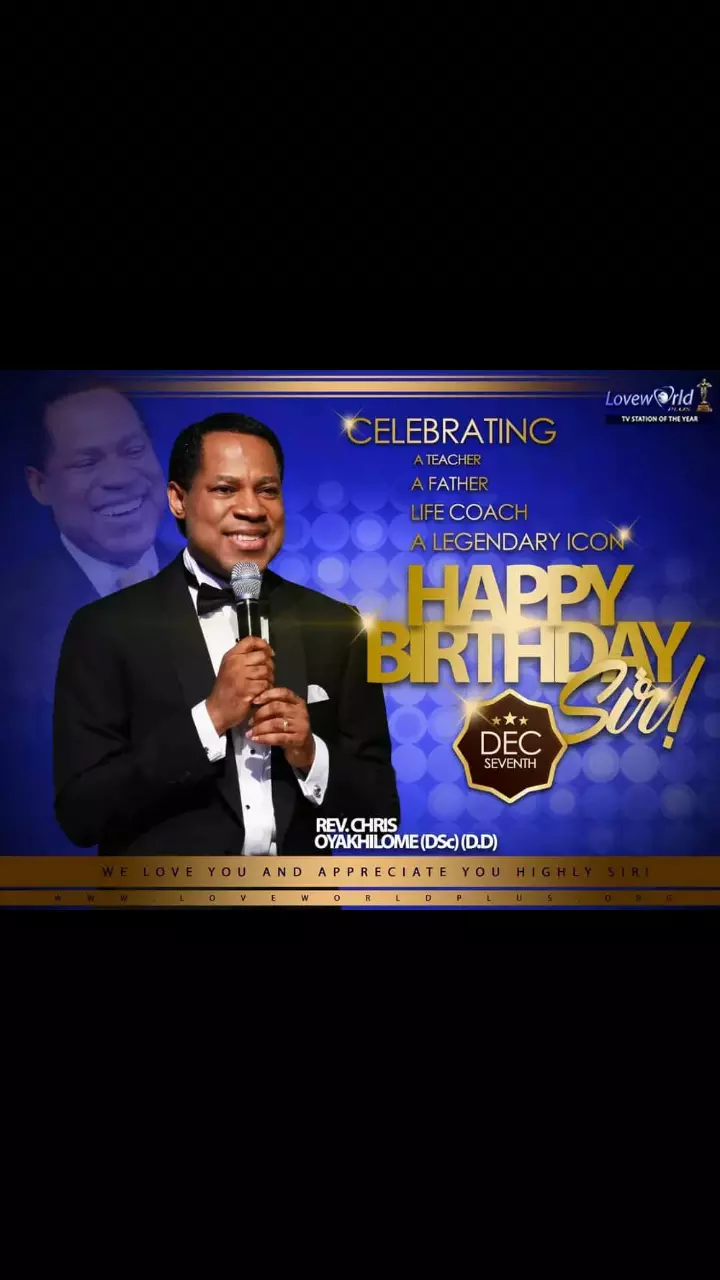 You are my picture of the God life, my example of success, my dream of perfection in God, my gift from God. You taught me that all that God would ever give is Christ. Happy Birthday to you Sir! #LoveWorldZoneH #LoveWorldNDUGROUP #LoveWorld #FUO #monthofgatheringsheaves
Happy Birthday to world's best Dad We love you so much!! #GYLF #India #GYLFAsia #GYLFIndia #dec7 #dancechallenge0712 #offer7
A Father like no other A Life coach like no other A mentor like no other A Teacher like no other A pastor like no other A preacher like no other Thank you sir for bringing me to light and leading me in the right direction in life.. Happy birthday Pastor. I love forever
Pastor,there are not enough words with which to describe who you are to me.So,I'd just say this-To me,you are Jesus personified and I look up to you everyday to know the kind of spirit man I want to be.Happiest Birthday Pastor sir.I love you. #offer7#Dec7#PastorChris#Birthday
Happy birthday to my father Pastor mentor to my life sir thank you for giving me a life of meaning happy happy birthday I love you dearly. .
Happy birthday to my Dad, my beloved Pastor and my life coach, Rev Chris Oyakhilome DSc, DD. Today Sir, I celebrate your excellence, perfect example to us all, liquid love, Grace, generousity, kindness & impact universally. I love you deeply Dad #Dec7 #cemidwestzone #ceekpanreal
Happy birthday my angelic Amsterdam
Happy birthday dear Pastor Chris on dis very special day. My Dad, Life coach, Mentor, Teacher. Thanks for d deep expositions n insights-ability of d WORD dat u've brought my way.