I AM THAT I AM. NOTHING QUALIFIES ME . NOTHING DEFINES ME. I DEFINE THINGS AROUND ME. I AM D'GREAT AND D'BLESSED. 2019 I DECLARE YOU GREAT AND YOU HAVE NO CHOICE BUT TO COMPLY BECAUSE I AM THAT I AM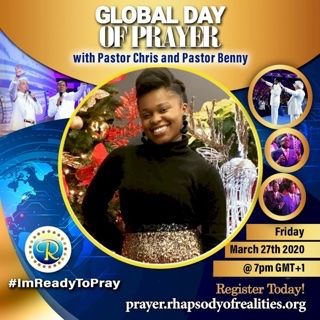 Testimonies From ITPLC 2018 Inspired by the words shared at the ITPLC 2018, 16 years old Sister Cecilia Akpang from CE Excel Centre Dopemu organized her first outdoor outreach today. A total of 71 teenagers were present, 26 gave their heart to christ and 50 copies of Rhapsody of Realities was distributed.
Patience :Enduring trying circumstances with calmness, with an even temper,without annoyance or getting frustrated.The steadfast calmness of the Spirit with Joy!
God has called me. He has called me, I don't have a choice but to answer, here I am Lord.
Loveworld rádio Mozambique 🇲🇿 está definido para transmitir o serviço de véspera de ano novo com o pastor Chris..... Você está?
I live my days in prosperity and my years in pleasure!!!!
LWRNaijaDelta is ready to broadcast #December31stService #Dec31stGlobalServiceonRadio #PastorChrisonradionetworkseverywhere #LWRnaijadelta