*FAST, PRAY AND MINISTER TO THE LORD! – REV. DR. CHRIS OYAKHILOME D.Sc D.D .* As they ministered to the Lord, and fasted, the Holy Ghost said, Separate me Barnabas and Saul for the work whereunto I have called them *(Acts 13:2).* When you take out time to fast and pray, and minister to the Lord, you discipline your flesh in submission to the Word. This makes your spirit more receptive to God's Spirit, breaking down the resistance of your human senses, thus aiding your spirit to pray more correctly. Fasting also positions you rightly for God's Word to come to you. God may have been speaking to you, but you may not have picked His signals. But when you fast and pray, your spirit is conditioned to receive the guidance and direction He's giving you about your job, finances, family, academics, the future, something that's dear to you or that you're interested in. Learn to apply the principle in Acts 13; don't stop at fasting and praying, also learn to minister to the Lord. In the church at Antioch, there were certain prophets and teachers: Barnabas, Simeon Lucius, and Manaen, including Paul. The Bible says, *"As they ministered to the Lord, and fasted, the Holy Ghost said…"* (Acts 13:2). Notice that they didn't have to cry, "Lord, speak to us; we want to hear your voice; speak!" No. They just ministered to Him and He spoke. It's that simple. This is God's will and purpose: He desires to talk to you personally and to have you understand Him clearly. He wants to do that for you more than you want it. The truth is, He's been doing it. But when your spirit is clouded with other matters, you can't hear Him clearly. That's the reason for fasting. We don't fast so God can hear our prayers, or so we can convince Him to do something for us. Fasting helps to position you where His Word can come to you, lift you, energize you, and position you to be in sync with His perfect will.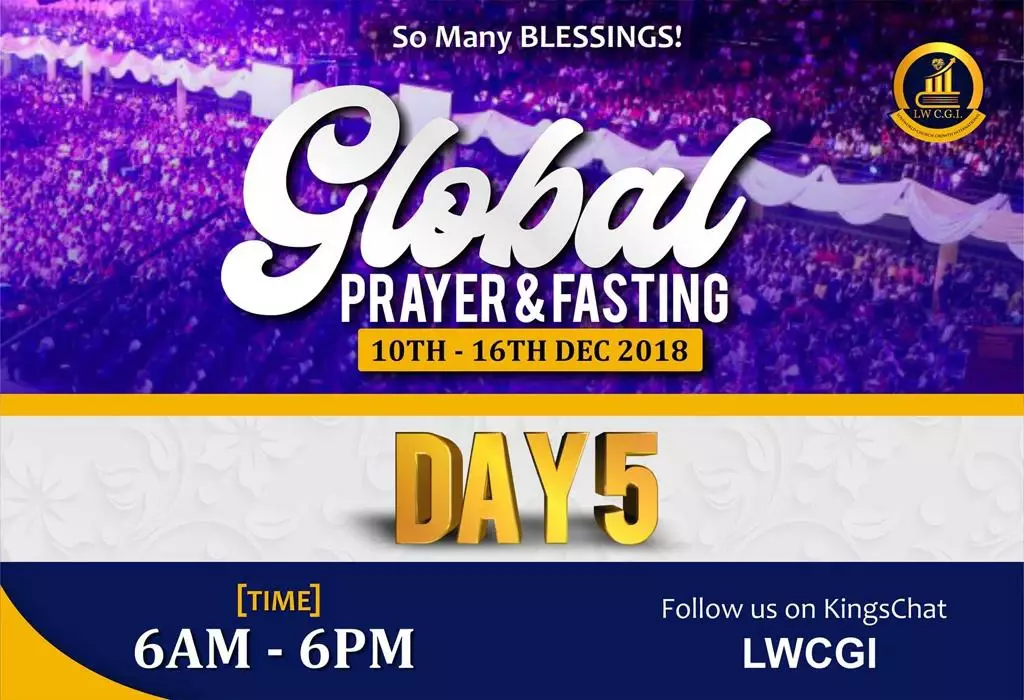 #Globalstaffthanksgiving #EAVZ3 #Uganda
#gratefulheart #hqstaffthanksgiving Its indeed been the year of the Supernatural for me and my family. I am grateful to God
Psalm 145:1-7 (KJV). I will extol thee, my God, O king; and I will bless thy name for ever and ever... #GlobalStaffThanksgiving #Eavz3 #Uganda
Good day ladies, Please clear your schedule for this program on Saturday. It was organized for us. Please come and learn more about motherhood, wifehood, sisterhood and womanhood.
#prayingnow #cesazone5 #cenorton1 @pastorchrislive @AFFIRM @sazone5
#globalstaffthanksgiving #thehealingschool
Red. Dr. Chris Oyakhilome is one man the whole world celebrates wow! What a grace!
Prayer at 12noon, 6pm and 10pm (Local/GMT) - Fri Dec 14 Having a rich fellowship with the Holy Spirit will bless your life immensely. Learn more in today's Rhapsody. Get the current edition from the store on your Rhapsody app or online at http://rhapsodyofrealities.org. Ephesians 6:18-20 says "Praying always with all prayer and supplication in the Spirit, and watching thereunto with all perseverance and supplication for all saints; And for me, that utterance may be given unto me, that I may open my mouth boldly, to make known the mystery of the gospel, For which I am an ambassador in bonds: that therein I may speak boldly, as I ought to speak". At 12noon, 6pm and 10pm (Local/GMT), we'll pray in tongues of the Spirit for most of 15min, and in accordance with the above verses of scripture for ministers of the gospel around the world, especially those facing severe persecutions in many countries. God bless you.