Pastor Chris Live: Prayer at 12noon and 10pm on KingsChat Web
Prayer at 12noon and 10pm (Local/GMT) - Wed Dec 19 Jeremiah 30:10 says, "Therefore fear thou not, O my servant Jacob, saith the Lord; neither be dismayed, O Israel: for, lo, I will save thee from afar, and thy seed from the land of their captivity; and Jacob shall return, and shall be in rest, and be quiet, and none shall make him afraid". At 12noon and 10pm (Local/GMT), we'll pray fervently in tongues of the Spirit, thanking the Lord and praying for divine protection for our family, loved ones, associates and for God's people around the world. The verse above shows our Lord saves, delivers and gives peace and rest. Amen. Remember to attend the midweek service today in church onsite or online. A special edition of 'Your Loveworld' begins tomorrow, and will run till Saturday night. Be sure to tune in to any of the Loveworld Networks to participate. God bless you.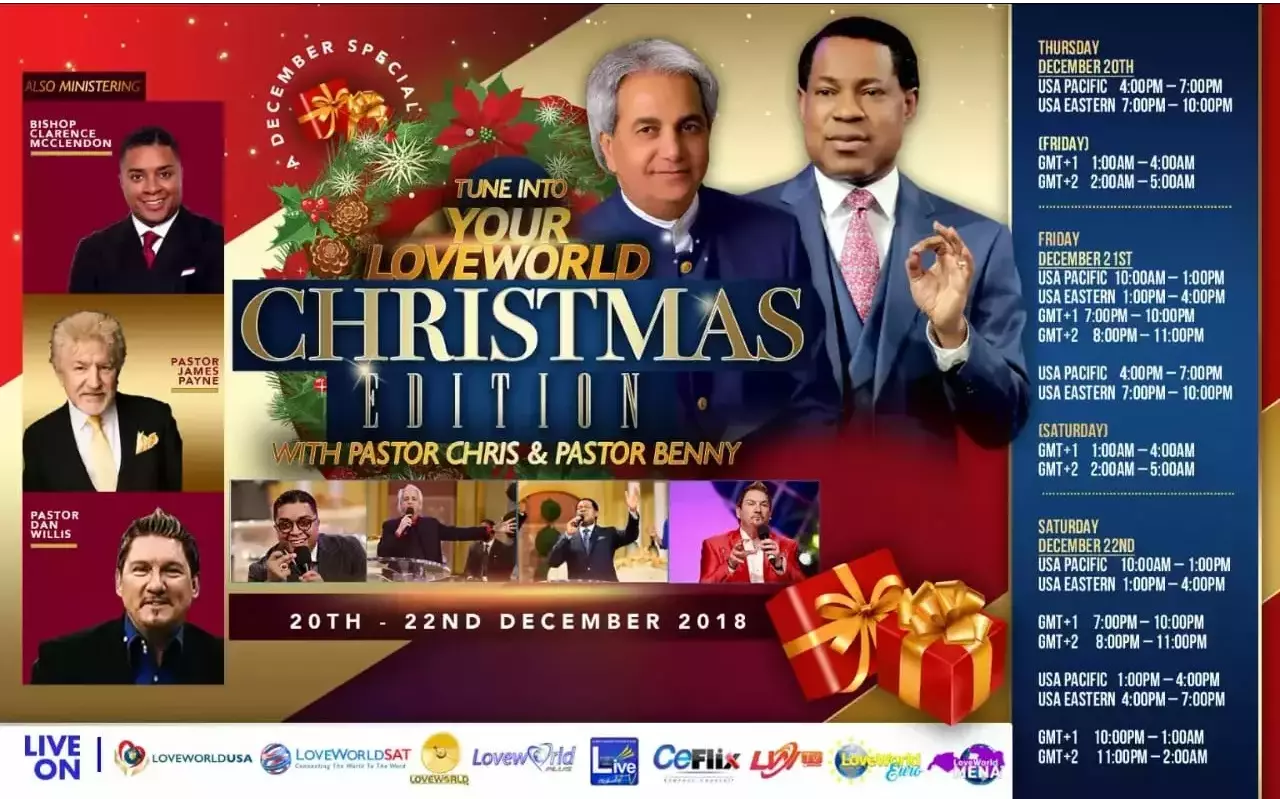 "Christmas is the will of the Father revealed, it is the love of God unveiled and the righteousness of God manifested." - Pastor Chris Oyakhilome Get ready for the Christmas Edition of "Your LoveWorld" with Pastor Chris and Pastor Benny airing live on LoveWorldSAT from : Friday 21st : 2:00am - 5:00am & 8:00pm - 11:00pm (GM+2) Saturday 22nd : 2:00am - 5:00am & 8:00pm - 11:00pm (GMT+2) #yourloveworld #loveworldnetworks #loveworldsat
Wow, what a Climaxing Grand Ceremony for 2018 - the Year of the Supernatural as Staff across the Loveworld Nation were honoured by our Man of God Pastor Chris Oyakhilome. It was the Presidential Staff Awards - a night filled with Inspiration of Innovation to outdo your past.
https://pastorchrislive.org/followpastorchris/Cemidwestzone
https://pastorchrislive.org/followpastorchris/Cemidwestzone
https://pastorchrislive.org/followpastorchris/Cemidwestzone
What a wonderful Thanksgiving service #blwzonec #tasuedchapter
https://pastorchrislive.org/followpastorchris/Cemidwestzone
Happy Birthday Dear Esteemed Pastor Sylvester Esedebe. We love and appreciate you dearly! #CEPHZONE3