ABUJA MINISTRY CENTRE : CELEBRATING A MIGHTY ONE - on KingsChat Web
CELEBRATING A MIGHTY ONE - HAPPY BIRTHDAY ESTEEMED PASTOR CHRIS OTABOR Today, we celebrate and joyfully appreciate you for your labour of love in the Gospel, for your perfect heart and ever-willing mind. Thank you for being a ready and dependable helper of the war, and for your passion for the saints of God. The year ahead is one of outstanding accomplishments in ministry and in every area of your life...a year in which visions will become reality as the Lord leads you in perpetual victory. Happy Happy Birthday! We love you! #CEAMC31STSERVICE #PSTCHRISTALKS2ABJ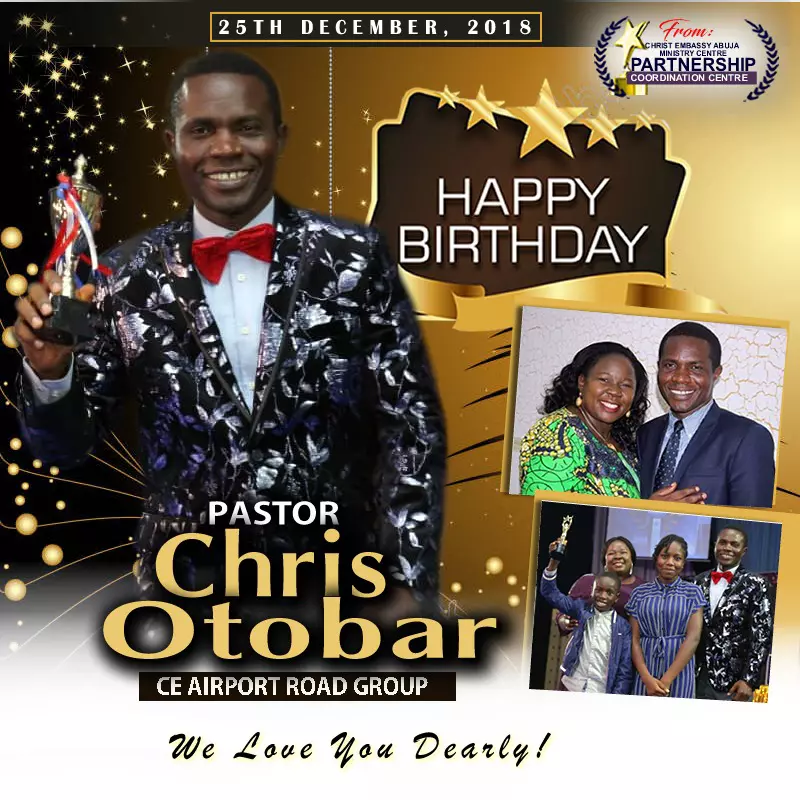 Happy birthday to my father. A man after God's own heart. He gives the best care and love. I love you Pastor. I celebrate you as I celebrate Christ. #Dec25 #ceavz #cekubwa1
Merry Christmas to you all #yearofthesupernatural #christmasservicewithpastprchris
Happy Glorious Birthday Pastor Rita!! I celebrate you ma!! I love you big. Congratulations ma!!!
Season's greetings!!! #cesazone5
Merry Christmas everyone, What a great day to be alive. Thank you Lord for a most wonderful & blissful day.
Merry Christmas Mum & Dad Thank you so much for always bringing us on board your love and care zone. This Christmas will produce everlasting joy and melodies of thanksgiving for all the Lord has done in and through you. I love you dearly. Merry Christmas from my wife & kids.
Merry Christmas dear family. I love you all
"Like Jesus, the Godhead is at home in you; the fullness of the Godhead tabernacles in you." https://wp.me/p6q8It-2ya *Merry Christmas to you and your family!*
Its the Pastor with the Holy Ghost swag. There's never a dull moment with you. Thank you for teaching me the word and unveiling the Father's love. HAPPY BIRTHDAY SIR!!! #Dec25 #ceavz #cekubwa1
CELEBRATING PASSION - HAPPY BIRTHDAY DEAR PASTOR RITA OWASE It is our delight to celebrate you on this special day, rejoicing over you for all you do for the Lord, and for all you mean to us. Your un-waning passion for the work of the ministry, and unparalleled consistency are an inspiration to many. Today, we affirm even more that we love you, and we are blessed to have you in our lives. HAPPY BIRTHDAY!! #CEAMC31STSERVICE #PSTCHRISTALKS2ABJ