HBD to a Highly Esteemed Faithful Servant of our Lord Jesus Christ an exemplary Mighty Man of our Man of God, an Apostle of the New Testament Gospel, our own Highly Esteemed Regional Pastor. You are a Shining Star. Your light dominates the glory of many stars in the Year of Light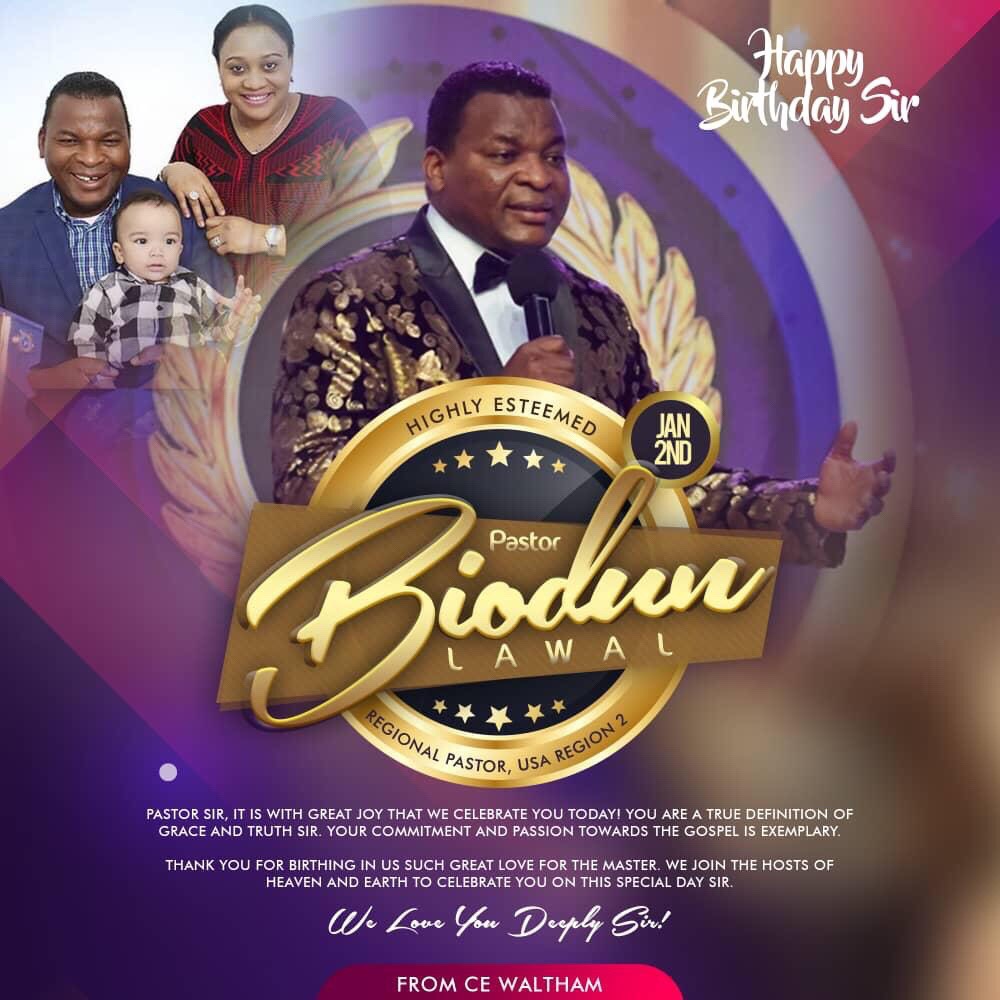 SisterFaithCeStockton
commented:
I wish u happy 🎂🎂🍰🍰🍻🍻🍺🍷 birthday sir in your year of light u are illuminating everyman's world with ur light 🌞🌞🌞, may God continue to increase u on every side I love u sir😍😎
Donna Thompson
commented:
Happy Birthday Pastor, I love you sir, and I join with the host of heaven in celebrating you sir, you're the light to everyman's world 🎂🥂💃🙏
Happy Birthday to my Father, Teacher, influencer, possessor, money farmer, life coach. Thank you for all the years of teaching me the word, I am eternally grateful to you Sir for your unending love towards me and my family. This is your illumination year. Happy Birthday Sir
Happy birthday pastor Henry, thank you for your impact in the northern region. We celebrate you and our ZONAL DIRECTOR. You are a true son of your father.
Dear Highly Esteemed Regional Pastor Sir, this is an opportunity to be grateful for all the uncommon opportunities you continually give me in ministry. Thank you for the many years of investments into my life. Happy Birthday Sir !!!
You mean soo much to me. Happy birthday. #PastorChrisSonPBL2019 #CEACCRAGHANAZONE #joypcf
The truth is that the more you learn about the Lord, the more you love Him; to know Him is to love Him. And the more you love Him, the less you want to do anything that's offensive to Him. #RoR #lights
Celebrating an amazing daughter of light! Glory! Peace will exude from you and garrison you and all connected to you this new year. Your light will shine more in this season of signs. Happy birthday beloved sis. Have an amazing year!!! 🎁💐🎂🥂🎉🎊❤ #UjuBen-Ilo #cesouthbay
AFFIRMATIONTRAIN 2ND JANUARY. I affirm that I am a legal representative of the heavenly Kingdom, called and separated from the world. I am from above; therefore, I am not subject to the distracting elements and corrupting influences of this world. I belong in God's Kingdom, where I enjoy the full blessings and privileges of my kingdom inheritance. I am an offspring of the light; my whole being is full of light. I've been granted the Word and the Holy Spirit to help me become a more effective minister of the Gospel, having greater influence, reach and impact in the world today. I am divinely positioned as the light and hope of an ailing world! Through me, the unsaved in my world hear and receive the light of the Gospel, and are transformed and turned from darkness to light, and from the power of Satan unto God. I am abundantly supplied and furnished to seed the Gospel into the nations of the world, so that more souls will be ushered into the Kingdom. Daily, I walk in the light; I refuse to be quiet about the Gospel, for it's the power of God unto salvation. That power is released to turn men from darkness to light and from the power of Satan unto God as I proclaim the Gospel today. Blessed be God. Hallelujah! #GetNYMonPCDLnow #GetitNow #PastorChrisDigitalLibrary #TheYearOfLights #2019TheYearOfLights #NCVZ1