Rappel Mateke: In God's house, there r on KingsChat Web
In God's house, there r different types of vessels. U r a vessel of honour. A daughter of consolation 2 d Woman of God and to UKVZ3 as a whole. Thank u 4 being a reliable & a dependable associate. Ur light will so shine for the world to see as u celebrate ur b'day 2day. 🎂🍾🥂🍸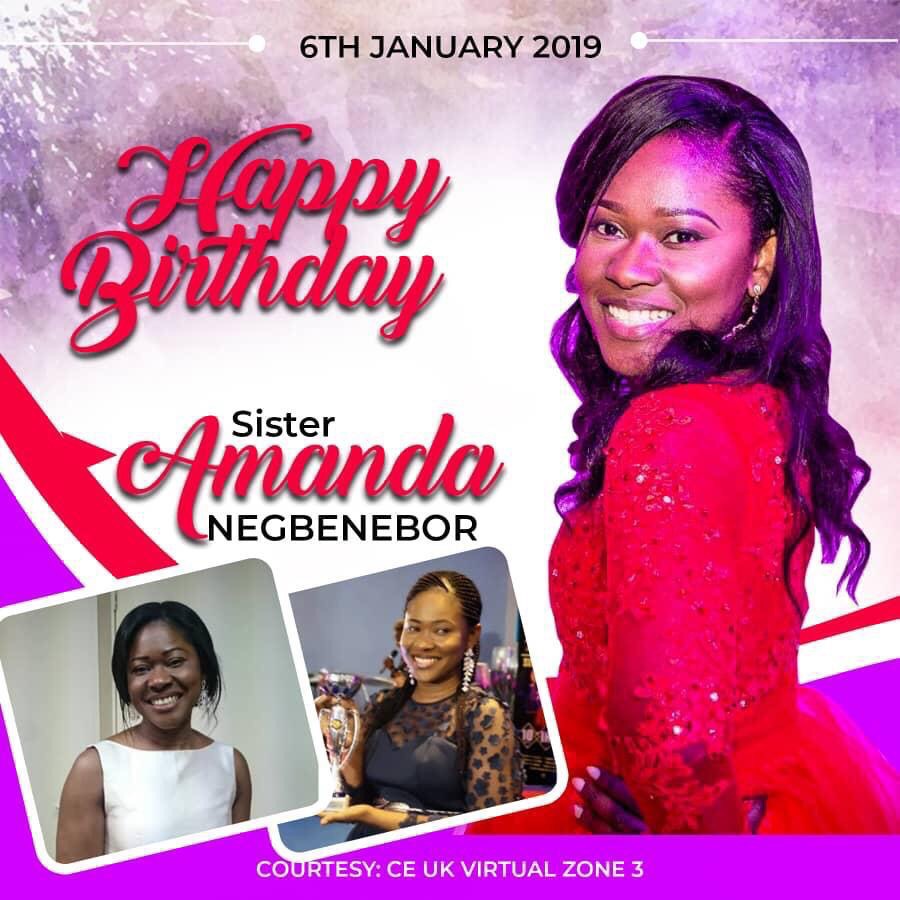 Sis.DorothyGod
commented:
Happy birthday to the burning and shinning sister Amanda
What churching on the first Sunday of 2019 looked like!! #YearOfLights
FIRST SUNDAY SERVICE IN OUR YEAR OF LIGHTS WITH ESTEEMED PASTOR UYI IDUGBOE - Jan 6, 2019 The Year of Lights: An Exposé Christ Embassy Koroduma enjoyed a glorious first Sunday service in the beautiful Year of Lights as the brethren worshipped with gratitude and thanksgiving for the awesome message handed to us, from God through His Spirit, by Our Man of God, Pastor Chris Oyakhilome at the Global 31st Night Service. In the light of New Year Message, Esteemed Pastor Uyi Idugboe began to teach the first of many series on the subject "The Year of Lights: An Exposé" by asking very pertinent questions: 🔊"It is our Year of Lights. How do you benefit from it?" 🔊"How Do You Take the Word and Make It Yours?" 🔊"How do you make progress with the Word of the Year?" First things First, Esteemed Pastor Uyi says, 💡 "YOU MUST GET THE NEW YEAR MESSAGE." The New Year Message is your map. Successful people do not leave things to chance. They are focused. Get the message, and listen over and over again. What else must you do to take this Word and Make it Yours? See You Next Service with Esteemed Pastor Uyi Idugboe. #CEAMC #CEKoroduma #KINGINGwithPastorUyi FOLLOW THIS SUPERUSER ACCOUNT
Count down 5pm South Africa time
It is less than an hour to the auspicious January Global Communion Service With Pastor Chris... Are you ready to be instructed in righteousness? Endeavor to be in church on time. God bless you.
I was honoured to produce this song #BellyOfRivers for my brothers Ṣe Ok & IK 🌊🌊🌊 Follow Ṣe Ok on kingschat @se_ok & IK @marizuikechi to keep up with their new releases. #SeOkSeason #BellyOfRivers Links to download & stream 👇 https://fanlink.to/bellyofrivers
CE Mega Church launches the New year Message in Mega Style! CE Mega Church were excited at the opportunity to spread the gospel like never before through the New Year Message!! Picture highlights shown in gallery below: #Warriministrycentre
It's a Christmas party. #CEEasternEuropeRegion #christmasservice