PRAYER GUIDE FOR HIGHER LIFE CONFERENCE PORT HARCOURT, MONDAY 14TH JANUARY, 2019 PRAYER TIME: 6:00am- 6:30am, 10:00pm - 10:30pm PRAYER THEME: THE MINISTRATIONS BY CHOIR, MUSIC MINISTERS, COUNSELLORS E.T.C Pray concerning the ministrations by the Choir, Music Ministers, Counsellors and all those that would be ministering at the program. Declare that they are sensitive and full of God's Spirit as they minister. Declare that they would minister under a strong unction of God's Spirit and power. Through their ministrations, the power of God is demonstrated; the sick are healed and the unsaved are saved. #HLCPH #HLCPH2019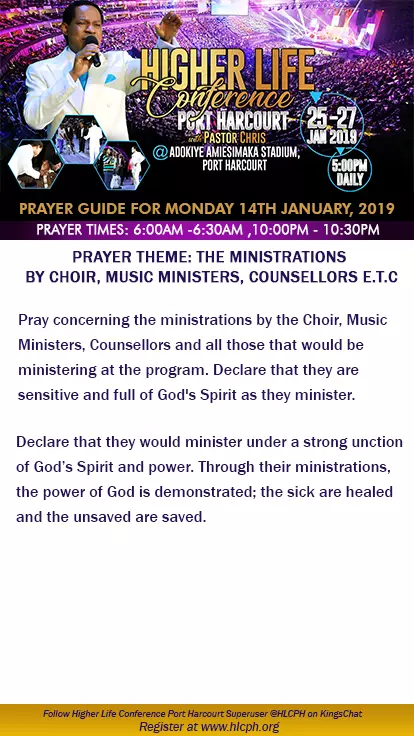 Happy birthday pastor. thank you for your inspiring teaching, your impact and your leadership. I love you so much and i celebrete you.
The power of good. #cekuwadzana #cesazone5
⭐A Refreshing Thought For You Today ⭐ http://bit.ly/2gTR2pB Monday, 14 January 2019. The Word works, and has power to change your life from glory to glory. Read full article 👉https://app.rhapsodyofrealities.org/?inf=234ChuksH5EgrOkudo643964
'They think I preach prosperity but I don't, they think I preach healing but they haven't heard me, they think I preach the anointing but they didn't listen properly. Well what does he preach they say? I preach Jesus Christ.What he came to do, did do and is doing.' (Pastor Chris)
Celebrating a burning and shining light, Pst Tanko Osamwonyi. Happy birthday sir!!!
Light shines, light reveals, light magnifies and light sparkles#LightBe
😆🎇🍾🥂🎂 Happy birthday Bro. Edwards! Who can deny your love for God? You are indeed a favored child of Light fervently aglow for Him. God bless you! #lmambrooklyn #mimshakcell #cebrooklyn #nymega