Christ Embassy Chad: MAINTENANT DISPONIBLE !!!! C'EST CHAUD on KingsChat Web
MAINTENANT DISPONIBLE !!!! C'EST CHAUD & TAILLEUX 👇👇👇 💥💥Nouveau & amélioré !!! Curriculum & Pack de ressources pour les parents. Ministère loveworld pour Enfants Février 2019 ✔école maternelle ✔élémentaire ✔ Les préadolescents ✔ Guide de cellule Avec de nouvelles fonctionnalités - Leçons bibliques robustes - Plan hebdomadaire de lecture de la Bible sur 2 ans (pour les élèves du primaire et des pré-adolescent) - Activité hebdomadaire d'Écritures mémoire (pour les enfants d'âge préscolaire) - Images d'enseignement et affiches de verset magnifiquement illustrées Enseignants, coordinateurs et pasteurs, TÉLÉCHARGER l'Ensemble de programmes d'études 4 en 1 de FÉVRIER 2019, Pour plus d'informations: Appelez +2348123445243 Email: childrensministry@loveworld360.com # élevage de champions #Enfantsrochesd'eglise #Loveworldministered'enfants.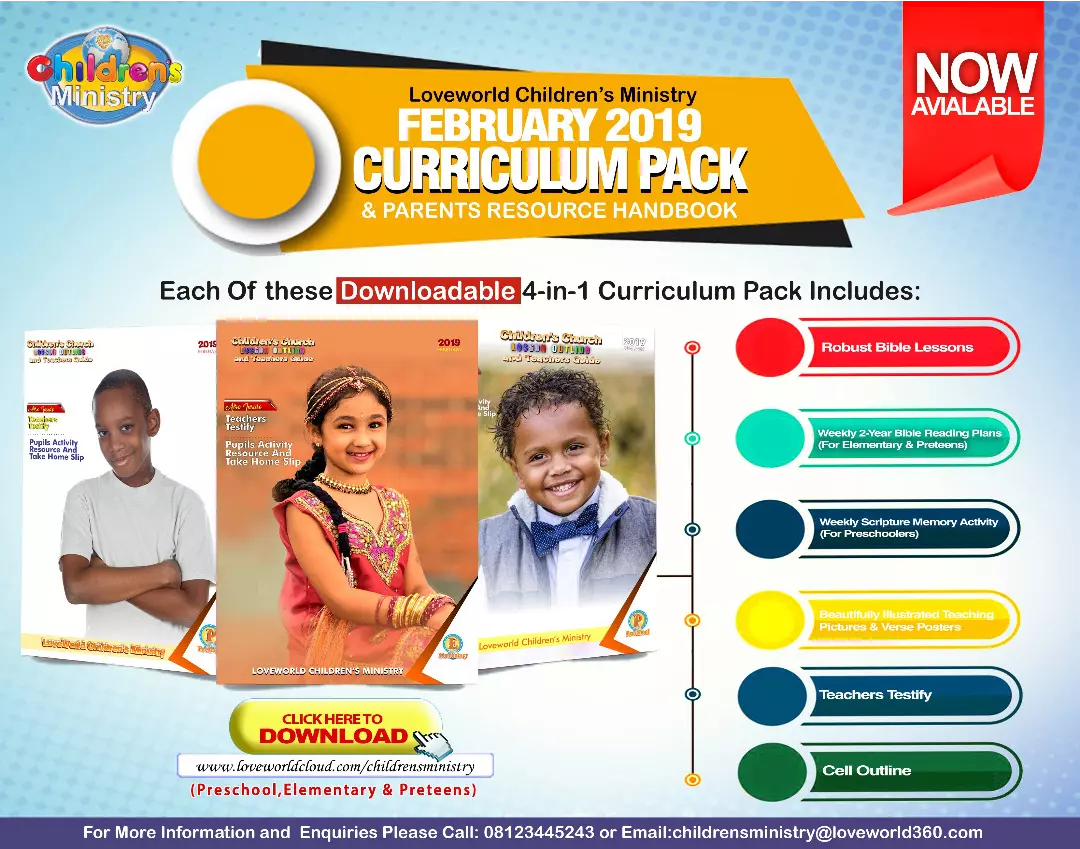 Elite(noun)-Belonging 2 the richest, most powerful, influential, best educated & well trained group. A group tht is superior in ability & quality compared 2 the rest. The best of anything considered; representing the best. WE ARE THE ELITE! #TestimonyWeek #TheElite #CEScarborough
Happy birthday to an addicted worker in the house of God and a true blessing to many, Sis Bukky Oboh. Keep lighting up your world. We love and appreciate you and wish you more years of favor and Gods blessings.
05 Février oooooohhhhhhh🤗🤗🤗♥️♥️♥️😍😍😍 #SOSHININGPJ502
You: You: Happy Birthday my dear Sis Bukki ,you are best of the best ,illuminate is your birth right and you are mark for signs and wonders .I love you!!
The world is full of good people but if you can't find one just be one #cemidwestzone #cesiluko1 #group6 #Lwa3
Happy Birthday Bro Andrew. Its indeed the "Year of Lights for you and your family. Thank you for all that you do in ministry. Happy Birthday and God bless you richly.
Happy birthday dear Sis Bukky Oboh. Thanks for all you do to advance the work of the kingdom. Thanks for your loyalty and passion for success. We love you dearly.