ℹ️ Insight with Pastor Uyi No Country for Old Men Part IV B We began this beautiful journey from my encounters with people living on both sides of technology's street; the tech savvy and the not so tech savvy. Also, we started to appreciate the tools of tech that originates from within our exceptional ministry; You can check out our last week's coverage on KingsPass. 📲KingsCloud * With KingsCloud, You receive a personal cloud folder where you can store, organize and access your files. * You login via your KingsChat account and receive 1 GB free storage! * You can view and share media, voice notes and files previously shared via KingsChat. * You can easily share files with anyone even if they don't have a KingsCloud account. Interestingly, sometime ago, I and twelve other company representatives were invited to bid for a project in one of the Foreign Embassies in Abuja, Nigeria. On arrival, others pulled out their writing materials to take notes and write down the dimensions as the physical measurements were carried out. I simply brought out my mobile phone to take notes. Everyone looked at me strangely as though I didn't come prepared. After the measurements were recorded, the Embassy's Project Manager demanded that everyone should, right there, make a short presentation to show our understanding of the project and how we intend to execute the project. While the others were asking for time to get to their offices and work on a proper presentation, I began work on mine right there. I had everything I required. I accessed my past projects from the cloud and, with them, put together a short but detailed presentation. The Project Manager, visibly impressed, confessed "And here I was, thinking you were the least prepared for this meeting." My advantage was simple. I was tech savvy and ready. And yes, I was awarded the project. 📲KingsPay With KingsPay, you can send payments to authorized organizations using a quick and easy 3 step process: Enter Amount -> Select Card -> Enter Organization Code. You also get receipts, a history section, and the ability to save payments sources, switch currencies and much more! 📲KingsConference Let's you host or join an online meeting with up to 100 persons with crystal-clear high quality audio, instant messaging and ability to tell who's talking! With a plethora of apps and tech available for business, financial, social and productivity - no one should ever find themselves 'old, ancient, antiquated, archaic, and obsolete - and therefore, without a country. At least, not you. Join Us in a Fortnight for more "INSIGHT WITH PASTOR UYI." #KINGINGwithPastorUyi FOLLOW THIS SUPERUSER ACCOUNT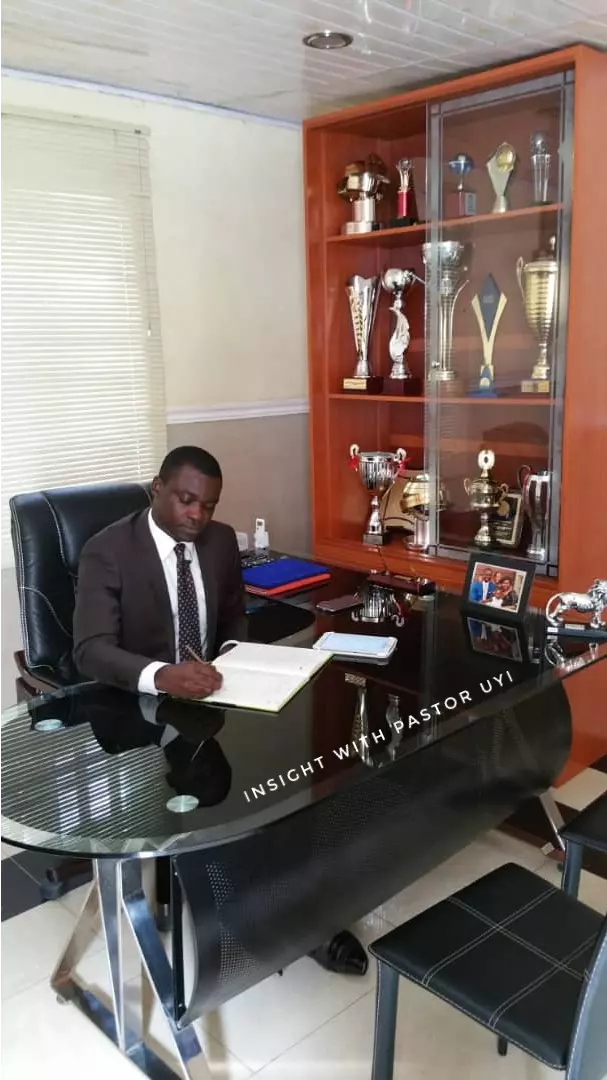 Kingsley
commented:
Couldn't be put any better Oh yes! Light can only SHINE!! Congratulations to our sister. Our president man of God, pastor Chris Oyekhilome is BLESSED. Thank you pastor Uyi, for the insight.
King Maxwell Ny
commented:
Very informative...had downloaded kingspay during communion Service. Was so entrigued how you put up the bid presentation...kingscloud am off for the grasp.Thank you pastor for the wealth of information you share...yearning for more.
#NOBSPECIALWITHPBL #CeAccraGhanaZone I am ready to receive, ready to connect, and ready to bask in the Glory at this very Special All Night with our Esteemed Zonal Director on the 22nd of Feb
#NOBSPECIALWITHPBL #CeAccraGhanaZone I will be there live at this special All Night Meeting with our Dear Man of God. Where would I rather be?
ReD, the Perfect Love worth celebrating... ReD, the Perfect love affair... ReD, love worth fighting for... FEB 14TH Don't miss out! #ReDefinition #ReDiscovery #ReD
Where would i rather be if not at the Special All Night with our Man of God. Wouldn't miss it for anything in the world #NOBSPECIALWITHPBL #CeAccraGhanaZone #FruitfulPcf
HAPPY BIRTHDAY SISTER GRACE! We celebrate and love you! You are divinely favoured! #cesazone1
Something is about to happen... Its Fire Conference: #Cplfc2019 #fireinyourbones #fireincampusministry #blwcampusministryrocks
Happy Wedding Anniversary Esteemed Pastor Sir and Ma. I love you sir and ma. #oasis #ceabeokuta