North Central Virtual Zone 1: RHAPSODY OF REALITIES DAILY DEVOTIONAL on KingsChat Web
RHAPSODY OF REALITIES DAILY DEVOTIONAL *COMPELLED BY THE TRUTH OF THE GOSPEL .* Friday, March 15th . Pastor Chris _*For we have not followed cunningly devised fables, when we made known unto you the power and coming of our Lord Jesus Christ, but were eyewitnesses of his majesty (2 Peter 1:16).*_ The first thing that should compel you about preaching the Gospel of Jesus Christ is the truth of the Gospel. The Gospel isn't an assumption or some fairytale. Peter said, "We have not followed cunningly devised fables"; this Gospel is truth. Secondly, the content of the Gospel, what it states, is most compelling: that Christ Jesus came into the world to save sinners, and that He was, and is, the Son of God in truth—God in the flesh. Moreover, He was crucified on the Cross, and died for us. He was buried, and God raised Him from the dead, and He's alive today; His death on the Cross was a sacrifice for the sins of the world. When Jesus died, we died in Him; when He was buried, we were buried in Him; when God raised Him back to life, we were raised together with Him, and because He lives, we live. Hallelujah! These are our convictions about Christ and the Gospel! 2 Corinthians 5:21 says, _*"For he hath made him to be sin for us, who knew no sin; that we might be made the righteousness of God in him."*_ Think about it: one who knew no sin was made sin for us, that we might be made the righteousness of God in Him, so that whereas we were dead in sin, now in Him, we live! What a message! There's nothing like it in the world; it's the greatest story ever told; the greatest news of all time! Now, to think that this is the Gospel that Abraham looked forward to, that Isaac and Jacob and the patriarchs looked forward to and prophesied about; to think that this is the Gospel that we've embraced, and has become so real to our spirits, is overwhelming. It's an unending song, an ever-flowing stream of unending joy. When you think about Jesus, and what the Gospel means, and all that He's done for you, you should be compelled to preach it more than ever. Refuse to be quiet; tell it everywhere. *CONFESSION* *I'm compelled by the truth of the Gospel to preach it around the world. The zeal of the Lord propels me to proclaim liberty to the captives, and turn men from darkness to light, and from the power of Satan to God. The Lord Himself is effectually at work in me—His power and desire—to fulfil His delight and please Him in all things. Amen.* *FURTHER STUDY:* *||* *Romans 1:16* For I am not ashamed of the gospel of Christ: for it is the power of God unto salvation to every one that believeth; to the Jew first, and also to the Greek. *||* *||* *1 Corinthians 9:16-23* For though I preach the gospel, I have nothing to glory of: for necessity is laid upon me; yea, woe is unto me, if I preach not the gospel! 17 For if I do this thing willingly, I have a reward: but if against my will, a dispensation [of the gospel] is committed unto me. 18 What is my reward then? [Verily] that, when I preach the gospel, I may make the gospel of Christ without charge, that I abuse not my power in the gospel. 19 For though I be free from all [men], yet have I made myself servant unto all, that I might gain the more. 20 And unto the Jews I became as a Jew, that I might gain the Jews; to them that are under the law, as under the law, that I might gain them that are under the law; 21 To them that are without law, as without law, (being not without law to God, but under the law to Christ,) that I might gain them that are without law. 22 To the weak became I as weak, that I might gain the weak: I am made all things to all [men], that I might by all means save some. 23 And this I do for the gospel's sake, that I might be partaker thereof with [you]. *||* *DAILY SCRIPTURE READING* *1-Year Bible Reading Plan=>* Luke 1:1-25 & Deuteronomy 3-4 *2-Year Bible Reading Plan=>* Matthew 23:1-12 & Exodus 24 #NCVZ1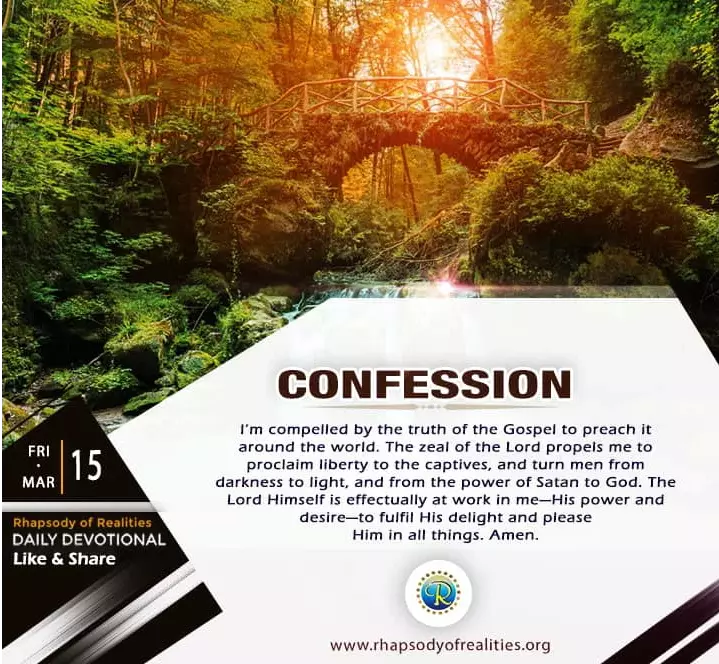 I'm a Rich man that will locate more inheritance in The day Of Bliss #DayofblisswithPastorFlow #March17 #Sez2 #OkpanamChurchCelebratingDOB
#AFFIRMATIONTRAIN 15TH MARCH. I affirm that I am attuned to the voice of the Spirit; His voice guides and directs me in all affairs of life. I am conditioned rightly to know His perfect will and walk therein! My steps are ordered of the Lord because His Word is a lamp to my feet and a light to my path. I am a thousand times ahead! I am far ahead of any competitor or distractor. The Word of God has infused into me the consciousness of victory, success, and glory. I am a success, I operate from the standpoint of advantage. I am so rich; vibrant, strong and energetic. The life of Christ in me has made me more than a man; I am a superman! God is the One at work in me, both to will and to do of His good pleasure. His power in me is activated to bring forth blessings and miracles today. My life is as a well-watered garden, and I bring forth fruits, in and out of season, because I live by the Word. There's no uncertainty, confusion, or darkness in my life; for the true light shines in my heart. Hallelujah! I am the planting of the Lord, I am planted on the rock that is higher than I am, Christ Jesus! Therefore, I am not moved by circumstances. I am a victor forever because Christ is my riddance. He rids me of any trouble and leads me triumphantly from glory to glory. Blessed be God. Hallelujah! SPEAK IN OTHER TONGUES NOW • Be bold to say the same things that God has said concerning you in His Word. That is what takes you beyond salvation, to enjoy the benefits of salvation ~ Pastor Chris Oyakhilome. You can now reach us on: • info@affirmation-train.org • www.affirmation-train.org God bless you. #goodnews #greatness #grateful #worship #thankyou #praise #infilling #holypresence #heavenly #fellowship #Abbafather #honour #holyghost #glriously #victorious #winning #illumination #lights #signs #seasons #union #wonders #leadership #empowerment
#AFFIRMATIONTRAIN 15TH MARCH. I affirm that I am attuned to the voice of the Spirit; His voice guides and directs me in all affairs of life. I am conditioned rightly to know His perfect will and walk therein! My steps are ordered of the Lord because His Word is a lamp to my feet and a light to my path. I am a thousand times ahead! I am far ahead of any competitor or distractor. The Word of God has infused into me the consciousness of victory, success, and glory. I am a success, I operate from the standpoint of advantage. I am so rich; vibrant, strong and energetic. The life of Christ in me has made me more than a man; I am a superman! God is the One at work in me, both to will and to do of His good pleasure. His power in me is activated to bring forth blessings and miracles today. My life is as a well-watered garden, and I bring forth fruits, in and out of season, because I live by the Word. There's no uncertainty, confusion, or darkness in my life; for the true light shines in my heart. Hallelujah! I am the planting of the Lord, I am planted on the rock that is higher than I am, Christ Jesus! Therefore, I am not moved by circumstances. I am a victor forever because Christ is my riddance. He rids me of any trouble and leads me triumphantly from glory to glory. Blessed be God. Hallelujah! SPEAK IN OTHER TONGUES NOW • Be bold to say the same things that God has said concerning you in His Word. That is what takes you beyond salvation, to enjoy the benefits of salvation ~ Pastor Chris Oyakhilome. You can now reach us on: • info@affirmation-train.org • www.affirmation-train.org God bless you. #goodnews #greatness #grateful #worship #thankyou #praise #infilling #holypresence #heavenly #fellowship #Abbafather #honour #holyghost #glriously #victorious #winning #illumination #lights #signs #seasons #union #wonders #leadership #empowerment
I win all the time, VICTORY #gylf #ieyc2019 #gylf #cekenyazone #gylf #ieyc2019 #gylf #ieyc2019 #gylf #ieyc2019 #gylf #ieyc2019 #cekenyazone
Oh yeah! It's "ITPLC IN YOUR CITY"—in my hood—CE LAGOS ZONE ZONE 3! Gloooory! Special appreciation to my Zonal Director, the highly Esteemed Pastor Femi Otenigbagbe for CONFIRMING the "ITPLC IN YOUR CITY" in CHRIST EMBASSY LAGOS ZONE 3. I deeply appreciate you, Sir!
UPDATE on 6 Days of Glory with Pastor Chris Day 3 Highlights: Increasing Glory Experienced as the Landmark Event Continues https://loveworldnews.org/s/bB5d160687 Get full story & video via above link exclusive to LoveWorld News.
Prayer at 12noon and 10pm (Local/GMT) - Fri March 15 We're compelled by the truth of the gospel. Learn more in today's Rhapsody. Find more information on Rhapsody of Realities at http://rhapsodyofrealities.org Habakkuk 2:14 says, "For the earth shall be filled with the knowledge of the glory of the Lord, as the waters cover the sea". At 12noon and 10pm (Local/GMT), we'll pray fervidly in tongues of the Spirit for 15min, declaring the increased knowledge of Christ in your nation, and around the world, in accordance with the verse of scripture above. God bless you.
QUICK FACTS ON MANDARIN CHINESE prayer.rhapsodyofrealities.org Do you know that an estimate of 1.15 billion people speak Mandarin Chinese across the world and that includes 70% of the entire China's population and 5.85% of the world's population as at 2007? …..Watch out for more details during the upcoming ROPC Lingual! To get involved visit: https://rhapsodyofrealities.org/joinus #ropc #rhapsody #clicktopray www.rhapsodyofrealities.org/
I win all the time, VICTORY #gylf #ieyc2019 #gylf #cekenyazone #gylf #ieyc2019 #gylf #ieyc2019 #gylf #ieyc2019 #gylf #ieyc2019 #cekenyazone