CE Kano: *RHAPSODY OF REALITIES DAILY DEVOTIONAL* on KingsChat Web
*RHAPSODY OF REALITIES DAILY DEVOTIONAL* *LIVING BY HIS FAITH .* Sunday, March 17th . Pastor Chris _*… and the life which I now LIVE IN THE FLESH I LIVE BY THE FAITH OF THE SON OF GOD, who loved me, and gave himself for me (Galatians 2:20).*_ When Jesus died on the Cross, He knew that if we got to hear about His love, we'd believe and become one with Him. He had faith in what He did, in His vicarious sacrifice for us. He trusted that we'd become everything He died, was buried, and rose back to life for. That's the faith of the Son of God by which we're to live. Think about it this way: imagine that you have a son who's about to sit for his final exam. The exam costs quite some money, but you're ready to stake everything. You say to him, "Son, all the money we have at the moment is what we're paying for you to sit for this exam, but that's nothing, because we trust you'd be successful, and as a result, things will change for the family." Now, your son understands that the hope of the entire family is on him; he knows he's got to be successful at this exam; he can't afford to disappoint the family. So, he'll act on your faith in him—which will become his driving force. His friends may be partying, but he'll act differently, because he knows you've invested everything in him, and wants to justify the confidence reposed in him. That's akin to Galatians 2:20: the life we now live, we live by the faith of the Son of God who loved us and gave up everything for us. We can't fail or disappoint Him. This is the reason you must live your life differently, setting your affection on Him, on things above, and not on things on earth or the flesh. Be determined that you'd walk in, and manifest, the full blessings of the Gospel which are yours in Christ. Live to His dream; His expectation; live by the faith of the Son of God! *CONFESSION* *I was crucified with Christ, nevertheless I live; yet not I, but Christ lives in me, and the life which I now live in the flesh, I live by the faith of the Son of God who loved me, and gave Himself for me. My life is ever for His glory. Hallelujah!* *FURTHER STUDY:* *||* *Colossians 3:1-3* If ye then be risen with Christ, seek those things which are above, where Christ sitteth on the right hand of God. 2 Set your affection on things above, not on things on the earth. 3 For ye are dead, and your life is hid with Christ in God. *||* *||* *Matthew 6:33* But seek ye first the kingdom of God, and his righteousness; and all these things shall be added unto you. *||* *||* *1 John 2:15-17* Love not the world, neither the things [that are] in the world. If any man love the world, the love of the Father is not in him. 16 For all that [is] in the world, the lust of the flesh, and the lust of the eyes, and the pride of life, is not of the Father, but is of the world. 17 And the world passeth away, and the lust thereof: but he that doeth the will of God abideth for ever. *||* *DAILY SCRIPTURE READING* *1-Year Bible Reading Plan=>* Luke 1:57-80 & Deuteronomy 8-10 *2-Year Bible Reading Plan=>* Matthew 23:23-39 & Exodus 26 #KMC4 #KanoMiracleCrusade #cekano #nnwz2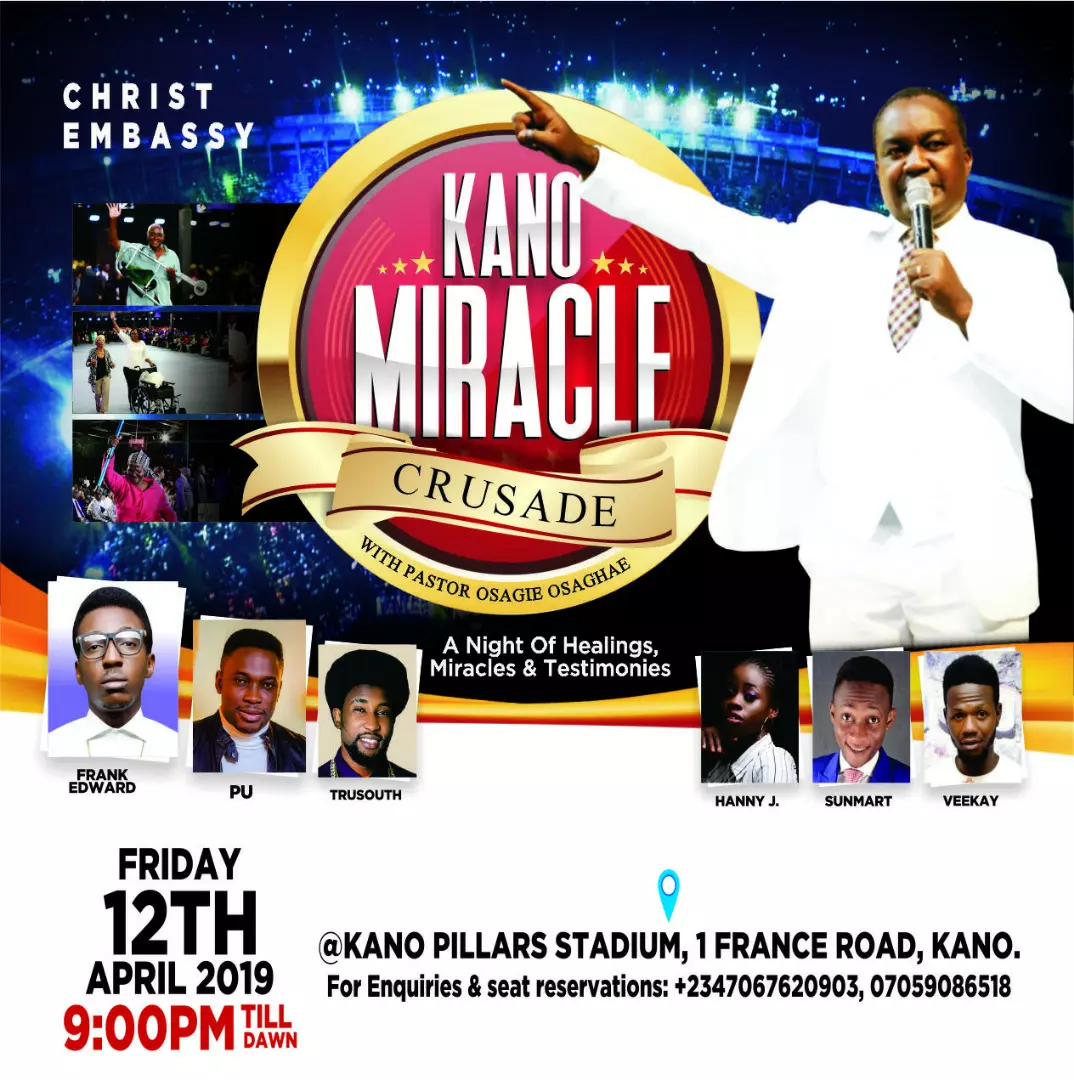 Micheal Johnson
commented:
SUPER CASH INVESTORS!!! There is a unique,legitimate and genuine platform that gives you double of you what you donate,i would like to introduce you to.Earn Wisely and share within the people around you.registered to provide help and get. No referral No scam *100% Guaranteed. The instant payment and instant merging is only available for Within 35mins merging packages: 5k to get 10k 10k to get 20k 15k to get 30k 20k to get 40k 25k to get 50k 30k to get 60k Call:08107526646
DECLARE! I was crucified with Christ, nevertheless I live; yet not I, but Christ lives in me, and the life which I now live in the flesh, I live by the faith of the Son of God who loved me, and gave Himself for me. My life is ever for His glory. Hallelujah! Act Now: Visit rhapsodyofrealities.org/sponsor to sponsor the Gospel #rhapsody #devotional #dailydevotional #rhapsodyofrealities prayer.rhapsodyofrealities.org
ITPLC 2019 CEPUNE TEENS AND YOUTH CHURCH LEADERS.
Winning Souls For Christ is Our Hubby. UNFORGETTABLE EXPERIENCE UBEJI Don't Miss It!!! #un4gettablexperienceubeji #ekpangroup #warriministrycentre
UNFORGETTABLE EXPERIENCE UBEJI with PASTOR PATRICIA MERRY-HEART OBI is the place to be On Friday 29th March. Don't Miss It!!! #un4gettablexperienceubeji #ekpangroup #warriministrycentre
🕺🕺🕺🕺Today is the Day!!! Happy birthday Pastor Ma, it is such a joy to celebrate you. I love you endlessly
DAY OF BLISS - Saturday 23rd March, 6 DAYS TO GO! 📸PhotoSpeaks Day of Bliss Street Storm by Professional Cell 1, Christ Embassy Zonal Church. Is your cell getting ready? #DayofBlissCEPHZone3
Develop the Desire to DISCOVER MORE #radiorevolution #radiorevolution #radiorevolution
Develop the Desire to DISCOVER MORE #radiorevolution #radiorevolution #radiorevolution
What are you waiting for? Be a part of the work force for unforgettable Experience Kubwa. #CESheraton # CEAZ