Tobi Omoni: Our parents know what is on KingsChat Web
Our parents know what is best for us.#Roylaties#teevoeveryday#cebw#TeensCan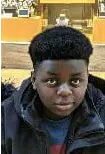 To Ay
commented:
Very true!
Just 6days away to our Soweto Miracle Crusade #Soweto Miracle Crusade #CESAZONE1
Thank you so much Pastor for High performance by the word season 1, God bless you mightily in Jesus name amen : information==knowledge ==capacity ==value==relevance
When men are cast down I say there is a lifting up All we see is light, all we see is abundance Hosea 4:6 #sundayservice #lwsouthampton #ukzone2 #dcnuzezi
#PastorFred #PF1903 #cepietermaritzburg #cedurbangroup #cesazone2
MORE PHOTOS ON SCHOOL OUTREACH #schoolministration #ceagbor #sevz2
Apprentice Outreach #Ceagbor #sevz2
HOW (U.C.I) WORKS_* ₦10,000-----₦20,000 ₦20,000-----₦40,000 ₦40,000-----₦80,000 ₦50,000-----₦100,000 ₦100,000---₦200,000 ₦200,000---₦400,000 ₦400,000---₦800,000 https://chat.whatsapp.com/HzyHWcR1c01AXF34vdSnrM NOTE:👉 we credit your account after 45min of donation.
#prayingnow #Australia #declaration ALL our leaders are vibrant in their churches... Everything required for the success of SUPER WEEKEND 2019 is available...
#CETaifa #SuperSunday #6daystogo