Regis Madzeke: Glory to God, am ready on KingsChat Web
Glory to God, am ready for this life changing FIA, yes am going to be catapulted to the next level. It's going to be extraordinary,,, FIA FIA 😁!!! #FIAcrusade #cesazone5 #cenorton1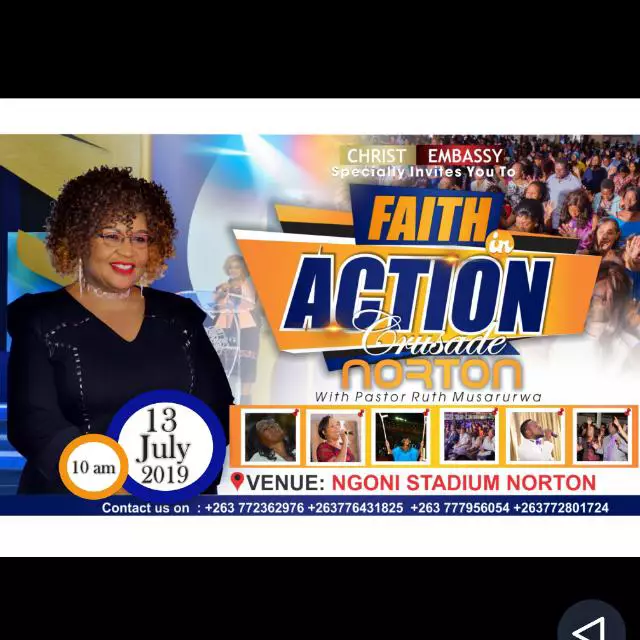 98. One demonstration of power closes the case #TIEUK2019
Healing School Grounds SA Zone 5 ..sanctified holy place by our President of Loveworld Nation Pastor Chris during WCS Zimbabwe in 2017 . Now set time for healing testimonies on 23 March 2019 during Faith In Action Belvedere Harare Zimbabwe. #prayer3amwthzpRuth #sazone5 #cekkchptr
97. 'One demonstration of power settles the argument' - Pastor Chuke Ume #TIEUK2019
#FIAwithPastorRuth #cesazone5 #3amprayerwìthPastorRuth Dont miss this for anything!!!
Wenesday 20-3-2019 service at ce village.#ewcaz4.#cevillage
100. I am bold for Christ ! #TIEUK2019
Happy birthday to my darling King David... wishing you all of the very best as you remain a gifted child and a blessing to your world... love you early son !
101. Be bold enough [for Christ], not testing #TIEUK2019
#FIAwithPastorRuth #cesazone5 #3amprayerwìthPastorRuth Come and see it for yourself, miracles taking place, don't wait to be told. Faith will be in action