Ojie Max: HAPPY WEDDING ANNIVERSARY EVANG DR. on KingsChat Web
HAPPY WEDDING ANNIVERSARY EVANG DR. EDDY & PASTOR MARY OWASE Congratulations and Happy wedding anniversary Highly Esteemed Evang. Dr. Eddy & Pastor Mary Owase. Thank you for being a living example of Christ's love. We love you so dearly!#Cemidwestzone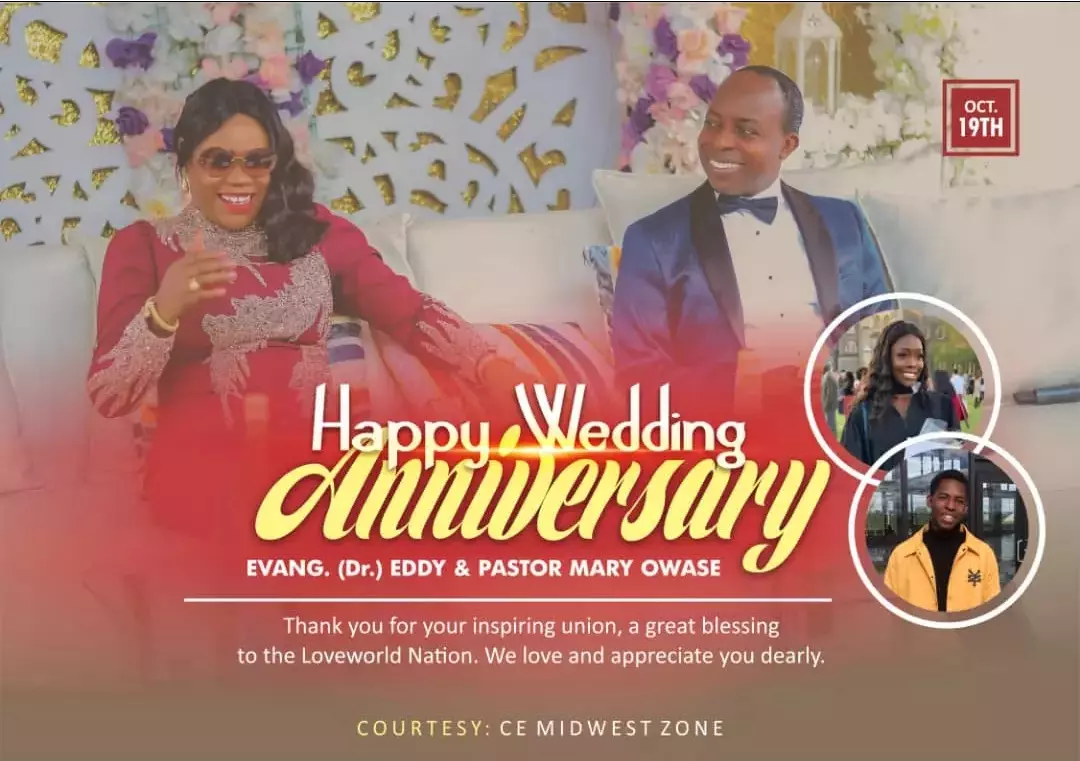 HAPPY WEDDING ANNIVERSARY EVANG DR. EDDY & PASTOR MARY OWASE Congratulations and Happy wedding anniversary Highly Esteemed Evang. Dr. Eddy & Pastor Mary Owase. Thank you for being a living example of Christ's love. We love you so dearly!#Cemidwestzone
HAPPY WEDDING ANNIVERSARY EVANG DR. EDDY & PASTOR MARY OWASE Congratulations and Happy wedding anniversary Highly Esteemed Evang. Dr. Eddy & Pastor Mary Owase. Thank you for being a living example of Christ's love. We love you so dearly!#Cemidwestzone
HAPPY WEDDING ANNIVERSARY EVANG DR. EDDY & PASTOR MARY OWASE Congratulations and Happy wedding anniversary Highly Esteemed Evang. Dr. Eddy & Pastor Mary Owase. Thank you for being a living example of Christ's love. We love you so dearly!#Cemidwestzone
I have the gift of RIGHTEOUSNESS without condemnation. Hallelujah! #wordfest2 #wordatwork #wordfest2020. #ukzone2.
Our October surprise is finally here LN24 SA launched this morning 🎉💃💯🔥. Loveworld SAT 24hrs news channel is here www.loveworldsatnews.com
Glory Glory Glory! My pastor birthday is loading all the way pastor uji...
Celebrating perfection Celebrating passion Celebrating grace
Congratulations To Our 3rd Runnerup; Zone E7 For Their Attendance In The Haven Daily Global Morning Prayers today. #TheHavenNation
#CelebratingPaterNoster #PttOurAdvantage #PttOurRabbi #PttTheLight #YesSir!