CE BAYELSA NATION: We say a very special on KingsChat Web
We say a very special 'Thank You Sir' to our Highly Esteemed Zonal Pastor, Pastor Obi Umeasiegbu, The Light of Bayelsa (#TLB) for a most impactful 1st Quarter Partners' Conference 2019, Zonal Edition. We have received more grace and empowerment for greater impact. Thank you Pastor Sir. 💕💕We love you dearly Sir. Courtesy: Christ Embassy Nigeria South South Zone 1 #QPC #TLB #cebayelsa #thelandofgrace #NSSZONE1 #NSSR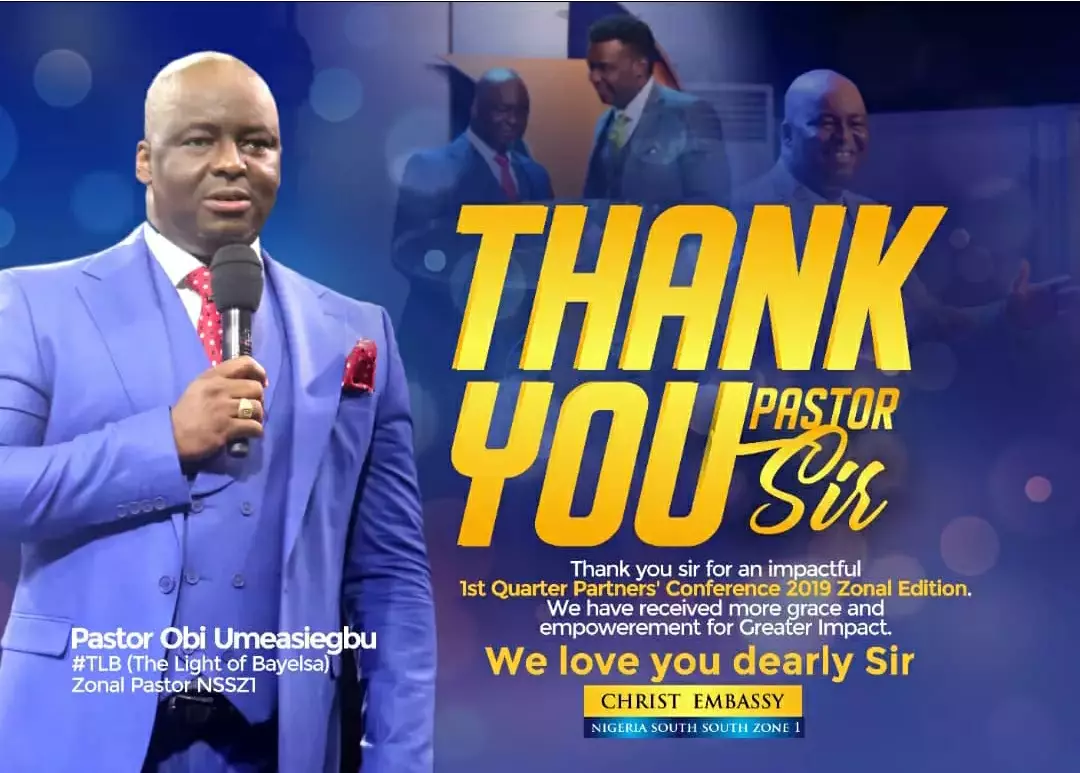 #GFMN _ IBADAN We pray for the success of this program. It is a success in the name of Jesus Christ.Souls are coming into the kingdom, the sick are healed all to the glory of God.
A gathering of Kings #ceketu #megateensconferemce #cellz1rocks #mtc2019
We say a very special 'Thank You Sir' to our Highly Esteemed Zonal Pastor, Pastor Obi Umeasiegbu, The Light of Bayelsa (#TLB) for a most impactful 1st Quarter Partners' Conference 2019, Zonal Edition. We have received more grace and empowerment for greater impact. Thank you Pastor Sir. 💕💕We love you dearly Sir. Courtesy: Christ Embassy Nigeria South South Zone 1 #QPC #TLB #cebayelsa #ceughelli #cesapele #TheMovingBUS #NSSZONE1 #NSSR
It's something to shout about... Tell it in the hill top !!! Everywhere... #April26th #LoveworldcityGround #Atali #6pm #NightOfTheMiraclous.
On behalf of all the Pastors, Deaconry members, Leaders and members of Christ Embassy Nigeria South South Zone 1, we say a very big 'Thank You Sir' to the Highly Esteemed Pastor Amaechi Udeaku, Zonal Pastor, Port Harcourt Zone 1, for a most glorious 1st Quarter Partners'Conference. Thank you Sir for ushering us to another level of Grace. We have been empowered, infused with ability and capacity for greater impact. 💕💕We love you dearly Sir. Courtesy: Christ Embassy Nigeria South South Zone 1 #QPC #TLB #cebayelsa #ceughelli #cesapele #TheMovingBUS #NSSZONE1 #NSSR
#mtc2019 #campgroundalive #CELZ1rocks
Christ Embassy Church Harkers Hall Jamaica
On behalf of all the Pastors, Deaconry members, Leaders and members of Christ Embassy Nigeria South South Zone 1, we say a very big 'Thank You Sir' to the Highly Esteemed Pastor Amaechi Udeaku, Zonal Pastor, Port Harcourt Zone 1, for a most glorious 1st Quarter Partners'Conference. Thank you Sir for ushering us to another level of Grace. We have been empowered, infused with ability and capacity for greater impact. 💕💕We love you dearly Sir. Courtesy: Christ Embassy Nigeria South South Zone 1 #QPC #TLB #cebayelsa #thelandofgrace #NSSZONE1 #NSSR
Soldiers of the Lord #ceketu #megateensconferemce #cellz1rocks #mtc2019