Rose Edidiong Denis: This night will truly be on KingsChat Web
This night will truly be one to remember Where would you rather be on the 10th of may than God's presence? Happening live on the university of calabar is the #MCC4C package tagged #Anighttorememberredefined cuz the #Blwcampusministryrocks for we are #911generationxyz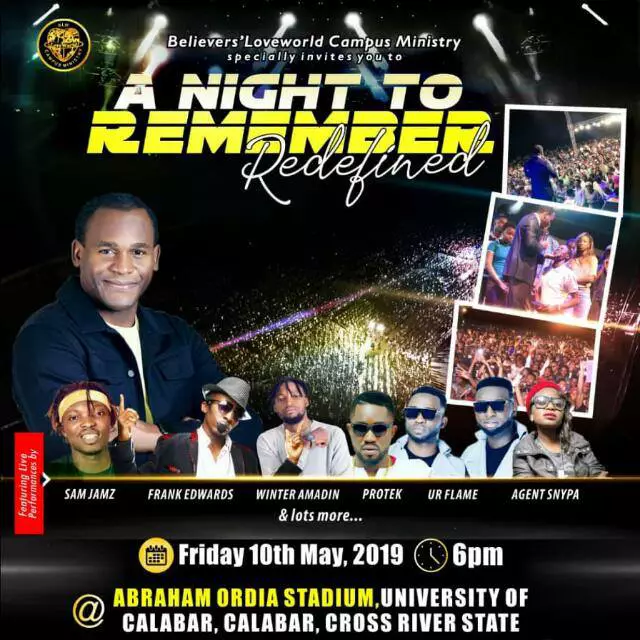 #thesaviormovie the testimony of sacrifice and tenderness showing in cinemas from 19th April #thesaviormovie
#TGOHP #TGOHP0419 #PastorMikeWiggle #CETXZONE1 #CETXZONE2
Feel and experience the affection of the Father this Easter with #thesaviormovie showing in cinemas from 19th April.
#TGOHP #TGOHP0419 #PastorMikeWiggle #CETXZONE1 #CETXZONE2
"📣📣📣Easter is just around the corner! 📢📢📢 👀 A refreshing video of childten from our Children's Churches around the 🌎 tell The Easter Story! From vital perspectives they are learning from "The Easter Story Curriculum Pack". For More Info: Pls call +2348123445243 Email: childrensministry@loveworld360.com #loveworldchildrensministryrocks #childrensministryrocks #raisingchampions #getthekidsin"
Wow we are going to be gathering 35 thousand souls for christ can't wait to see many lives transformed.
#TGOHP #TGOHP0419 #PastorMikeWiggle #CETXZONE1 #CETXZONE2