EWC Africa VZ4: Celebrating a Rhapsody Hero, Esteemed on KingsChat Web
Celebrating a Rhapsody Hero, Esteemed Sis Marie Annette Manga Thank you for lighting up the world through your sponsorship 1 million copies, changing 1 million lives ........... a reality because of You #rhapsodycommemorativeedition #zonalrhapathon #rhapsodyhero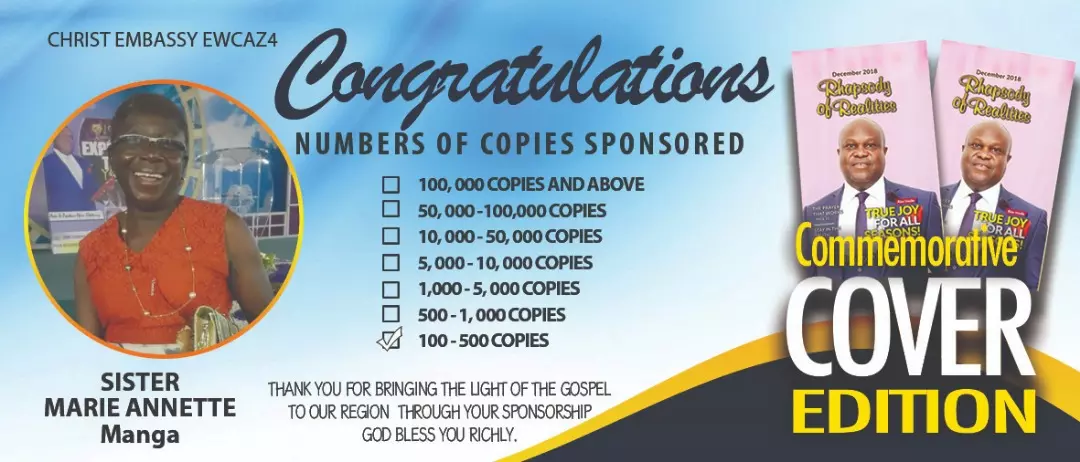 PHOTO HIGHLIGHTS FROM DAY 3 OF OUR ZONAL RHAPATHON!!! #Photospeaks 📸 It's a celebration of the heroic feats of Rhapsody of Realities. #Cemidwestzone #Cemwzrhapathon
Удивительное молитвенное собрание TNI Online состоится 29 апреля в 18:30 с Пастор Емиси. Приглашаем всех участников TNI переводчиков и партнеров от пастора Криса. Это божественное Посещение от Бога. Ссылка внутри Фото. Бог благословит вас обильно #TNI # Russia
HAPPY BIRTHDAY PASTOR FOLUKE!!!!
🔊🔊🔊🔊🔊🔊🔊🔊🔊🔊🔊🔊🔊🔊🔊🔊🔊🔊🔊🔊🔊🔊🔊🔊🔊🔊🔊🔊🔊🔊🔊🔊🔊 More Highlights of the epoch making Calabar Miracle Crusade. Our Esteemed All Stars came with a special aunction to cmc. The city will never be the same again. We love and appreciate you greatly. #cmc #Calmc #teamcalabarrocks
🔊🔊🔊🔊🔊🔊🔊🔊🔊🔊🔊🔊🔊🔊🔊🔊🔊🔊🔊🔊🔊🔊🔊🔊🔊🔊🔊🔊🔊🔊🔊🔊🔊🔊 More highlights of the epoch making Calabar MiracleCrusade, Our Esteemed LMAM all stars were present to bless the city of Calabar. It was a glorious time in God's presence. We love you greatly. #cmc #teamcalabarrocks #Calmc
PHOTO HIGHLIGHTS FROM DAY 3 OF OUR ZONAL RHAPATHON!!! #Photospeaks 📸 It's a celebration of the heroic feats of Rhapsody of Realities. #Cemidwestzone #Cemwzrhapathon
ONE THING IS CERTAIN, IF YOU STICK TO THE WORD, YOU WILL COME BACK WITH A TESTIMONY! Join us for an awesome time of Worship,the Word, Prayers and Fellowship at SUNDAY SERVICE tomorrow by 8:00am, holding in all churches across the zone. Bring your guests! #CEPHZONE3
#STPPL Day 3 now ,I am being trained .