Earnest Omoleme Uwabun: Happy Wedding Anniversary to a on KingsChat Web
Happy Wedding Anniversary to a most honorable couple. Grace and peace are continually being multiplied unto you. Your home will always blossom, your days will always be blissful and your treasures will always overflow. Congratulations, we love you.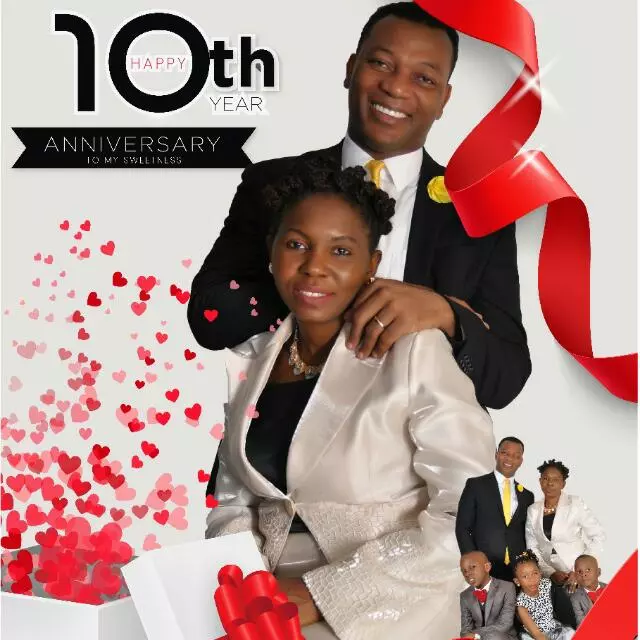 Mike Ben
commented:
Happy Wedding Anniversary to you Esteemed Pastor Chidi and your beloved wife. From glory to glory the Lord is taking you. Congratulations!!!
FASTTRACK....: MegaCampusCrusade4Christ #MCC4C #BlwzoneK #AN2RR #CAMPUSMINISTRYrocks
Will I stop 😉 nahin nahin. Celebrating my dearest Mama😘. #dauntlesspyk #celebratingpykaniconoflights
RHAPSODY OF REALITIES - PASTOR CHRIS: *OUR PERFECTION IS OF HIM* THURSDAY MAY 2 #RoR #Lights https://rin.rhapsodyofrealities.org/distr/?id=st_evans
Happy Wedding Anniversary Pastors sir/ma . Your pattern of togetherness in ministry is inspiring . More Blissful years ahead .We love u.
DIVINE HEALTH REALITIES-MAY 2 2019 Divinity is tabernacle in my physical body! I'm a new creation, not subject to the elements of this world. Divinity flows in every part of my body. I reign over sickness, disease, poverty and lack! I'm superior to Satan. Glory to God! #Lights
Don't only save the date, like it,comment on it and share it... MegaCampusCrusade4Christ #MCC4C #AN2RR #Blwzonek #CAMPUSMINISTRYrocks
Tell somebody: I must be there!! MegaCampusCrusade4Christ #MCC4C UNICAL #BlwzoneK #AN2RR #CAMPUSMINISTRYrocks
HAPPY NEW MONTH OF MAY!!! Download your May 2019 Rhapsody of Realities using this link 👇 http://bit.ly/ROR_phzone3 Did you know that you are 'PERFECT IN CHRIST?' The Scripture says "Be ye perfect even as your heavenly Father is perfect." If God demands perfection of us in the earth,it means it's possible. Find out more in today's devotional. #rhapsodyofrealities #dailydevotional #CEPHZONE3
Hey! Get on with your life, this is all that you need for now :#AN2RR. BE PART OF THIS MegaCampusCrusade4Christ #MCC4C UNICAL #BlwzoneK #AN2RR #CAMPUSMINISTRYrocks