LoveWorld SAT: WE REJOICE OVER A BLESSING on KingsChat Web
WE REJOICE OVER A BLESSING IN ALL NATIONS: PASTOR DAVID BROWN 🌟🌟🌟 We rejoice over an extraordinary light in our world. We celebrate a great blessing to the nations. Thank you for your commitment in transforming destinies and ushering them into our limitless life of faith. Your life overflows with ever-increasing glory and the lord has blessed you and all you do. Your life shall always be exemplary of the grace of god at work. Thank you for your love. We love you and God bless you. #loveworldsat #loveworldnetworks #lightupyourworld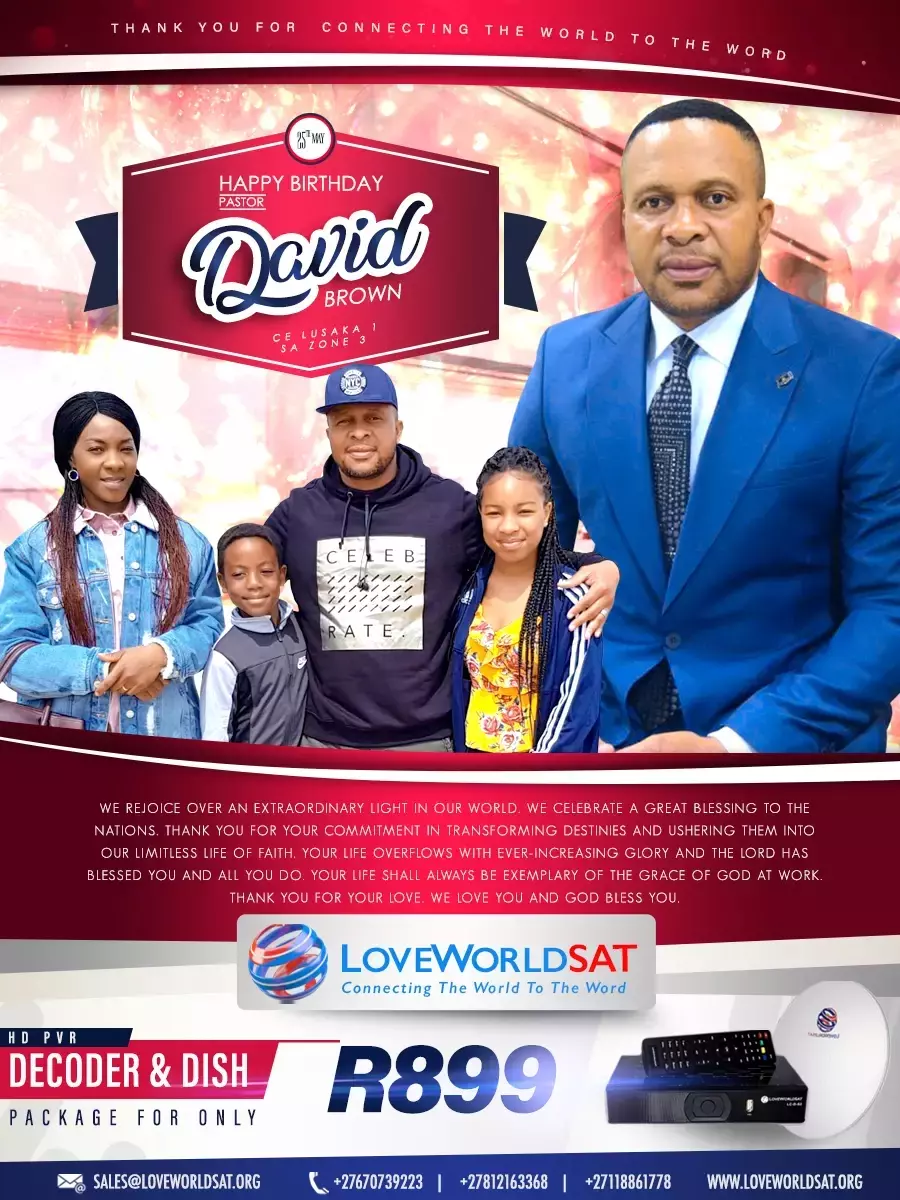 CELEBRATING AN EXTRAORDINARY LIGHT IN OUR WORLD: BRO. YONAS HAILEMARIAM 🌍🌎🌏 It is with great love and joy that we celebrate god's champion in transforming and illuminating lives with god's word. Thank you for allowing the lord to set you at the forefront of our fight of faith and for being a sure light for others to follow. your life shall forever be a light ablaze with the wisdom, beauty and glory of god. Thank you for your love. we love you and god bless you. #loveworldsat #loveworldnetworks #lightupyourworld
The gentleman. Happy birthday.
DIRECT CAR LINK AVALIBLE FOR SALE 1, 2014 Ford Explore @ $10500 2, 2013 Benz AMG@ $9500 3, 2010 Toyota Corolla @ $5500 4, 2012 Benz AMG @ $8500 5, 2008 Benz S Class @ $7500 Call/DM me for details on Purchase +2348102951775 @akusonhenry #car #carsales #benz #celvz #lagoszone2
Happy birthday😙 You are the light your world has been waiting for. Your multi talents and soecial crafted gift from God are transforming many lives. May God continue to grant you wisdom and favour in everything you do. Your deepest desires are granted with speed. Have a blast.🍸
LIGHT UP YOUR WORLD ONLINE CONFERENCE 2019 GRAND FINALE: 🌟🌏🌟🌎🌟🌍 Tonight is the Grande Finale of the Live broadcast of the "Light up your world" Online Conference 2019, at 8pm SAST (7pm GMT+1). Huddle up with your friends and family and change a life by being a light to one that needs to receive this beautiful life in Christ Jesus, by having them register and tune in; ushering them into the rewarding and limitless life of faith. If you have not registered or to register someone, click this link events.loveworldsat.org Send your testimonies by clicking loveworldsat.org/testimonies or by emailing testimonies@loveworldsat.org LIVE Broadcast Viewing time: Sunday 26th May 2019 (8pm SAST) | 7pm (GMT+1) God Bless You! For Registration information contact: +2711 886 1778 (South Africa) +234 802 307 6652 (West Africa) Download the LoveWorldSAT Mobile App from Play Store, App Store and watch your TV Station of the year 2012,2013,2014 & 2015 anytime, anywhere...ON THE GO(www.loveworldsat.org/mobile)
Dearest Dcns Aramide, You're a true helper. May the Lord reward you lavishly for your labour of love. More grace to you. I love you dearly. Happy Birthday!