ABUJA MINISTRY CENTRE : #GOHPWITHREVTOM DAILY PRAYER AND FASTING on KingsChat Web
#GOHPWITHREVTOM DAILY PRAYER AND FASTING GUIDE - WEDNESDAY 5TH JUNE 2019 FASTING FROM 6:00AM TO 4:00PM EVERYDAY TILL D-DAY PRAYER TIMES:- 5:30am-6:00am, 12:15pm-12:15pm, 6:00pm-6:15pm, 10:15pm-10:30pm PRAYER THEME: THE SICK, THE WEATHER AND YOURSELF 🔘 LUKE 5:25-26 - And immediately he rose up before them, and took up that whereon he lay, and departed to his own house, glorifying God. And they were all amazed, and they glorified God, and were filled with fear, saying, We have seen strange things to day. Pray that all sick and physically challenged individuals present will leave perfectly and permanently healed, and their testimonies will cause many more to believe in the power of the living Christ and receive salvation for their souls. 🔘 JOSHUA 10:12-13 - Then spake Joshua to the Lord in the day when the Lord...and he said in the sight of Israel, Sun, stand thou still upon Gibeon; and thou, Moon, in the valley of Ajalon. And the sun stood still, and the moon stayed... So the sun stood still in the midst of heaven, and hasted not to go down about a whole day. Pray for conducive weather from now and all through the program. Pray for clear skies and comfortable temperatures that allow for everyone to participate and receive all that God planned for them at this program without discomfort or distractions. 🔘 HOSEA 10:12 (KJV) - Sow to yourselves in righteousness, reap in mercy; break up your fallow ground: for it is time to seek the LORD, till he come and rain righteousness upon you. Pray for yourself and declare that your heart is open and yielded to the Lord will receive that specific Word from God that will alter the course of events to line up with God's perfect will for your life, such that for years to come, you would be telling your testimonies from 'THE GLORY OF HIS PRESENCE'. Register to attend 'The Glory of His Presence' @ www.gohpabuja.live #GOHPWITHREVTOM #AMCGOHP2019 #GOHP2019 #CEAMC #MONTHOFPRAYER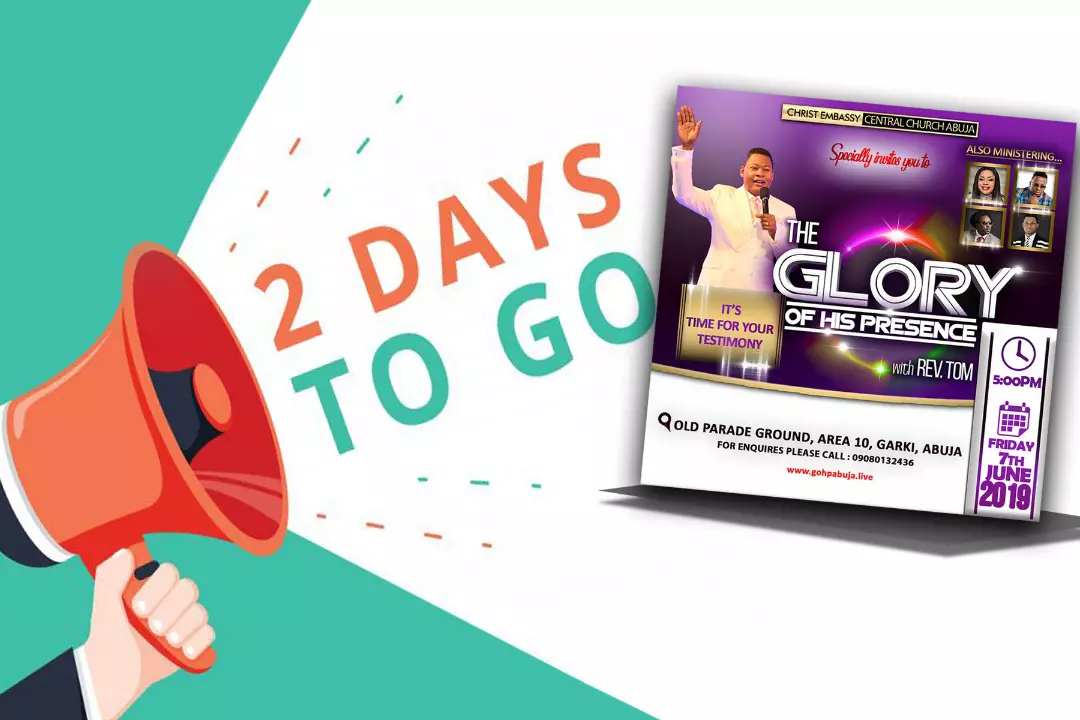 Happy birthday to you kòmsy, i am glad you came into this world through me , my precious gift from God, my prayer for you is that you keep the passion for mìnìstry burning, you are unstoppable, love the Lord more each , be aglow with the spirit and enjoy grace.
RHAPSODY OF REALITIES - PASTOR CHRIS: *FAITH IS BASED ON THE WORD* WEDNESDAY JUNE 5 #RoR #Prayer #Lights https://rin.rhapsodyofrealities.org/distr/?id=st_evans
DIVINE HEALTH REALITIES-JUNE 5 2019 God is alive and at work in my members. That same Spirit that raised Jesus from the dead is at work in me, vitalizing, energizing and strengthening my physical body, and destroys any germ that tries to attack my body. Hallelujah #Prayer #Lights
I've taken a hold of the eternal realities of the Kingdom, walking in the full blessings of the Gospel of Christ! My life is for the glory of God, in Jesus' Name. Amen.
#PrayingWithPastorChris #PCLprayathon2019 #Uganda #BlwUganda #PrayingNow
#prayingwithpastorchris #PCLprayathon2019 #Rwanda #EWCAZ3, #prayingnow
OUTPOURING OF LOVE FROM LOVEWORLD PLUS TO OUR HIGHLY ESTEEMED PASTOR MA! #ptadlightsgoldenjubilee #incomparableptad #2000kidsbacktoschoolcampaignwiththeinnercitymission
#Prayingwithpastorchris #prayathon2019 #CENebraska #USAR1Z1 #prayingnow