Ptadzworld: OUTPOURING OF LOVE FROM LOVEWORLD on KingsChat Web
OUTPOURING OF LOVE FROM LOVEWORLD PLUS TO OUR HIGHLY ESTEEMED PASTOR MA! #ptadlightsgoldenjubilee #incomparableptad #2000kidsbacktoschoolcampaignwiththeinnercitymission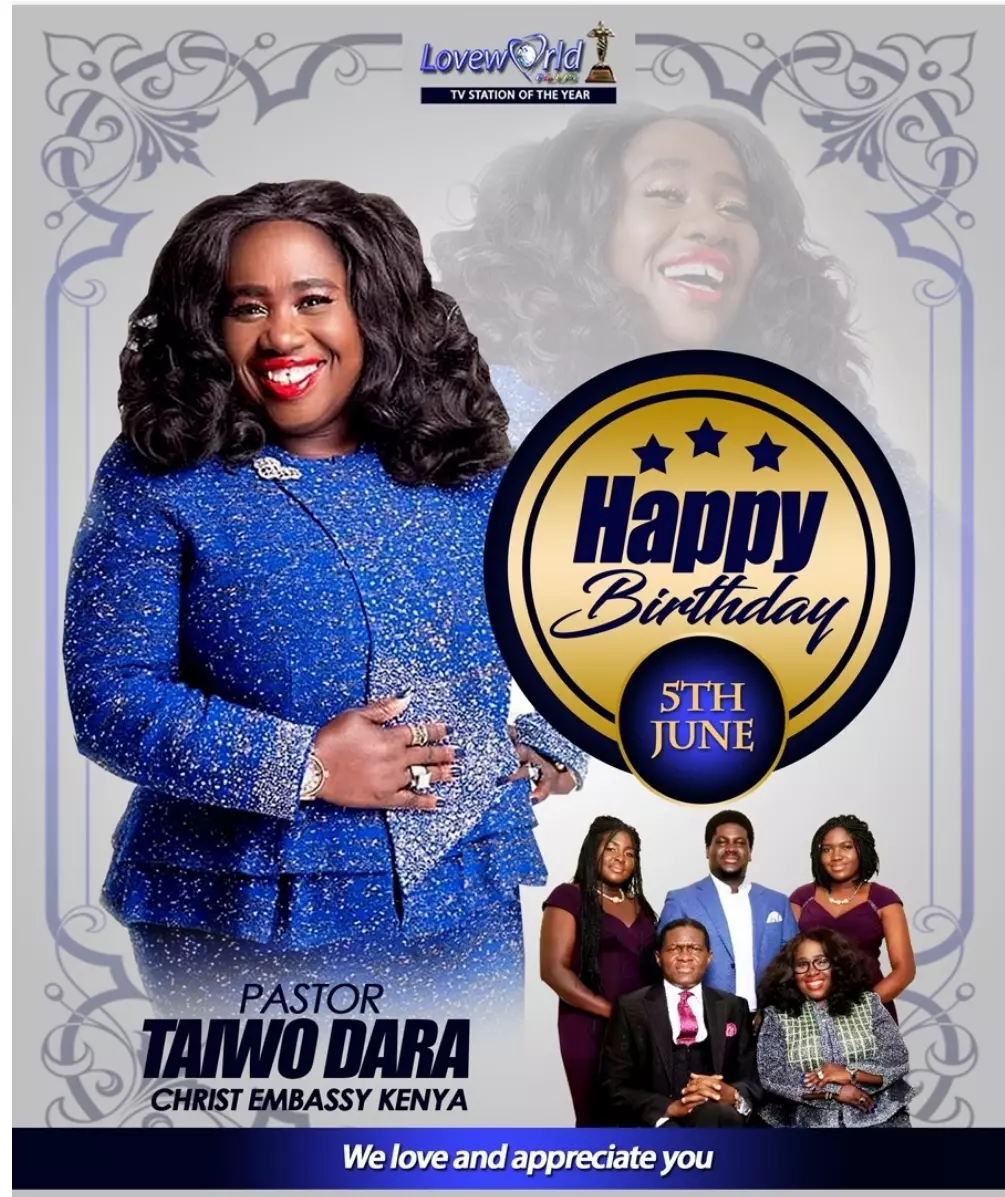 Lynn Ngwenya
commented:
GLORRRRRRRRRRYYYYYYYY!!! GLORRRRRRRRRRYYYYYYYY!!! GLORRRRRRRRRRYYYYYYYY!!! Quintessential!!!!!!!. Wow! Wow!! Wow!!!. It's such a JOY💃💃💃💃💃💃💃 and it gives me such great pleasure, without measure to say HaPpy HapPy birthday Pastor Taiwo Ma!!!.It's such an honour to celebrate the treasure that you are.The very expression, definition and description of heaven's best. A manifestation of Christ's identity, divinity, presence and essence; all in one. Full of grit and backbone in a cool, calm, collected and even civilized manner. Thank you for being an eagle that's always soaring and lives, dwells and functions with the unction of the fullness and wholeness of the Spirit. It sure is great and a relief to know that with you, there is no taking a break from flowing in the Spirit. Thank you for being a Professor par excellence of the Holy Spirit's University of life. I enrolled and am taking classes🤓😉.You are a life-giving spirit after the order of Christ Himself, you have made a mark in the world with great ease that cannot be erased.Thank you for being an associate of the God-kind even an Associate Professor of Bible studies; distinctions are on the way✋. The very revelation of LIGHTS, a manifestation of epignosis wisdom par excellence, the presence and essence of divine verities, beauty, creativity. A yardstick of divinity. It's such a JOY to know that our souls are safe in your hands as there is no risk of contamination, manipulation even deception.For this, we are truly grateful and in this, allow me to say, you do give us a feel even a preview, view and overview of heaven.Thank you for taking our souls seriously. You are a catalyst of spiritual growth, with your quality of teaching; one cannot but really grow, It's a default setting that is on auto-pilot, so amazing and awesome. You have a matchless sense of humour that is credible and incredible.l mean, it's hilarious as it is humorous.Thank you for being a wonderful, powerful, beautiful, joyful, prayerful and fruitful mighty leader and teacher of God's distinct elect.ln you, are the scriptures fulfilled,fully so; for in your presence, there indeed is fullness of JOY, and at thy right hand, there are pleasures forevermore, out of your belly flows rivers of living water and with you indeed, wisdom is the principle thing as we have JOY unspeakable and full of glory.You are a multiplication of the multidimensional, multifaceted and multidisciplinary wisdom of Christ, in real time too.You sure add a lot to God's Kingdom in a more excellent way and l am glad that you are allergic to mediocrity, words cannot recount how so for it goes without saying. You are a display and you display the full spectrum of God's glory and for this reason, your teachings are never dry.l'm sure your angels give you a thumps up👍.
EZIOR GLORY
commented:
LAVITA RICCA INVESTMENT🤝 There is a unique,legitimate and genuine platform that gives you double of your investment i would like to introduce you to.Earn Wiselyand share within the people around you.registered to provide help and get. *No referral* *No scam* *100% Guaranteed. The instant payment and instant merging is only available for Within 30 minutes you will receive your double merging packages:- 10k to get 20k 15k to get 30k 20k to get 40k 25k to get 50k 30k to get 60k 35k to get 70k 40k to get 80k 50k to get 100k 55k to get 110k 75k to get 150k 95k to get 190k 115k to get 230k 150k to get 300k 200k to get 400k 300k to get 600k. You can message me MRS AYENI GRACE on (09015402803)or call 08169205346 If trully God Almighty is on d throne, u will surely thank me tomorrow.... Only if you're ungrateful... Infact u will surely introduce Dis to ur friends and families... Host of Heaven bears me witness... Just give it a trial and see for yourself. Follow this link to join my whatsapp group link https://chat.whatsapp.com/Bmwypi3mAeHGrm3d6V1SEN interested person should chart the admin privately as group is for testimonies only.
#prayingwithpastorchris #PCLprayathon2019 #Rwanda #EWCAZ3, #prayingnow
#PrayingWithPastorChris #PCLprayathon2019 #Uganda #BlwUganda #PrayingNow
#GOHPWITHREVTOM DAILY PRAYER AND FASTING GUIDE - WEDNESDAY 5TH JUNE 2019 FASTING FROM 6:00AM TO 4:00PM EVERYDAY TILL D-DAY PRAYER TIMES:- 5:30am-6:00am, 12:15pm-12:15pm, 6:00pm-6:15pm, 10:15pm-10:30pm PRAYER THEME: THE SICK, THE WEATHER AND YOURSELF 🔘 LUKE 5:25-26 - And immediately he rose up before them, and took up that whereon he lay, and departed to his own house, glorifying God. And they were all amazed, and they glorified God, and were filled with fear, saying, We have seen strange things to day. Pray that all sick and physically challenged individuals present will leave perfectly and permanently healed, and their testimonies will cause many more to believe in the power of the living Christ and receive salvation for their souls. 🔘 JOSHUA 10:12-13 - Then spake Joshua to the Lord in the day when the Lord...and he said in the sight of Israel, Sun, stand thou still upon Gibeon; and thou, Moon, in the valley of Ajalon. And the sun stood still, and the moon stayed... So the sun stood still in the midst of heaven, and hasted not to go down about a whole day. Pray for conducive weather from now and all through the program. Pray for clear skies and comfortable temperatures that allow for everyone to participate and receive all that God planned for them at this program without discomfort or distractions. 🔘 HOSEA 10:12 (KJV) - Sow to yourselves in righteousness, reap in mercy; break up your fallow ground: for it is time to seek the LORD, till he come and rain righteousness upon you. Pray for yourself and declare that your heart is open and yielded to the Lord will receive that specific Word from God that will alter the course of events to line up with God's perfect will for your life, such that for years to come, you would be telling your testimonies from 'THE GLORY OF HIS PRESENCE'. Register to attend 'The Glory of His Presence' @ www.gohpabuja.live #GOHPWITHREVTOM #AMCGOHP2019 #GOHP2019 #CEAMC #MONTHOFPRAYER
Happy birthday to you kòmsy, i am glad you came into this world through me , my precious gift from God, my prayer for you is that you keep the passion for mìnìstry burning, you are unstoppable, love the Lord more each , be aglow with the spirit and enjoy grace.
RHAPSODY OF REALITIES - PASTOR CHRIS: *FAITH IS BASED ON THE WORD* WEDNESDAY JUNE 5 #RoR #Prayer #Lights https://rin.rhapsodyofrealities.org/distr/?id=st_evans
#Prayingwithpastorchris #prayathon2019 #CENebraska #USAR1Z1 #prayingnow
#PCLprayathon2019 #EWCAZ3 #prayingnow #juba2much #southsudan
#PCLprayathon2019 #EWCAZ3 #prayingnow #juba2much #southsudan